The Pennsylvania Senate voted 29-19 on Wednesday to call Philadelphia District Attorney Larry Krasner, a Democrat, to Senate chambers for a trial to answer for seven articles of impeachment against him. The articles could result in his removal from office.
But the timing of this move is awkward because it was done in a special session on Nov. 30, the last day of the 2021-2022 session. The new session starts at midnight, but no action will be taken because newly elected lawmakers take their oaths of office and are seated in January.
"The majority party is attempting to set an extraordinary and dangerous precedent by continuing to process an impeachment across two legislative sessions on constitutionally illegitimate grounds," Senate Democrat leader Sen. Jay Costa said on the floor on Wednesday. "The Constitution of our commonwealth and private practice of this body are very clear that any business before the Senate and a House that has not been fully completed, ceases to exist." There is no impeachment exception to the rules about how the sessions are governed, Costa said.
"We take these actions of the house seriously and if they'd been done in a timely fashion, we would not be here before you today making this argument about the constitutionality and the procedure fault," Costa said. "The courts of our Commonwealth have ruled multiple cases that the General Assembly's uncompleted legislative business dies at the expiration of the second regular session on Nov. 30."
Republicans, who will still hold a Senate majority next session, don't see it that way. The first order of business regarding impeachment during the next session may be an argument over whether pursuing the matter can legitimately go forward.
Articles Presented
Republican House Rep. Craig Williams delivered the Articles of Impeachment to the Senate and read them into the record, which took nearly an hour. The articles offered numerous, detailed statistics illustrating how crime has increased in Philadelphia under Krasner, as prosecution has gone down.
"While incidents of violent crime are increasing, prosecution of crime by the Philadelphia District Attorney's office has decreased during the same period," Williams read. "In 2016, the Philadelphia District Attorney's Office reported that only 30 percent of all offenses resulted in a dismissal or withdrawal [of prosecution] but the numbers spiked to 50 percent in 2019; 54 percent in 2020; 67 percent in 2021; and 65 percent to date in 2022."
When criminals are caught with a gun, they don't see the same consequences they had in the past, he continued, adding that the city has descended into an unprecedented crisis of lawlessness, noting 562 murders in 2021—the most in Philadelphia's 340 year history.
"Murders and violence occur in every part of the city and every hour of the day," he said. "Shootings on public transportation in populated neighborhoods with families and children, near schools and in the Center City business district have now become frequent and routine. Open air drug markets have become ubiquitous."
The articles accuse Krasner of decriminalizing prostitution, effectively destroying programs designed to rescue women from addiction and human trafficking; decriminalizing retail theft, resulting in numerous businesses leaving the city; and releasing criminals back to the street who go on to commit more heinous crimes.
"This crisis of crime and violence is a direct result of District Attorney Krasner's incompetence, ideological rigidity, and refusal to perform the duties he swore to carry out when he became district attorney. He has deliberately eviscerated the district attorneys office's ability to adequately enforce the laws of this Commonwealth," Williams said.
The articles describe ways the District Attorneys office allegedly treated prosecutions unequally and failed to properly inform crime victims of lenient decisions made about their related offenders. Krasner is accused of allowing assistant district attorneys under his supervision to violate the federal and state Victims Rights Act multiple times by failing to timely contact victims, deliberately misleading victims, disregarding victim input and treating victims with contempt and disrespect, the articles say.
He is also accused of failing to work with the committee investigating him for impeachment.
Krasner will receive a writ of summons requiring him to appear before the Senate in a trial setting, to answer to the articles of impeachment. The Senate will act as judges. Krasner is required to file an answer by Dec. 21 and ordered to appear before the Senate on Jan. 18 at 11:30 a.m.
The Epoch Times reached out to Krasner's office for comment.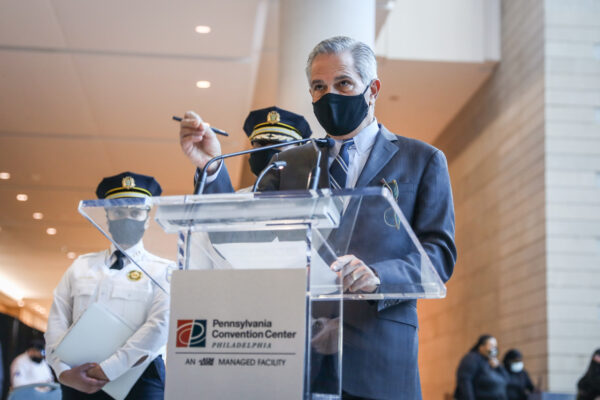 Krasner tweeted recently in support of Philadelphians' who voted for him: "Philadelphia voters should not be erased. History will harshly judge this anti-democratic authoritarian effort to erase Philly's votes—votes by Black, brown, and broke people in Philadelphia. And voters will have the last word."
Krasner's was one of several key District Attorney campaigns that was funded in part by billionaire George Soros who supports leftist progressive values.