Twenty-one Republican lawmakers in the Pennsylvania House of Representatives are calling for the resignation of acting Pennsylvania Education Secretary Eric Hagarty—unless he takes immediate action to reverse the new content requirements and guidelines set forth by the Pennsylvania Department of Education (PDE) to promote "gender diversity" and "gender neutrality."
Gov. Tom Wolf's press secretary Elizabeth Rementer dismissed the move as a distraction.
"Students shouldn't be leveraged as an extremist talking point. Hate has no place in Pennsylvania. The Wolf administration will continue to support policies to keep children in the classroom and safe from bullying," she told local media.
Some Pennsylvania education administrators, however, are expressing their support for the removal of the controversial gender theory for Pennsylvania's K-12 public schools.
"The Pennsylvania Department of Education's gender theory indoctrination is an outrageous political stunt that imposes woke progressive pedagogy on students, whether the children or their parents want it or not." Dr. Elana Yaron Fishbein, the founder and president of No Left Turn in Education, told The Epoch Times on Aug. 8.
No Left Turn in Education is a nationwide movement that aims to restore parental function in public education and elevate the family as a core teaching unit of society. Fishbein stated that her organization would back the removal of gender indoctrination content.
"No Left Turn in Education stands with the many Pennsylvania lawmakers who call for the Education Secretary's immediate resignation and the removal of the gender indoctrination content from the DOE website. The parents of all publicly educated students need to let Harrisburg know LOUD AND CLEAR that they won't stand for this assault on their values!" Fishbein said.
Gender Pronouns
The PDE's gender identity webpage includes a curriculum guide for teachers to hold a "gender neutral day" in their classrooms in grades 3–12 about gender stereotypes. Another section, "Creating Gender-Inclusive Schools and Classrooms," includes a tutorial on "preferred gender-neutral personal pronouns" and instructs teachers to ask before making false assumptions about someone's gender identity.
"Ne, ve, ze/zie and xe? Those aren't pronouns. They are cries for mental health intervention," said Fishbein, questioning the rationality of the tutorial. "No one has the right or business to change the language and then impose it on children."
"I think English is hard enough to learn. Language is hard enough to learn when you're adding all these extra pronouns and stuff in there," Raeann Hofkin, the board member of Upper Perkiomen school district in Montgomery County, told The Epoch Times on Aug. 12. She said she feels like America has become the laughingstock of the world because "they keep creating more and more issues."
Hofkin stated that promoting gender theory in school can only create more division and confusion for students.
"I feel like this is only creating more boxes, to put kids in more boxes to divide the kids. Why can't everybody just be accepted for who they are?"
"I do agree," Jenifer MacFarland, one of the state chapter leaders for No Left Turn in Education, told The Epoch Times on Aug. 11. She also supports removing gender theory.
Backed by Federal Funding
MacFarland, who has worked as a teacher and administrator in traditional public schools as well as public charter schools for 24 years, pointed out that the PDE's promotion of gender identity is tied to funding and benefits.
"I think that we have reached a point in Pennsylvania, as well as across the country, where the Secretaries of Education are taking funding from the federal government and the law. The ESA grant, the Elementary and Secondary Education Act (ESEA), and the ARP Elementary and Secondary School Emergency Relief Fund (ESSER) which is the student recovery act for COVID. Huge amounts of money, my district got $11 million … and yet, they're still raising taxes," said MacFarland.
She also mentioned that funding requires public schools to teach different aspects of what is essentially a critical race theory.
"It's under the guise of social, emotional learning, or culturally responsive education, or diversity, equity, and inclusion, and they have millions of dollars to put aside to spend on those programs."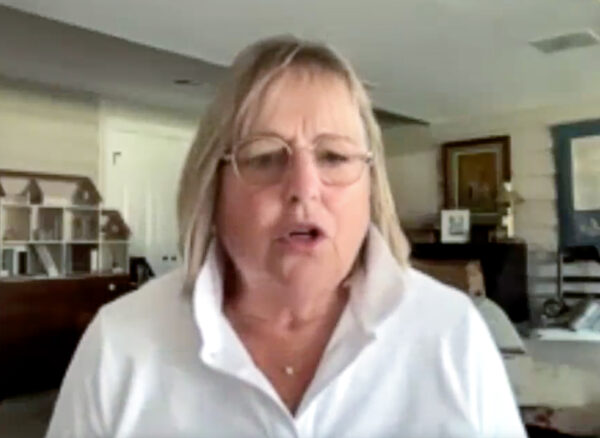 MacFarland said the rollout of such educational programs is implemented from the top down.
"It comes to the state from the federal government. When the state accepts it, they have to push it out to the districts. And the districts are then responsible for implementing it as well. So, you get your training and so forth from the state. And the money goes to the schools in the districts. If they accept it, they are required to implement those very same things."
MacFarland urged the Secretaries of Education, principals, and superintendents not to accept these programs simply for profit, as they are not appropriate for children.
Children Used as Pawns
"We need to get back to teaching—the basics, the classics, and help our kids to think critically, and give them information that they can process at the age they are at," she said.
As a veteran education administrator with 24 years of experience in public school teaching and administration, MacFarland believes that children's education should focus on topics such as "what's appropriate for reading in first grade. What instruction, what resources, and what tests are appropriate? And the same thing for middle school.
"And then our libraries? Shouldn't we be giving kids books that inspire them? Books that inform them about our history, books that will lead them to better things in life? Not books with pornography. … How does this help our kids become better people?"
Hofkin offered the same view, saying "The website that Pennsylvania has right now is a ridiculous website … it's not the one that offers lesson plans."
She believes children have been used as pawns in a political battle going back and forth.
"[Schools should] just teach reading, writing, arithmetic and stay out of the social issues. Kids are kids and should be allowed to be kids," she said.
"We need to start calling for these bureaucrats who are doing nothing but implementing the directives of the Federal Department of Ed and the narrative that they're driving. And we need to ask them to resign," said MacFarland. "If they're more worried about money and funding, then they don't belong in the position they have."
Governor Vetoed a School Curriculum Transparency Bill
On Dec. 22, 2021, Wolf, a Democrat, vetoed legislation that would have given parents a closer look at what their children are learning in school.
The legislation, PA House Bill 1332, was introduced by state Rep. Andrew Lewis (R-Dauphin) and passed along party lines in the state House and Senate on Dec. 15, 2021.
The bill would have required all government-run public schools in the Commonwealth to post their curriculum online, where parents and other concerned citizens could quickly review it ahead of the school year.
In his veto statement, Wolf argued that the requirement in House Bill 1332 that public schools give parents online access to classroom materials is "overly burdensome" and claimed ulterior motives behind the "dangerous and harmful imposition."
"State regulations adopted by the State Board of Education already require that public schools provide parents and guardians with course curriculum and instructional materials upon request. In addition, textbooks are adopted by school boards in meetings open to the public," Wolf wrote. "Therefore, requiring all public schools to publish on their website the details of every textbook, course syllabus, or written summary of each course, and the relevant academic standards for each course is not only duplicative, but overly burdensome."
Parental Rights
MacFarland stands her ground: "I believe every parent has every right to see every material in the classroom. And every parent has a right to be able to walk into that school and visit the classroom that their child is in. I could go in as a grandparent. They could go in as a parent and have lunch with their child and talk with them. That's the way school should be."
"We as taxpayers are paying for our children to be educated," she added. "We don't want our kids to be indoctrinated. So, let's open things back up. They're not opening them up because they're afraid of what we, the taxpayers, the parents, and the grandparents will see."
Hofkin also agrees that parents should be involved more in public school education and have the right to know what their kids are taught in school.
"Parents need to be more involved in their child's education. They need to look at their homework, they need to review their homework, they need to speak up when they see something—not just speak up about it, but speak up against it," she said.
But even so, Hofkin believes that the help parents are currently getting is still insufficient. She noted that some parents know what's going on, but when they go to school board meetings and complain about it, "the board looks at you until you're done speaking. And they say nothing, which is very frustrating to parents."
The result is that parents pull their kids out and take them to another school, such as a Christian school, a Catholic school, or a homeschool.
"We have a big group in my school district now that a lot of parents are starting to homeschool this year. And they're working with people who already do homeschool. So, they're giving them tips and tricks and working together to get something up in my school district for homeschooling. They're tired of the indoctrination," said Hofkin.
The Epoch Times reached out to Hagarty's office for comment.