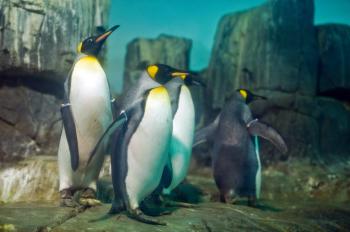 NEW YORK—Four new king penguins joined the Penguin House exhibit at the Central Park Zoo this Wednesday. The king group is the second largest breed of penguins in the world. Robert, Will, Lyel, and Slappy were hatched in captivity in Texas and were brought hto New York to join the sixty other penguins at the Wildlife Conservation Society's Central Park Zoo.
According to the Zoo 's director, Jeff Sailor, the exhibit focuses on seabirds as a whole and is named "Polar Seabirds: Life on the Edge of the World."
Sailor informs that the arrival of the kings should raise awareness of climate change and conservation of these climate sensitive species. Mr. Sailor mentioned that it is not only the penguins who suffer from climate change but also their relative birds, as well as fish. He goes on to say how the Penguin House is "the most popular exhibit here, 1 million people visit the zoo every year."

It was the first time at the Central Zoo for Sandi Rivet. She said she loves penguins, and thought the exhibit was "beautiful and clean." Sandi explains that penguins tend to take care of each other and "that's how people should be" she says. Sandi adds that the price for zoo tickets is very reasonable and she hopes that many locals go to see the exhibit, especially school groups.
Teresa Russell, a mom who joined a school trip has been visiting the zoo for 12 years with kindergarten kids. "It's great" she says, and adds, "The kids like to see the setting." Teresa also mentioned the ease of access to the penguins at the Central Park Zoo.
As described on the Antarctic Connection Web site, the king penguins are the only breed that run on land and not hop. This agreed with Mr. Sailor's statement that penguins "are a group of animals that stand with people."