Vice President Mike Pence's office responded to reports he didn't have contact with a student who was later quarantined for the COVID-19 coronavirus.
Katie Miller, a spokeswoman for Pence, confirmed that the vice president "did not meet or come into contact at all with this student" who was later quarantined along with his mother. Pence allegedly shook hands with the student's classmates at the Sarasota Military Academy in Sarasota, Florida, according to a Bloomberg News report.
"Can we take a deep breath?" Miller asked.
In a statement on Monday, the academy confirmed that "our student and his mother currently are not showing any symptoms and are in good health and spirits"
Can we all take a deep breath? @Mike_Pence did not meet or come into contact at all with this student. https://t.co/uLzvnVcoS4

— Katie Miller (@VPPressSec) March 3, 2020
"We are continuing to disinfect all classrooms and common areas as we have previously done due to flu season. We will continue to work with the District and the Sarasota County Health Department for advisement after an 11 a.m. conference call," according to the academy.
Aides for the vice president, meanwhile, told Bloomberg News that Pence is mindful about washing his hands, which is part of the Centers for Disease Control and Prevention's (CDC) guidelines for preventing the spread of the virus.
On Monday, the vice president was asked about possibly canceling travel plans. "I travel across this country all the time. My kids live all over the country," he said. "And look, this is a time to use common sense."
"Good time to wash your hands," Pence continued. "But this time of year that's always a good decision. But as we've said, the risk remains low."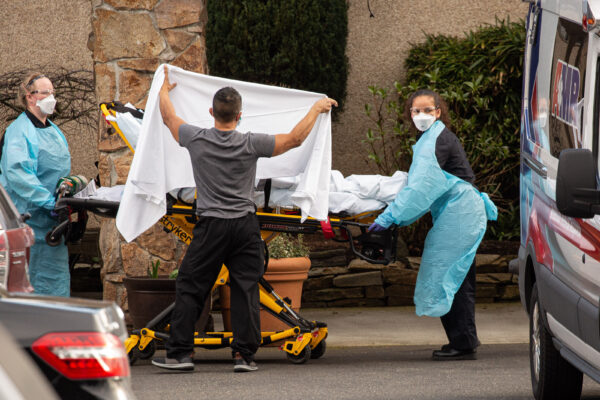 President Donald Trump approved Pence to oversee the administration's response to the spread of COVID-19 in the country. So far, nine people have died from the virus, all coming from Washington state.
Most of the patients and deaths in Washington have been traced back to a nursing home, Life Care Center, in Kirkland, according to officials in King County. Other cases have been reported in California, Arizona, Massachusetts, New York, North Carolina, Georgia, New Hampshire, Wisconsin, Illinois, Oregon, and Rhode Island, according to the CDC's website. Some American evacuees from Wuhan, China, where the virus is believed to have emerged last year, as well as the Diamond Princess cruise ship are being held in quarantine on military bases and in medical facilities in other states.
According to health officials, most COVID-19 sufferers experience flu-like symptoms and recover, but those who are older, have underlying health problems, or compromised immune systems might be more at risk. The CDC calls on people to cover their mouths while coughing or sneezing and washing hands thoroughly.