Vice President Mike Pence on May 3 said that he should have worn a mask during a recent visit to the Mayo Clinic in Minnesota after receiving backlash for failing to adhere to the medical facility's policy requiring it.
"From early on, the CDC [Centers for Disease Control and Prevention] has made it clear that you wear a mask to prevent you from conveying the coronavirus to other people, and so since the president and I are in the unique position we're in, we're tested often," Pence said during a Fox News virtual town hall on May 3. "I didn't think it was necessary."
The White House has said that both President Donald Trump and Pence have tested negative for the CCP virus.
"But I should have worn a mask at the Mayo Clinic," he added, noting that two days after visiting the Mayo Clinic, he wore a mask when touring a General Motors ventilator plant in Indiana.
"I think it really is a statement about the American people, the way people have been willing to step forward, practice social distancing, wear masks in settings where they can't do that," Pence said. "I couldn't be more grateful to see how the American people responded."
The CDC recommended in early April that Americans maintain 6 feet of social distancing and wear face coverings in public settings where other social distancing measures are difficult to maintain, to prevent transmission of the virus.
As per Mayo Clinic policy, all patients and visitors are required to wear a face covering or mask to help slow the spread of COVID-19, and patients and visitors are asked to bring their own face covering or mask to wear. If a patient or visitor doesn't have a mask, the Mayo Clinic will provide one.
Pence's decision to not wear a mask on his visit to the academic medical center saw him widely criticized on social media, including by celebrities and many public health experts.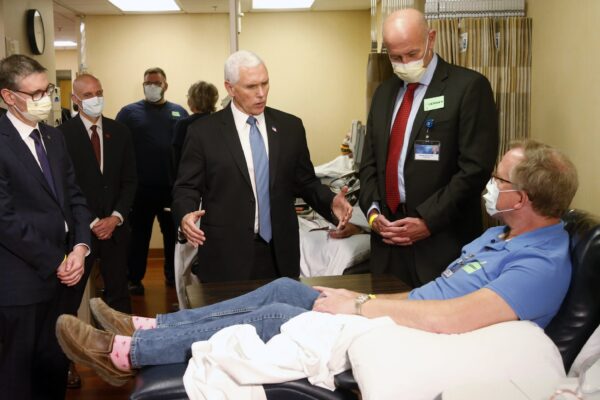 Following the backlash, Pence initially told reporters that he felt he could visit the center without a mask because he is regularly tested for the virus, and "since I don't have the coronavirus, I thought it'd be a good opportunity for me to be here, to be able to speak to these researchers, these incredible health care personnel, and look them in the eye and say 'thank you.'"
Karen Pence defended her husband's actions, and insisted that they didn't know about the Mayo Clinic's mask policy until after his visit.
"As our medical experts have told us, wearing a mask prevents you from spreading the disease, and knowing that he doesn't have COVID-19, he didn't wear one. It was actually after he left Mayo Clinic that he found out they had a policy of asking everyone to wear a mask," she said during a Fox and Friends interview.
The vice president meant no offense and didn't mean to scare or hurt anyone, she said.