Vice President Mike Pence said refusals from both the Democratic presidential and vice presidential nominees to say whether they support court packing proposals means they want to pack the supreme court if elected.
"The Democrats in Washington are actually talking about adding seats to the Supreme Court in the biggest power grab in American history. It's called packing the court," Pence told the crowd at The Villages in Florida on Saturday.
Biden and Harris have repeatedly declined to come out in support or opposition of the proposal, which has backing from some Democrats in Congress.
Biden told a reporter on Friday that voters don't deserve to know his position on the matter.
"Just yesterday in Nevada, Joe Biden was asked by a reporter in Nevada, 'Don't voters deserve to know what you'd do?' And Joe Biden replied, 'No, they don't,'" Pence told the rally.
"Come on, Joe. The American people deserve a straight answer!" Pence added. "When you're running for the highest office in the land, the American people deserve to know whether you're going to respect the highest court in the land."
"There's only one explanation why Joe Biden and Kamala Harris won't answer the question. It's because Joe Biden and Kamala Harris want to pack the court. But we're not going to let it happen," he asserted.
Democrats are infuriated by the push by Republicans to fill the vacancy on the Supreme Court that opened when Justice Ruth Bader Ginsburg died last month.
Democrats argue that Trump's nominee shouldn't be considered until after it's clear whether he wins a second term, or whether Biden defeats him.
Democrats point to how Senate Republicans declined to consider then-President Barack Obama's nominee in 2016 for months, until an election took place. Trump won that election and ultimately filled that seat.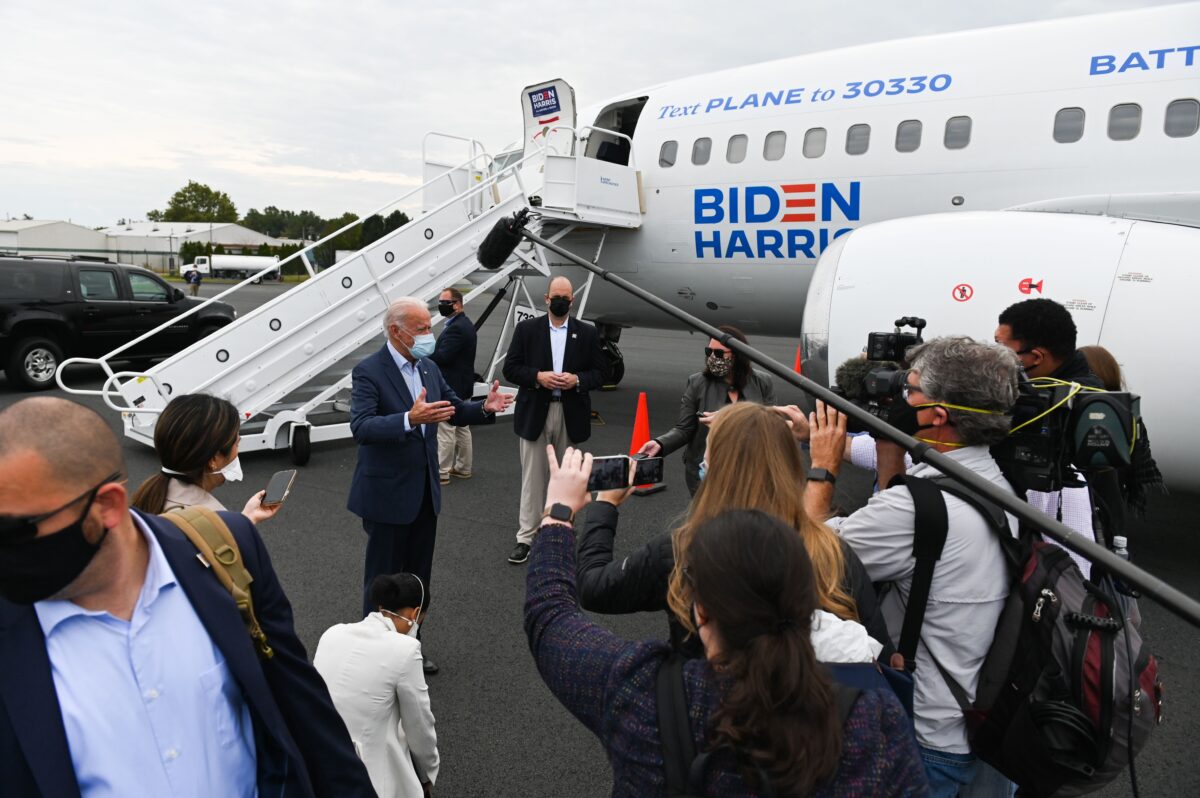 Republicans counter that the situation was different then because the GOP controlled the Senate but Democrats had the White House. Now, the same party controls both.
Republicans say voters decided in 2018 to keep the Senate in their hands in part because they promised to work with Trump, including confirming more of his judicial nominees, and voters chose to elect Trump in 2016, making the looming election irrelevant for confirmation purposes.
Republicans have scheduled committee hearings on Judge Amy Coney Barrett, Trump's nominee, for Oct. 12. Following a committee vote several days later, a confirmation vote by the full Senate is expected to take place before Nov. 3.
The current path does not violate the U.S. Constitution or constitute anything illegal, but Biden claimed Saturday that it did.
Pressed on why he thinks voters shouldn't know his position on court packing, Biden told reporters that "the only court packing is going on right now" with the Senate.
"It's not constitutional what they're doing. We should be focused on what's happening right now. And the fact is that the only packing going on is this court is being packed now by the Republicans after the vote has already begun. I'm going to stay focused on it so we don't take our eyes off the ball here," he said.
Trump needled Biden about his continual deflection during their debate last week, following up on a question from moderator Chris Wallace that Biden refused to answer directly.
"Are you going to pack the court?" Trump asked him, in an exchange that led Biden to say, "Will you shut up, man?"
The court packing proposal is popular among some segments of the left. Biden isn't the only candidate up for election facing questioning on his position.
Sen. Cory Gardner (R-Colo.), debating with Democrat Senate nominee John Hickenlooper on Saturday, told moderators that he does not support adding seats.
"No and I'd yield the rest of my time for John Hickenlooper to actually answer the question," he said, after Hickenlooper, the former Colorado governor, refused to say he does not support it.
Pence predicted the Senate would confirm Barrett, telling the crowd in Florida, "We're going to fill that seat!"