Speaker Nancy Pelosi (D-Calif.) said Sunday that lawmakers are "making progress" on another COVID-19 relief bill after weeks of stalled negotiations.
When asked by a CBS News reporter about whether President Donald Trump's Twitter posts that say Congress should try and pass another bill mean there was an agreement between the two parties, Pelosi disagreed.
"No, it means that we want to see that they will agree on what we need to do to crush the virus so we can open the economy and open our schools safely," Pelosi said, adding that still, "we're making progress."
House Democrats last week approved a $2.2 trillion update of the HEROES Act. Every Republican in the House voted against it, coming after House GOP Whip Steve Scalise wrote: "This bill recycles the same socialist wish list that was offered in the Heroes Act, which House Republicans overwhelmingly rejected."
Senate Majority Leader Mitch McConnell (R-Ky.) last week called the $2.2 trillion House plan "outlandish" and "too high," while Treasury Secretary Mnuchin has countered with a $1.62 trillion relief package.
"The latest bill from the speaker is no more serious than any of their political stunts going back months," McConnell said on the Senate floor last week, before adding, "If they continue to refuse to get serious, then American families will continue to hurt."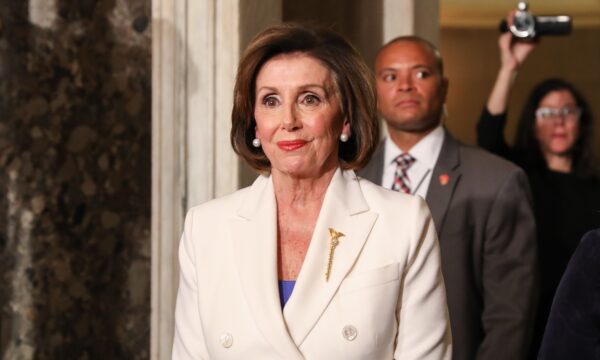 Meanwhile, Democrats sought to vote on a standalone measure for airline relief. It was blocked on the floor of the House.
"We tried to get that done in the House, but the Republicans objected," Pelosi said in Sunday's interview. "What I said to the airline executives in a public statement is. 'Don't fire people, you know that relief is on the way and it will be retroactive so let's keep them employed,'" she added.
A spokesman for Pelosi wrote on Twitter that she and Mnuchin spoke via telephone for more than an hour.
"They discussed areas of disagreement including those outlined in the Speaker's Dear Colleague sent earlier today. Their discussions will continue," Drew Hammill, the spokesman, wrote on Twitter.
The push to pass new stimulus legislature came after Trump and other Republicans tested positive for the CCP (Chinese Communist Party) virus in recent days. Trump remains at the Walter Reed Medical Center where he is being monitored and treated.
Over the weekend, Trump called on lawmakers to work together in passing a CCP virus relief bill.
"OUR GREAT USA WANTS & NEEDS STIMULUS. WORK TOGETHER AND GET IT DONE. Thank you!" Trump wrote on Twitter on Saturday.