After nearly two months of wrangling between Democratic moderates and progressives, House Speaker Nancy Pelosi (D-Calif.) said on Thursday that Democrats' $3.5 trillion reconciliation bill is on a path to pass.
At her weekly press conference, Pelosi said of the bill, "I'm only envisioning taking it up and winning it." Currently, the bill is set for a Thursday vote in the House.
This continues a trend of optimism among Pelosi and other Democratic leaders. House Democratic Caucus Chairman Hakeem Jeffries (D-N.Y.) summed up this attitude in mid-September when he said simply "failure is not an option."
Speaking to reporters in Washington, Rep. Steny Hoyer (D-Md.) expressed a far different sentiment.
Asked whether he was confident that the reconciliation bill would pass, Hoyer said simply, "Nope."
On Day of Vote, Division in Party Continues
President Joe Biden's nearly $5 trillion agenda, including a $1.2 trillion bipartisan infrastructure bill and a $3.5 trillion reconciliation, has been threatened by political brinksmanship from party moderates and progressives since the bills' inception.
A Democratic coalition of nine Problem Solvers Caucus (PSC) members made headlines in August after they publicly released a letter (pdf) to Pelosi, warning her against bundling the two bills, and encouraging swift passage of the infrastructure bill by the House.
In the letter, they called the infrastructure bill "a bipartisan victory for our nation" and swore that they would "not consider voting for a budget resolution until the bipartisan Infrastructure Investment and Jobs Act passes the House and is signed into law."
After several failed efforts to force the coalition of PSC members to relent, Pelosi made an 11th-hour deal with the nine. Under this agreement, the nine Democrats agreed to vote to advance the $3.5 trillion budget bill to committee for drafting in exchange for a Sept. 27 deadline to vote on the bipartisan infrastructure bill.
On Monday, Pelosi delayed that vote until Thursday, a move that moderates seemed unfazed by.
However, progressives have made a corollary threat not to pass the infrastructure bill until the much more expansive budget bill has been passed, fearing that moderates will betray them and vote against the budget.
Despite Pelosi's confidence, these splits remain ongoing.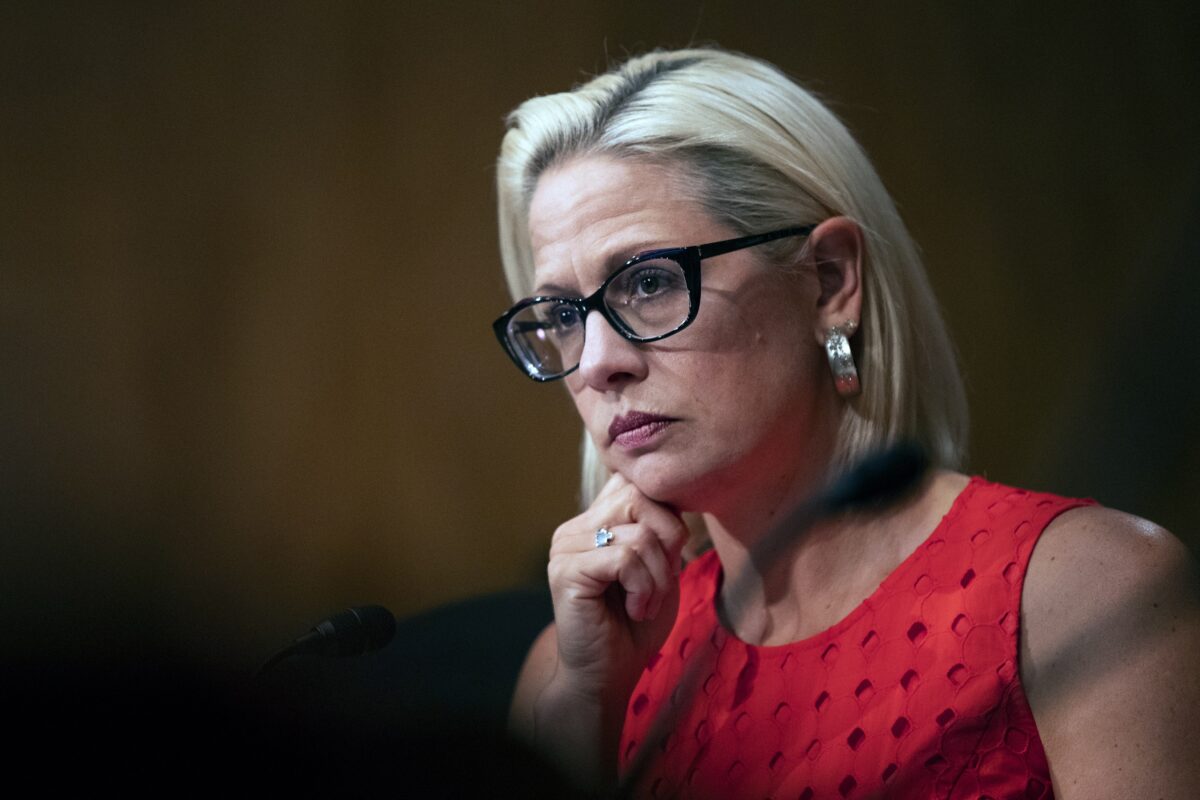 Many Senators Still Hesitant About Reconciliation Price Tag
In the Senate there are also significant challenges to the bill's passage.
Most prominently, even after over a month of negotiation with Biden and Democratic leadership, moderate Sen. Joe Manchin (D-W.Va.) remains opposed to the $3.5 trillion package. On Sept. 23, Manchin said that he and Biden were "trying to find a pathway forward" on the bill, noting that the president had asked moderates to give him an idea of the highest top line price that they would support.
But on Wednesday, Manchin restated his opposition to the bill. In a statement on Twitter, he decried the bill as "fiscal insanity," warning that it would not get his vote without further adjustments.
"I cannot—and will not—support trillions in spending or an all-or-nothing approach that ignores the brutal fiscal reality our nation faces," Manchin said.
After this setback, Pelosi still said she was confident that Manchin would be open to negotiation.
Sens. Kyrsten Sinema (D-Ariz.) and Mark Warner (D-Va.) have also expressed hesitation or outright opposition to the bill.
A spokesman for Sinema, who has said little about the bill since its introduction, said simply, "Kyrsten will not support a $3.5 trillion reconciliation bill."
Warner, who has been leading moderates in negotiations with the president, also said that moderates had "expectations" that he indicated had not been met.
The Senate's most prominent progressive, Sen. Bernie Sanders (I-Vt.), has pushed for no compromise on a $3.5 trillion budget bill.
Sanders, the author of the expansive budget, initially wanted a bill with a $6 trillion price tag, but this was eventually lowered in the final draft of his budget to $3.5 trillion.
Sanders has long indicated that he and other progressives feel they have already compromised enough. After one meeting on the bill, the senator complained that "the top line has come down. It started at $6 trillion." Still, Sanders did not entirely reject a smaller bill altogether, as negotiations between moderates and progressives continued.
On Tuesday, just two days before the scheduled vote on the hastily crafted reconciliation bill, Sanders came out publicly against any bill with a price tag lower than $3.5 trillion.
On Twitter, Sanders wrote: "No infrastructure bill should pass without a $3.5 trillion reconciliation bill. That is the agreement that was made & that is the agreement that must be kept. Physical infrastructure is important, but the needs of working families & combatting climate change is more important."
Isabel van Brugen contributed to this report.