House Speaker Nancy Pelosi (D-Calif.) issued a formal response to President Donald Trump's acquittal in a Thursday morning press conference, saying her House managers did a "magnificent job" in presenting their case.
"Next year we will have a new president of the United States … that is an absolute imperative for our country" and "for our Constitution," Pelosi told reporters at the Capitol, adding that "he's impeached forever." Trump is "never getting rid of that scar," Pelosi remarked.
The speaker was responding to a question about whether the House would issue a subpoena to call former national security adviser John Bolton, who had indicated that he would be willing to testify during Trump's impeachment trial.
Pelosi said that cases involving former Trump administration counsel Don McGahn, Bolton, and other former White House officials "still exist" but her caucus members "have no plans right now" to ask Bolton to appear in front of a House panel.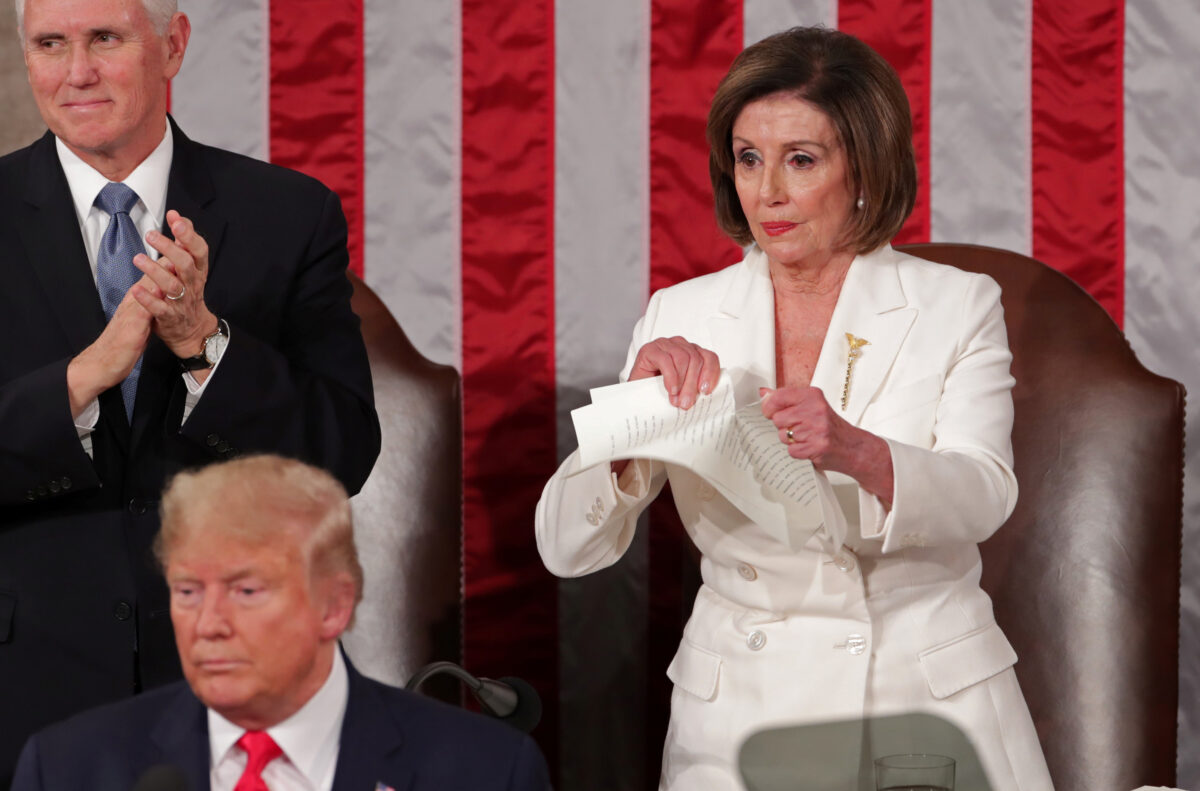 Some Democrats, including House Judiciary Chairman Jerrold Nadler (D-N.Y.) said it was "likely" they would call Bolton to testify in a non-impeachment setting. "We want to call Bolton," he told reporters on Wednesday.
On Wednesday, the Senate voted to acquit Trump of abuse of power and obstruction of Congress. Democrats have said Trump allegedly abused his power by withholding aid to Ukraine in exchange for investigations, which was capped off in a July 25 phone call where the president asked Ukrainian President Volodymyr Zelensky to "look into" Joe and Hunter Biden, a Ukrainian gas company previously under investigation over corruption allegations, and alleged election interference.
Trump, Zelensky, and other top Ukrainian and White House officials have denied there was any pressure. Arguing that Democrats' case fails to meet the "high crimes and misdemeanors" standard for impeachment, Trump's counsel told the Senate that the House's impeachment campaign would forever damage the office of the presidency and usurp the balance of power between the government's co-equal branches in favor of the House.
In the trial, Democrats said the Senate needs to vote to compel witness testimony, especially in light of a report that claimed to have unpublished, new allegations from Bolton. However, that push was rejected last week, setting up for a final vote on Wednesday.
White House Press Secretary Stephanie Grisham said Pelosi's press conference shows that both she and her caucus "don't know when to stop."
At the same time, Pelosi's tone and choice of words during her press conference strongly suggest that partisan tensions between her Democratic caucus and the White House won't abate any time soon. She defended the move to rip up Trump's State of the Union speech after he delivered it to Congress on Tuesday evening by saying it was "full of falsehoods" and "beneath the dignity" of his office.