House Speaker Nancy Pelosi (D-Calif.) on Saturday rejected the latest, $1.8 trillion dollar pandemic relief offer from the White House, saying it doesn't provide enough funding to testing, worker safety, and child care.
In a letter to Democratic colleagues posted online, Pelosi alleged that the proposal is "one step forward, two steps back."
"When the president talks about wanting a bigger relief package, his proposal appears to mean that he wants more money at his discretion to grant or withhold, rather than agreeing on language prescribing how we honor our workers, crush the virus and put money in the pockets of workers," she said. "At this point, we still have disagreement on many priorities, and Democrats are awaiting language from the administration on several provisions as the negotiations on the overall funding amount continue."
The House speaker said President Donald Trump's plan doesn't have "any response to crush the virus," referring to the CCP (Chinese Communist Party) virus, although Pelosi said she remains "hopeful" for a new deal.
"Despite these unaddressed concerns, I remain hopeful that yesterday's developments will move us closer to an agreement on a relief package that addresses the health and economic crisis facing America's families. As I have said before, the devil and the angels are in the details," she said.
It's not clear if Pelosi will make a counteroffer.
The White House plan contains $1,200 direct stimulus payments, $400 weekly unemployment benefits, and $300 billion in aid to state and city governments. Funding for virus tracing and testing is also included.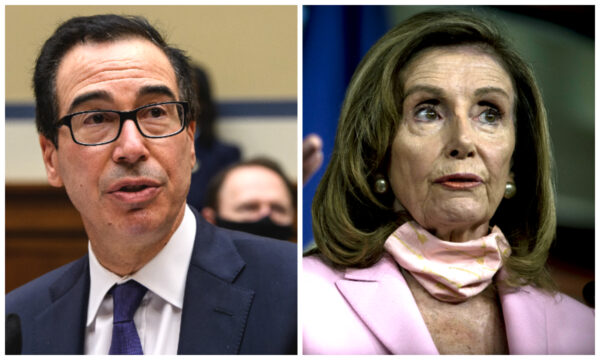 Mnuchin floated the $1.8 trillion proposal in a 30-minute Friday afternoon phone conversation with Pelosi, according to the White House. The new White House package was higher than an earlier $1.6 trillion Mnuchin offer and closer to the $2.2 trillion the Democratic-controlled House of Representatives passed last week.
White House spokeswoman Alyssa Farah said the administration wanted to keep spending below $2 trillion but was eager to enact a fresh round of direct payments to individuals as well as aid for small businesses and airlines.
In a rare show of support, former Democratic presidential candidate Andrew Yang called on Pelosi to accept the White House's deal.
"Nancy Pelosi take this deal! Put politics aside people are hurting," he wrote on Twitter.
Last week, Senate Majority Leader Mitch McConnell (R-Ky.) said he doubts that lawmakers would pass a package before Nov. 3.
"The proximity to the election and the differences of opinion over what is needed at this particular juncture are pretty vast," McConnell told a news conference.
Reuters contributed to this report.