House Speaker Nancy Pelosi (D-Calif.) last week said she was optimistic about Congress passing COVID-19 relief legislation before the Nov. 3 presidential election.
"I'm optimistic. I do think that we should have an agreement," Pelosi remarked during a CNN interview on Sept. 11. "That's what we all want."
On Sept. 10, the Senate killed a Republican-proposed bill that was far smaller than previous proposals and bills, including $300-per-week unemployment benefits, liability protections, funding for schools, and more. Nearly all Republicans voted for the measure, but it didn't garner support from Democrats and did not pass the 60-vote threshold to allow it to advance for a debate.
Both Democrats and Republicans accused the other side of trying to play politics with the measure.
Pelosi, in the interview, said she was happy to see Senate Democrats "reject that terrible skinny bill to a massive problem that we have."
Last month and in July, top Democrats and the White House held daily talks on how to come to an agreement on a stimulus funding package, but those negotiations ultimately stalled before members of Congress left Washington. The Senate returned last week, and the House of Representatives is scheduled to return on Sept. 14.
In the CNN interview, Pelosi did not say whether any new negotiations between her, Sen. Chuck Schumer (D-N.Y.), and White House officials would resume. Treasury Secretary Steven Mnuchin told media outlets earlier this month and in August that he is not interested in taking up a more than $2 trillion proposal from Democrats.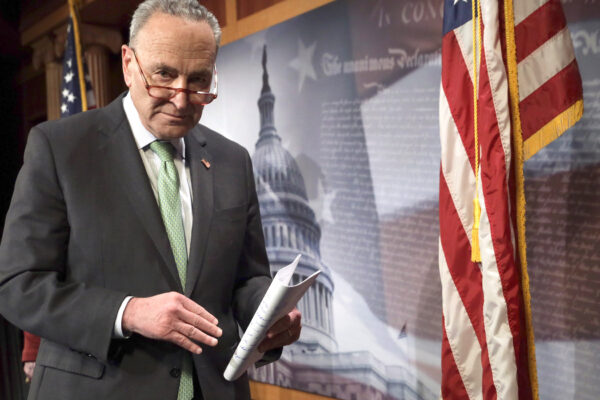 Earlier in 2020, Congress passed several bills, including the $2.2 trillion CARES Act, to offset damages incurred by the CCP (Chinese Communist Party) virus pandemic and associated business shutdowns. The House passed the $3.4 trillion HEROES Act, but the Senate has not taken up the measure, saying it's too expensive and contains many provisions that are unrelated to the pandemic.
Pelosi last week, after the bill failed to advance on Thursday, told Democrats in a conference call that she may try to take action to break the stalemate. The reason why is because some House Democrats who are up for reelection may feel vulnerable for not being able to pass a stimulus bill before then.
"We don't want to go home without a bill, but don't be a cheap date," Pelosi said, according to Politico. "When you are in a negotiation, the last place to get weak knees is at the end."
Last month, about 100 Democrats called on Pelosi and House Democratic leaders to take up a smaller stimulus bill that includes an extension of $600 weekly federal unemployment benefits, which expired at the end of July. That was rejected by Pelosi.
Schumer, who spoke in the call, said that he believes the GOP "will come back again" to negotiations.
"The weaker they are, the better off we are. And that means the more heat they get and the more that Mnuchin is able to persuade Trump, that if he doesn't get something done here, it's going to be certain that he won't be reelected," he said.