House Speaker Nancy Pelosi (D-Calif.) said that after speaking with House leaders and White House officials, the House will proceed at the Capitol in the electoral certification.
"In consultation with Leader Hoyer and Whip Clyburn and after calls to the Pentagon, the Justice Department and the Vice President, we have decided we should proceed tonight at the Capitol once it is cleared for use," Pelosi said in a statement on Wednesday night, referring to Reps. Steny Hoyer (D-Md.) and Jim Clyburn (D-S.C.).
She added that "we always knew this responsibility would take us into the night," adding that members of Congress and staff "should remain on the Capitol complex until they are notified by the United States Capitol Police."
It came after President Donald Trump called on protesters to "go home with love [and] peace" and to "remember this day forever," according to a Twitter post that was later deleted by the social media platform.
Another Twitter post, a video of Trump telling supporters to leave while asserting that election fraud occurred, was also deleted by the company. Facebook appeared to have removed both of Trump's posts as well.
Before that, Trump wrote that the election was "unceremoniously" and "viciously stripped away" from patriots who have been treated "badly [and] unfairly for so long."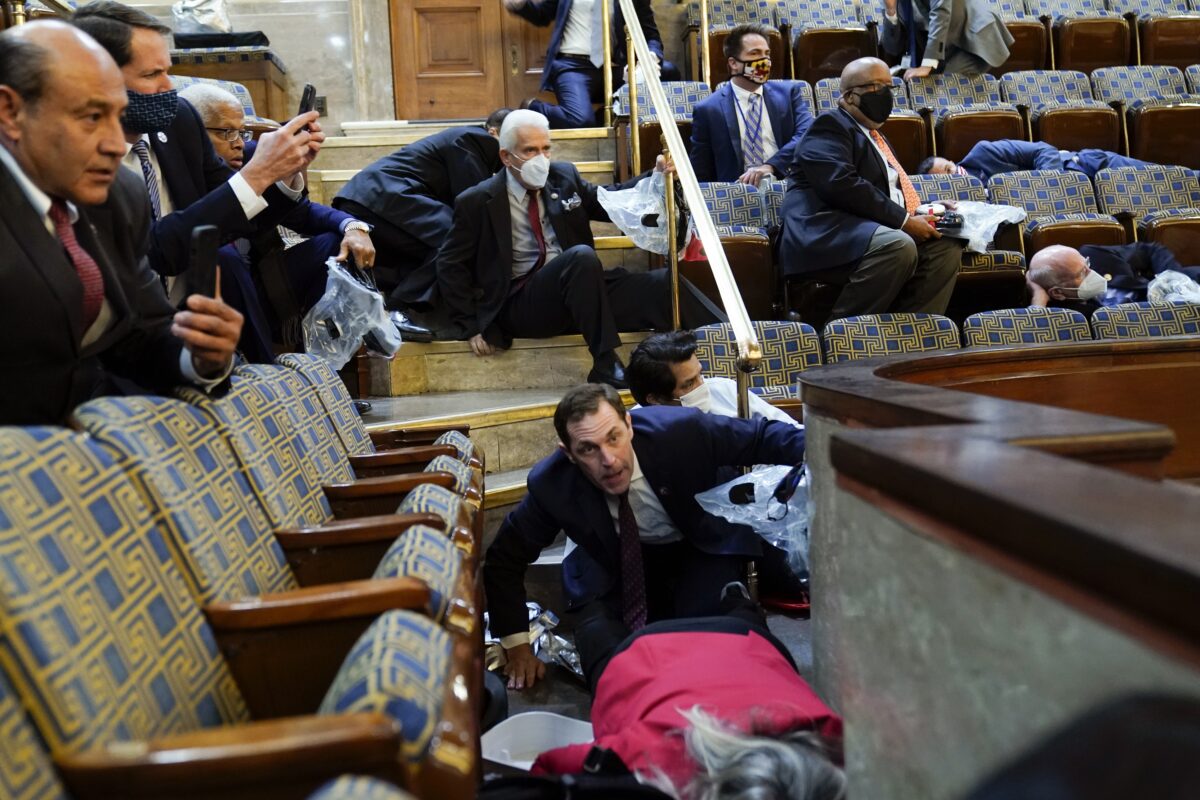 It's unclear whether House GOP representatives and senators will continue their plan to object to the electoral counting efforts. Before the House and Senate chambers were evacuated and put on lockdown, lawmakers were deliberating on the electoral votes for Arizona. Sen. Ted Cruz (R-Texas) and dozens of Republican representatives objected to Arizona's electoral certification.
Rep. Mike Kelly (R-Pa.), among those challenging Democratic nominee Joe Biden's win, blamed "both sides" for the chaos at the Capitol. "What do you think was taking place in this country?" he told reporters. "There's been a lot of people during the last four years that have just been getting more and more incensed over what is going on around the country, on both sides. It's just too bad. This is not how we handle things in America."
Vice President Mike Pence, who was presiding over the session, was evacuated from the Senate as protesters and police shouted outside the doors. Police evacuated the chamber at 2:30 p.m., ushering senators to the first of what would be several undisclosed locations.
Clerks grabbed boxes of electoral college certificates as they left, before protesters began entering the halls, with one getting on the dais of the Senate.
The Associated Press contributed to this report.