House Speaker Nancy Pelosi (D-Calif.) said on April 15 that she hopes some Republicans will back President Joe Biden's infrastructure plan but, if not, Democrats are ready to go it alone through the reconciliation process to push through another major piece of legislation.
Pelosi began her weekly press conference on Capitol Hill by talking about the American Rescue Plan, the $2 trillion pandemic relief package that drew zero Republican backing and which Democrats ended up approving via budget reconciliation, a process that had allowed them to sidestep the filibuster in the 50-50 split Senate.
"About 160 million Americans have received their checks from this legislation," she said. "Those checks are part of nearly a trillion dollars in the pockets of the American workers.
"We said our purpose in the plan was vaccines in the arm, money in the pocket, children safely in school, workers safely back at work—and that is what is happening now. And so we're very proud of that."
"But we have more to do," Pelosi said, referring to Biden's $2.3 trillion infrastructure package, the American Jobs Plan, which has already drawn the scrutiny of Republicans, who are wary of its price tag and argue that it goes well beyond what people normally think of as infrastructure.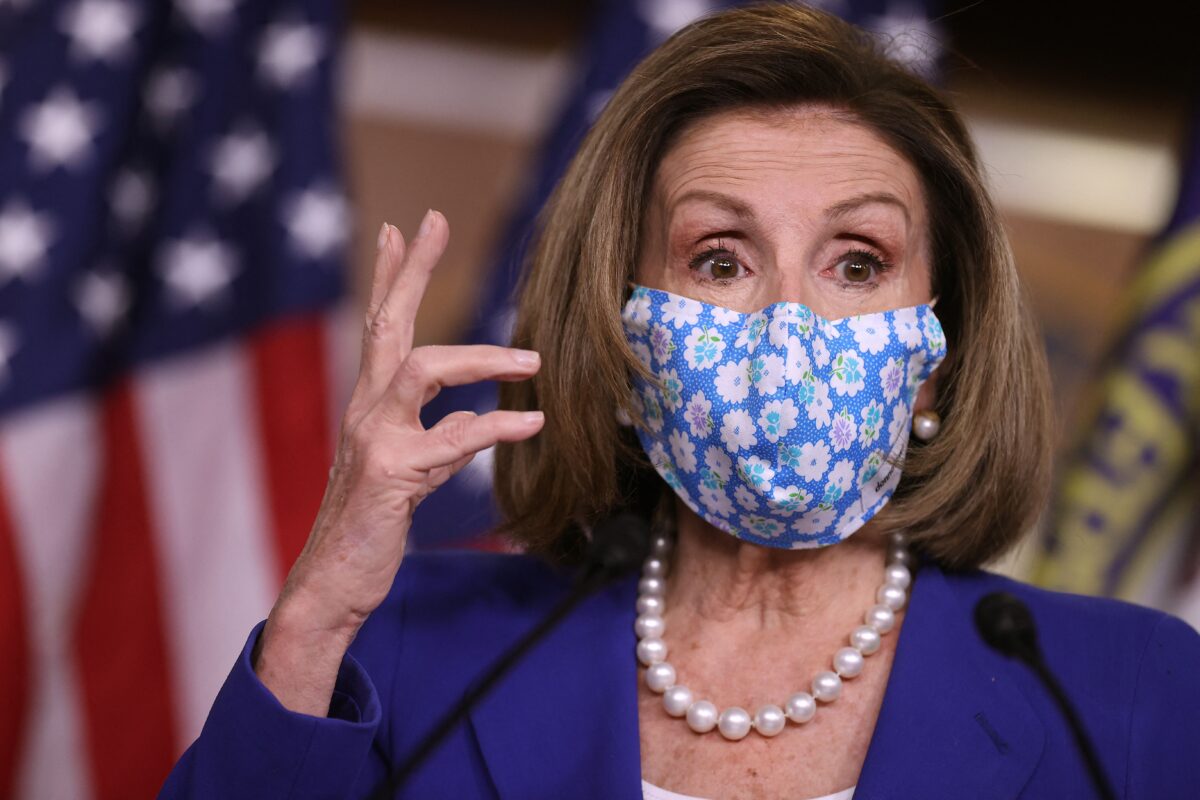 Biden's plan includes $100 billion in workforce development programs, $400 billion toward expanding access home- or community-based care for aging relatives and people with disabilities, $25 billion to increase the supply of child care, $300 billion to strengthen manufacturing supply chains, and $10 billion for a new Civilian Climate Corps that will work on conserving public lands and waters.
Senate Minority Leader Mitch McConnell took to Twitter on April 13. "There is a bipartisan appetite for smart infrastructure bills. In fact, all the multi-year highway bills have been bipartisan going back decades. There isn't an appetite for using the word 'infrastructure' to justify a multitrillion-dollar slush fund for unrelated bad ideas."
McConnell reiterated the point in remarks from the Senate floor on April 13, calling Biden's package "misleadingly titled legislation."
"The White House has lumped together a motley assortment of the left's priciest priorities," he said. "Less than 6 percent of this proposal goes to roads and bridges. It's not remotely targeted toward what Americans think they are getting when politicians campaign on infrastructure.
"But instead of coming up with a better bill, Democrats have decided it's the English language that has to change. They are embarking on an Orwellian campaign to convince everybody that any government policy whatsoever can be labeled infrastructure."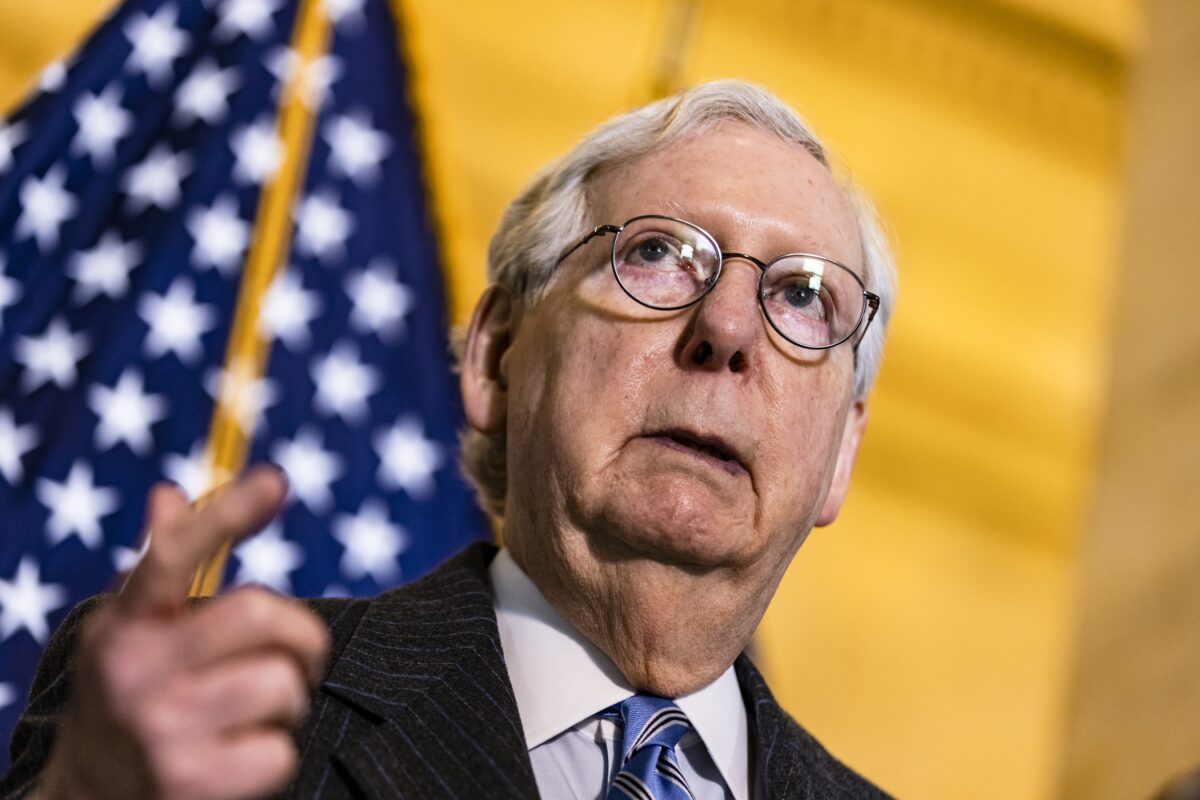 Pelosi told reporters that she believes the American Jobs Plan is "not an opportunity of a generation, but of a century," before adding that, for the plan to meet its objectives, "you have to have human infrastructure to go with it.
"And that is workforce development that is very much a part of all this: women being able to participate fully in how we build back better," she said. "That means we have to have adequate child care" so "they can confidently be part of the workforce knowing that their children or loved ones are cared for."
Pelosi said that, in March, she directed Democratic committee chairs to reach across the aisle and find common ground on the package. Now that the chairs have begun to hold committee hearings and started drafting the bill, she said she hopes a "substantial" part of it will be done by the end of May.
"I hope it will be bipartisan and that is what we are striving for now," she said.
Asked about the possibility of advancing the bill via reconciliation if Democrats fail to win bipartisan backing, Pelosi said, "I hope it wouldn't need a reconciliation bill, but we'll be ready if it does.
"How we process it, we'll see."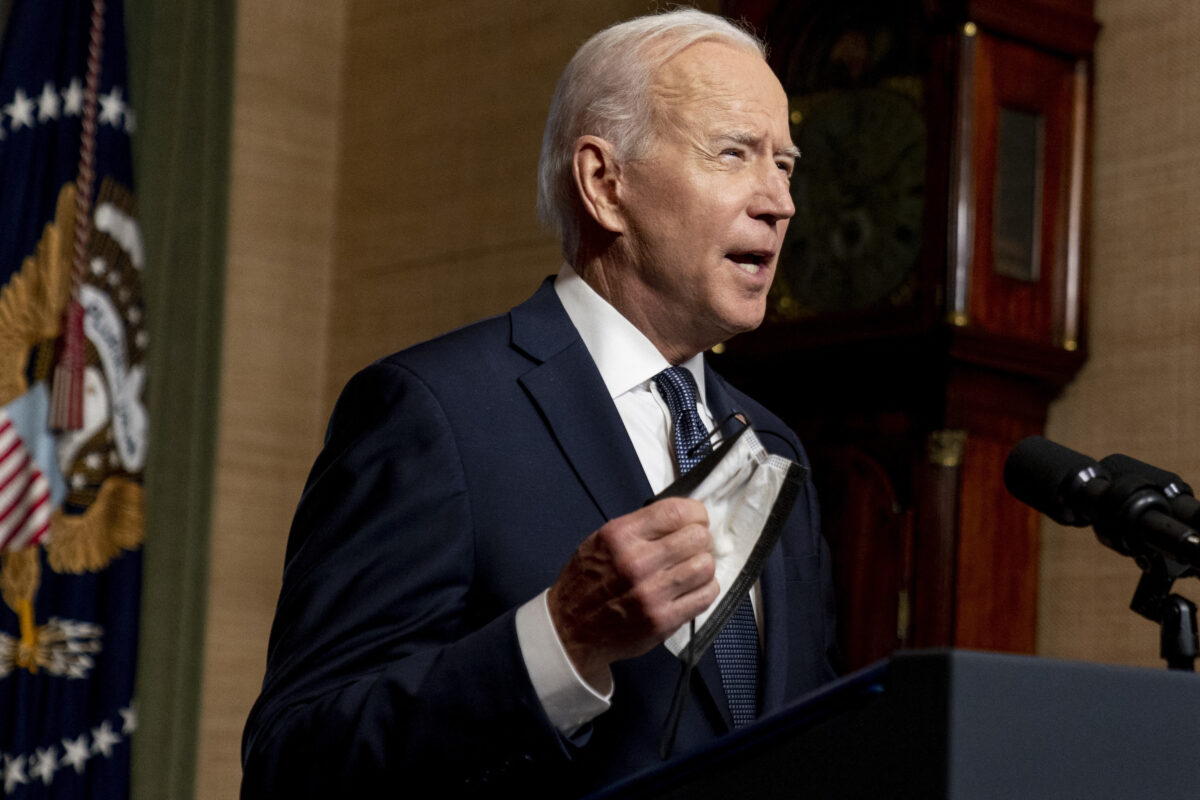 Biden said he hopes to win bipartisan backing for the plan and is "prepared to negotiate" on both its size and funding. The president met with lawmakers from both parties on April 12 to discuss the package as they returned to Washington following a recess.
"I'm prepared to negotiate as to the extent of my infrastructure project, as well as how we pay for it," Biden said ahead of an Oval Office meeting with House and Senate members from both parties. "I think everyone acknowledges we need a significant increase in infrastructure. It's going to get down to what we call infrastructure."
"It's not just roads, bridges, highways."
In a statement following Biden's meeting with lawmakers, the White House stated that the sides "had a good exchange of ideas, and the President asked for their feedback and follow-up on proposals discussed in the meeting, while underscoring that inaction is not an option."
Republicans, meanwhile, say they plan to unveil a narrower infrastructure package to counter Biden's sweeping proposal.