Democrats will release President Donald Trump's tax returns if the Republican loses in November, House Speaker Nancy Pelosi (D-Calif.) said.
Pelosi was asked about voters being frustrated with House Ways and Means Chairman Richard Neal (D-Mass.), who has been unsuccessful in efforts to get Trump's returns.
Pelosi endorsed Neal in his primary battle before saying the chairman "has been completely strong and tough‑minded on this."
"We are at the mercy of the courts, at the mercy of the courts. But he has been very strong [and] he has gone forward. He could not do anything more," she told reporters at the U.S. Capitol in Washington.
"And, in fact, when we win this election, and we have a new president of the United States in January, and we have a new secretary of the Treasury, and Richie Neal asks for the president's returns, then the world will see what the president has been hiding all of this time."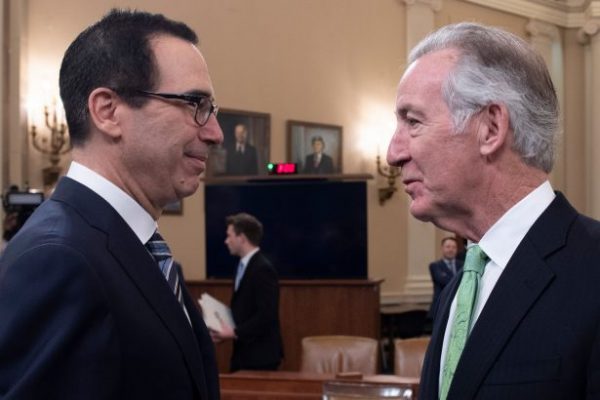 Neal last year asked the Internal Revenue Service for Trump's tax returns, a request the Trump administration denied. Treasury Secretary Steven Mnuchin acted properly in the matter, his department's inspector general said.
Neal filed a lawsuit that is still being settled in the courts. A separate effort to get Trump's tax returns from the Manhattan district attorney's office is on hold for now.
Neal, 71, faces a challenge from the left in the Sept. 1 primary. Alex Morse, the 31-year-old mayor of Holyoke, is vying to unseat him.
During a debate last week, Morse said Neal would "rather work with [Trump] than hold him accountable," claiming Neal "sat on" the push for Trump's returns. "Congressman Neal dropped the ball," he said.
Neal challenged Morse, saying his efforts would ultimately be successful. The victory will "reverberate throughout American history," he said.