Peasants in Heilongjiang Province Suppressed
September 17, 2008 12:10 am Last Updated: October 1, 2015 10:48 pm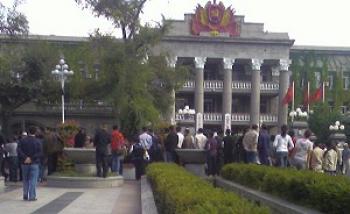 Recently in Heilongjiang, a province in northeast China, a scandal involving local officials helping a private company to accelerate illegal sales of agriculture equipment erupted. About 300 victimized farmers gathered in front of the Committee of Heilongjiang Province to protest.
The authority mobilized about 500 armed police to expel the appellants. Several appellants and bystanders who tried to videotape the incident were arrested.
Farmers Paid but No Machinery Delivered
The Kedong County government in Heilongjiang carried out a policy to assist farmers buying agriculture machinery. The government proposed to pay for 30 percent of the cost, while the farmers were only required to pay 70 percent. Close to a thousand farmers paid the company for its products. The estimated amount of money involved added up to over 50 million yuan (US$7 million). However, the farmers never received the machinery they paid for.
The farmers constantly complained to Kedong County and the Qiqihar City officials, but were kicked around without answer. At noon on September 11, about 300 farmers gathered in front of the Committee of Heilongjiang Province in Qiqihar City and protested.
A middle age woman told the Epoch Times, "Because the Dongxing Agricultural Machinery Manufacturing Company did not deliver the machines. (The sales department) said the money had gone to the chairman of the company."
Chairman and Magistrate Are 'Close'
Lin, a local resident, said he did not hear anything about the government helping to pay 30 percent of the cost. "But I heard the sale was initiated by the county magistrate. The magistrate is very close to the chairman of the company. I think they used to be classmates," said Lin.
That day the farmers came to the office of the Committee and the security did not allow them to enter the office. Later police cars and military vehicles came with about 500 special policemen in black suits. The police surrounded the appellants and started to expel and beat them. The police took away several protestors and a bystander who was videotaping the process.
The Epoch Times called the Kedong County government but the staff refused to talk about the incident. Nobody at the Dongxing Company answered the phone.
Province May Have Taken the Case
A retired teacher who lived in Kedong County said, "We have been talking about this incident a lot these days. The county magistrate, also a party secretary, Wang, is definitely involved. It's a fraud! It is said the company chairman has been detained. It's not an isolated incident. The same thing happened in several other provinces including Inner Mongolia. I heard the provincial government has taken over the case."
This widely known case hasn't been reported by the local news media according to about a dozen people interviewed.