As time passes, with Dec. 7, 2017, as the seventy-sixth commemoration of the Pearl Harbor attack, the number of survivors continues to diminish.
Just after the Pearl Harbor attack in 1941, there were about 60,000 survivors.
Although an exact number of survivors is challenging to ascertain, a recent estimate according to the chief of interpretation of the USS Arizona Memorial is about 2,000 to 2,500.
All of these survivors are in the twilight of their lives, yet the ordeals they experienced, and the sacrifices they endured for America's democracy demand eternal honor.
America is currently challenged with ongoing scandals, divisiveness, and violence.  The anniversary of Pearl Harbor is time the resolve to reawaken our character, courage, and compassion.
Pearl Harbor Survivors Association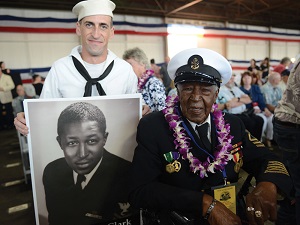 The Pearl Harbors Survivors Association (PHSA), officially recognized by the United States Congress is a "symbol of America's commitment to preparedness against unprovoked acts of aggression."
The PHSA is dedicated to ensuring that all present and future generations of Americans forever remember the events of Dec. 7, 1941 as crystallized in their motto "Remember Pearl Harbor—Keep America Alert."
As the immortal words of President Franklin Delano Roosevelt—"a date that will live in infamy"—echo throughout the ages, we must eternally remember Pearl Harbor.
Pearl Harbor: Fast Facts
According to the National World War II Museum, here are some fast facts from their document titled "Remembering Pearl Harbor: A Pearl Harbor Fact Sheet":
On Dec. 6, 1941, the U.S. intercepted a Japanese message that inquired about ship movements and berthing positions at Pearl Harbor. The cryptologist gave the message to her superior who said he would get back to her on Monday, Dec. 8. On Sunday, Dec. 7, a radar operator on Oahu saw a large group of airplanes on his screen heading toward the island. He called his superior who told him it was probably a group of U.S. B-17 bombers and not to worry about it.
The attack killed 2,403 U.S. personnel, including 68 civilians, and destroyed or damaged 19 U.S. Navy ships, including 8 battleships. The three aircraft carriers of the U.S. Pacific Fleet were out to sea on maneuvers. The Japanese were unable to locate them and were forced to return home with the U.S. carrier fleet intact.
The battleship USS Arizona remains sunken in Pearl Harbor with its crew onboard. Half of the dead at Pearl Harbor were on the Arizona. A United States flag flies above the sunken battleship, which serves as a memorial to all Americans who died in the attack.
Dorie Miller, a steward on the USS West Virginia, distinguished himself by courageous conduct and devotion to duty during the Japanese attack on Pearl Harbor. He first assisted his mortally wounded captain and then manned a machine gun, which he was not accustomed to operating, successfully destroying two Japanese aircraft. He was the first African American awarded the Navy Cross, the service's highest award, for his actions during the attack.
The United States did recover. After only six months, the U.S. carrier fleet dealt a decisive blow to Japan's navy in June 1942 at the Battle of Midway, sinking four of their aircraft carriers. After this U.S. victory came the start of the U.S. island-hopping campaign and the eventual defeat of the Japanese Empire in August 1945.
Spotlight: A Pearl Harbor Survivor
The US. Department of Defense website memorializes an inspirational story about the second-oldest known Pearl Harbor survivor, retired Navy Lt. Jim Downing.
Downing, now 104 years old, traveled to Pearl Harbor during the 75th anniversary of the attack in 2016.
His ship, the USS Virginia, was severely damaged by nine torpedoes and over 100 men were killed, including 17 of Downing's closest friends. Downing responded to the ship's attack from his home, where he was having Sunday breakfast with family and shipmates, to fight fires and help survivors.
After the tragedy, Downing composed personal letters for the loved ones of the dead and injured.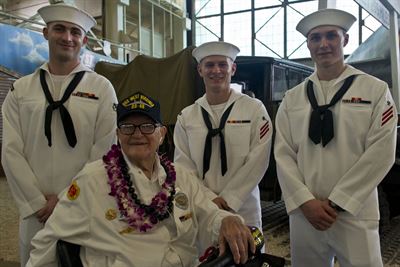 "The ones that I didn't know, while I was fighting the fire, I memorized their identification tags and wrote to their parents so that was a sense of closure, both on my part and on the part of their own parents."
He heard back from many of them including parents who learned their sons were actually alive. Downing said, "They were grateful. They rejoiced; they didn't know that their sons were still alive until they got the letter."
Downing wants the memory of Pearl Harbor to be kept alive long after the last surviving member.
"I hope history books and history teachers won't forget. There's a tendency as time passes to forget about the past, so I'm hoping history books and teachers will keep the memories alive."
America's Resolve: Remember Pearl Harbor
Perhaps these words from a December 7, 1987 proclamation by President Ronald Reagan will inspire us to eternally honor Pearl Harbor:
"On December 7, America remembers much and resolves much. We remember Pearl Harbor's dead and wounded and its courageous survivors who fought that day and many other days as well. We remember too one of history's clearest lessons, that weakness and unpreparedness do not build peace but invite aggression. We remember that our freedom, purchased at so dear a price, can be taken from us. And we resolve that that shall never be. We resolve that our strength, our vigilance, and our devotion will forever keep America the land of the free and the home of the brave. We resolve that we will keep faith with those we have loved and lost. And we resolve that, always, we will remember Pearl Harbor."
Pearl Harbor must be eternally honored and inspire America to a reawakening built on the ethical pillars of civil decency, moral courage, and community service.
Vincent J. Bove, CPP, is a national speaker and author on issues critical to America. Bove is a recipient of the FBI Director's Community Leadership Award for combating crime and violence and is a former confidant of the New York Yankees. His newest book is "Listen to Their Cries." For more information, see www.vincentbove.com
Views expressed in this article are the opinions of the author and do not necessarily reflect the views of The Epoch Times.