LONDON—PayPal has canceled the account of Tommy Robinson, the controversial British activist and critic of Islam, freezing his funds for six months.
Robinson posted on Facebook a notice from PayPal saying his account had been shut down for violating its policies.
Robinson characterized the ban as "fascism," and said that he knew nothing about it until he read it on BBC News on Nov. 8.
PayPal has said it cannot comment on individual customers, but said that it regularly reviews accounts and shuts down those which violate its policies.
"We do not allow PayPal services to be used to promote hate, violence, or other forms of intolerance that is discriminatory," said a spokesperson in statement.
In September, PayPal confirmed it had blocked InfoWars sites because they violated their inclusion policies. InfoWars founder Alex Jones is suing, claiming bias against conservative views.

Robinson, whose real name is Stephen Yaxley-Lennon, is a long-standing street activist who has railed against Islamic extremism and influence in British communities. He is frequently labeled "far-right" and "Islamophobic" by critics and the media.
Jailed, Judgment Overturned
Robinson rejects the "far-right" label, and says he is not racist. He says he has nothing against individual Muslims, but reserves the right to criticize the doctrines of Islam and to highlight where he thinks its interpretation—such as sharia—is at odds with Western values.
Robinson became an international figure earlier this year when he was jailed for allegedly breaching a court order as he reported on a grooming trial. The judgment was quashed on appeal, Robinson was freed, and the case referred to the attorney general.
Robinson has also been banned from Twitter and claims PayPal's decision is part of a broader attempt to shut him down.
"It is simply fascism. I have a different political opinion. I report news and facts and stories that the media don't want to cover," Robinson said in a video posted to Facebook, where he has over 1 million followers. 
He said that the Big Tech companies are "conspiring together, in order to silence and control what you hear."
"They don't want you hearing, you knowing the truth, the facts, the alternative story. They want to tell you who I am, what I am about, what my views are, rather than having you be able to listen to me yourself."
Robinson said that PayPal had given him no specific reason for the ban.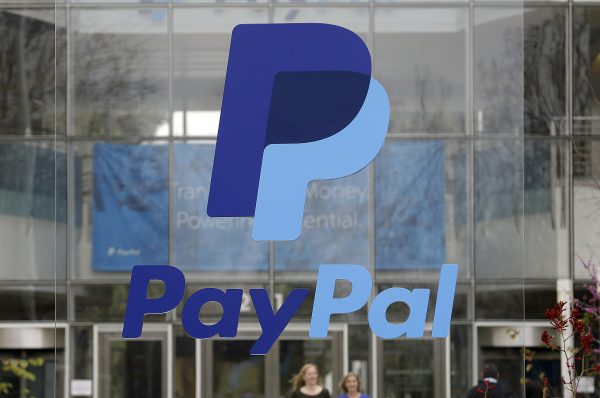 PayPal said in its statement, "We do not take decisions like these lightly, and we work hard to be rigorous and fair-minded when reviewing PayPal accounts.
"Striking the necessary balance between upholding free expression and open dialogue and protecting principles of tolerance, diversity, and respect for all people is a challenge that many companies are grappling with today."
Hotbed of Islamic Extremism
At the age of 21, Robinson became a street activist in his hometown of Luton, which was later identified as a hot spot for Islamic extremism with links to terror attacks, including the London bombing on July 7, 2005.
He says that he was vilified for sounding the alarm on issues that later turned out to be true problems—such as the existence of predominantly Muslim grooming gangs and extremist preachers.
Robinson founded the English Defence League (EDL) in 2009, which attracted members with extreme far-right views. He left the group after four years. He later joined Pegida UK, an anti-Islam organization.
Robinson claimed that billionaire George Soros was one element behind the PayPal shutdown.
Pressure group SumOfUs, funded by a Soros-founded organization with a $4 million annual purse, has been lobbying PayPal since July to ban Robinson, getting 64,000 signatures in an online petition.
Tom Barns, Campaigns Manager at SumOfUs said in a statement, "Other payment processors should take note—they can't hide behind a veneer of neutrality while quietly acting as corporate sponsors for fascists like Tommy Robinson."
Many social media users criticized PayPal's decision. Within 24 hours, an unrelated PayPal Facebook post had been hijacked by over 1,500 critical comments, most saying that they were canceling PayPal accounts.
One person wrote on Twitter, "I'm no Tommy Robinson fan, but it's strange how you can buy certain offensive/dangerous things online and PayPal will happily do the transaction—weapons, hate speech books, Hezbollah flags, you name it."