Bribe or Ticket? 'Mandatory' Fines a Blank Check for Drivers
September 1, 2010 1:41 am Last Updated: October 1, 2015 7:09 pm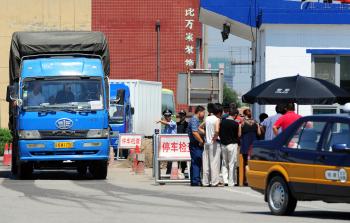 In a small city called Leping in Jiangxi Province, drivers who pay the right price may be exempt from all traffic violations for up to a year, effectively buying the privilege to break the law.
Mr. Cheng, a truck driver, discovered as much after he was pulled over for overloading, according to reports in state media. The policeman demanded that rather than pay a fine for overloading, he pay a "fine" of 3,600 yuan (about US$529) that would cover him for six months. Usually a ticket for overloading is no more than 100 yuan. With the policeman's offer, Cheng could overload as many times as he liked during that time.
Surprised by the offer, Cheng said he didn't have that kind of money on him. The policeman was kind enough to present another option: a 1,800 yuan ($264) fine, which would covert him for three months. Cheng paid the amount, and was not surprised when he did not receive a receipt.
Truck driver Wang's treatment was slightly harsher. Hailing from a suburban town near Leping, the police told him that if he did not pay the half-year amount, he would be fined 1,900 yuan every time he was caught.
Leping is not the only place where traffic violation rights are up for sale. In China's northern Inner Mongolia Province similar "rules" have been applied for six or seven years. There, the police paint numbers on the trucks that have paid monthly fines of 1,000 yuan, so they won't again be pulled over, according to online accounts.
In July, police in Mizhi County of Shanxi Province city were also found to be charging monthly fines.
The effect encourages drivers to pay extortion fees and thereafter willingly violate traffic codes, as another truck drive from Leping, surnamed Cha, commented. In the past overloading drivers would carefully avoid the police, but now they overload as much as they like without fear of fine, he said.
In a rebuttal to the bitter criticism from the media and bloggers, Leping traffic police vice-chief Xu Lisheng said: "Previously we charged about 40 or 50 yuan for each overloading violation, but that was not enough." He went on to explain that the city's traffic authorities had been discussing how to implement a seasonal or annual fining plan, and claimed that some policemen had executed the plan before it was officially approved.
Grace Li, a former Chinese judge who now resides in the U.S., looks dimly upon such explanations; she says that it is an open secret in China that traffic officers have a fine quota used to evaluate their performance and bonus. "Monthly packages, annual packages, or random fining: it varies from city to city," she said. "Their goal is the same: to extort as much money as possible."
Read the original Chinese article.