Tragic scenes emerged in locked-down Shanghai as residents in poor health struggled to obtain medical services amid the city's harsh COVID restrictions.
Battling a new wave of COVID-19 infections, Shanghai has moved to enact the country's biggest city-wide lockdown, since Wuhan, as authorities rush to shut off every chain of infection. The eastern Chinese port and financial hub has set off sealing 26 million residents in two stages for mandatory mass-testing over nine days starting March 28.
As of March 26, 36 hospitals in Shanghai had been designated as special treatment sites for pandemic patients.
Insiders confirmed to the Chinese-language edition of The Epoch Times that elderly residents confined to their homes were in danger after being denied treatment by staff of the overwhelmed hospitals, and suicide attempts have occurred in local communities.
A resident in Pudong New District surnamed Dong, whose father is a renal patient who requires dialysis—a procedure to clean the blood—three times a week, sought help on Chinese social media.
"My father hasn't had hemodialysis for four days and now his feet have developed edema. High potassium in the blood would also damage the heart, and (my father's) life could be in danger," he told the Epoch Times on March 28.
"All my requests received no response, but I cannot watch my father waiting to die at home," said Dong. His Monday post has drawn intense responses. A netizen from Pudong said his relative had not received dialysis for a week, after being rejected by Shanghai East Hospital and Pudong Hospital.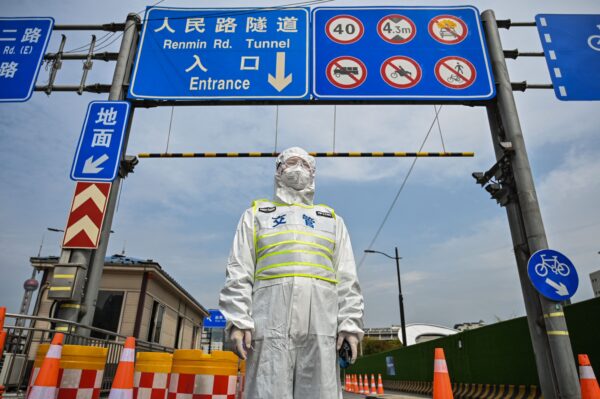 Although dialysis is the most common treatment for uremia, only one hospital in the Pudong district currently takes patients in quarantine, according to Dong. Two other patients in his community are also desperate to receive the dialysis treatment.
"There could be hundreds or thousands more patients on dialysis across Pudong," he said, worrying a second crisis in the grip of COVID-19 will kill more than those who die of the outbreak.
By press time, Dong had posted another update saying his father is temporarily scheduled to receive dialysis on March 29.
Residents Committing Suicide
Meanwhile, severe restrictions on travel and movement saw an elderly resident jump off his apartment building in Shanghai's Minhang district, a video circulated online shows.
Lin (pseudonym), a Shanghai resident from the same neighborhood, confirmed on March 28 with the Chinese-language edition of The Epoch Times that the man, who passed away after his fall, was about 70.
"I heard that it was driven by his poor health, probably suffering from cancer and the pain," she said, as the outside alleged local committee rejected his access to medication.
China's state media denied the allegation, calling it a rumor. The Epoch Times repeatedly call local authorities but the calls were unanswered.
Pudong citizen Wang told The Epoch Times on March 27 that a 14-year-old girl jumped from her home in Kangqiaozhen of Pudong district, after testing positive for Covid. The Epoch Times cannot independently verify the facts.
"Her mother cried almost to death," Wang said during the interview.
"People have done so many rounds of sweeping nucleic acid tests over and over again," he said. "[Authorities] should think about what's going on and find out the cause. But when I said it online, they suspended my account."
The latest tragedy came on the heels of a Shanghai nurse dying of an asthma attack last week after being turned away from the hospital where she is employed. She was told the emergency room was closed for disinfection following COVID-19 restrictions.
Shanghai continued to set a new record of 4,477 new COVID-19 cases on March 28, official data show, accounting for about two-thirds of the reported nationwide total.
Yi Ru and Lin Cenxin contributed to this report.