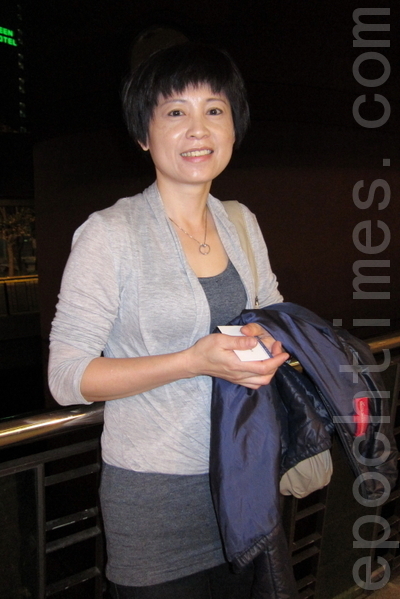 TAINAN, Taiwan—Shen Yun Performing Arts New York Company debuted at the Tainan Municipal Cultural Center Auditorium on the evening of March 7 to 1,400 spectators.
Among them was the partner of He-Fon-Sian-Yen, a famous catering chain enterprise in Tainan, Lee Chi-Jin. She happily described the New York-based Shen Yun as a wonderful performance with truthfulness, compassion, and beauty.
Ms. Lee expressed astonishment from the opening scene with hi-tech backdrops and the powerful sound of war drums that grabbed her attention to the core.
Meanwhile, the extraordinarily artistic conception and pure sense of beauty of the New York-based Shen Yun performance blessed her with a truly unforgettable experience.
"It surprises the audience," Ms. Lee said. "Really touching, since the show conveys truthfulness, compassion, and beauty together."
The Shen Yun dancers gave her a sense that each dance movement and every program was complete. At the same time, the manager of a catering enterprise who has highly valued concentration, deeply appreciated and was touched by the Shen Yun artists' high level of focus.
"I feel they have profound thoughts letting me know from my heart that everyone has consciously performed, since each program is perfectly connected. I do believe that they have really made painstaking efforts."
One other element she praised was the delicately hand-made Chinese traditional costumes.
"The costumes are totally different for every program. They just caught your eye right at the moment of the opening curtain. I love all of them," Ms. Lee said.
Story-based dances is integral to Shen Yun to depict China's rich 5,000 years of traditional culture portrayed in classical Chinese dance and music.
Joyful Little Monks was one of Ms. Lee's favorite dances that made her laugh. "Very playful, really cute," she said.
Lastly, Ms. Lee stressed that Shen Yun was a first-class artistic performance and urged more people to enjoy the programs.
"If it is possible, I wish everyone come to watch it and see their performance."
Reporting by Dai Deman and Sophie Chiu.
New York-based Shen Yun Performing Arts has three touring companies that perform simultaneously around the world. For more information, visit ShenYunPerformingArts.org
Read the original  Chinese article