A parrot has been taken into custody following a police raid targeting drug dealers in northeast Brazil.
The bird had been taught to warn its owners of police presence by shouting "Mamãe, polícia!" or "Mama, police!" according to a report from Globo, a major Brazilian television network.
The bird was seized in Vila Irma Dulce on April 22, and sent to the Flagrant Center of Teresina, the capital of Brazilian state Piauí. Police say the parrot has not said anything while in custody.
Major Mello of the 17th military police battalion told Globo that the animal impressed the police.
"He must have been trained for that. He began to scream as soon as the police approached," he said.
According to the police, the parrot's owner is a woman going by the name "India" who has been arrested twice for drug trafficking. Police say the woman was in bed due to an accident, and it was her husband who was using the parrot.
The man, identified as Edvan, 30, was arrested after police found crack in the house and the man's teenage daughter was seized with marijuana hidden inside her underwear. Both of them were sent to the Flagrant Center, where police investigate flagrant crimes. The girl was later released.
It is not the first time parrots have been used by drug dealers to warn of nearby law enforcement.
In 2010, a parrot by the name of Lorenzo was seized after being caught warning drug traffickers of police presence in Columbia.
Lorenzo was reportedly trained to call out every time a police officer went near the traffickers' headquarters. When presented to media after his capture, he said, "Run, run, the cat is going to eat you."
When police caught on to the ruse, they were able to sneak past the avian lookout, where they discovered weapons, marijuana, and two more trained parrots, according to the Telegraph. Four men were also arrested in the raid.
Authorities claimed that Lorenzo was one of nearly 1,700 parrots trained by drug traffickers that police have seized, the Telegraph reports.
Other Guard Animals
Parrots are not the only exotic animals used to guard drugs.
In 2011, a 4-foot-long American alligator was found guarding more than 2,200 marijuana plants in Hemet, California, according to ABC news. It is illegal to own a pet alligator in California.
Another alligator, this one named "Mr. Teeth," was discovered in California in 2013 guarding a marijuana stash, reports the Guardian.
In 2010, a man in Canada was fined for feeding dozens of black bears that police allege he used to guard a marijuana grow operation, which at the time was illegal, according to CBC.
Parrots and Drugs
In India, poppy cultivation was reportedly impacted by local parrots who feed on poppy plants. A 2019 report from NDTV said the opium-addicted birds were a nuisance in the state of Madhya Pradesh, India's largest producer of opium. India is one of the few places in the world where licensed opium cultivation was allowed.
Parrots in the country have been going after poppy seeds for years. In 2015, Times of India reported that parrots who had feasted on poppy crops were dying, as the harvest season had ended and the parrots would no longer get their daily dose of opium. Nandkishore Dhakar, an opium farmer, told Times of India that their deaths were inevitable.
"Once we cut the pods, they are deprived of their addiction," he said. "They lose their appetite, start behaving strangely, and even lose the will to live. Eventually, they just die."
Parrot Trafficking
While some parrots were used to help drug trafficked, many parrots are themselves trafficked. According to the International Union for Conservation of Nature (IUCN), trade is the biggest threat to parrots, while other threats including habitat loss, fragmentation, environmental degradation, predation, and hunting for food.
There are over 330 species of parrots around the world, of which the IUCN has identified 94 threatened species.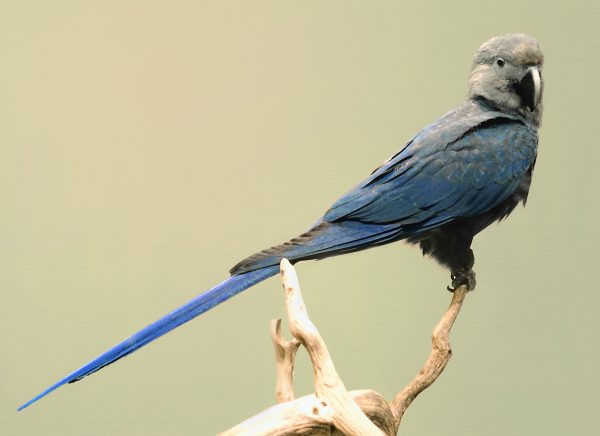 Spix's Macaw, a little blue macaw from Brazil, was declared extinct in the wild last September by Birdlife International, a bird conservation organization. The blue bird, known for the titular character in the animated film "Rio," is now maintained in captive breeding programs in different parts of the world.
Other blue parrots, specifically the Hyacinth Macaw and Lear's Macaw, as well as other endangered parrots such as the Red-fronted Macaw and Military Macaw are frequently transported across Bolivia from Brazil, Birdlife International reports. The organization says that one of the reasons why trading in wild parrots occurs is because it is profitable, where beautiful or rare species can sell for over $1,000.