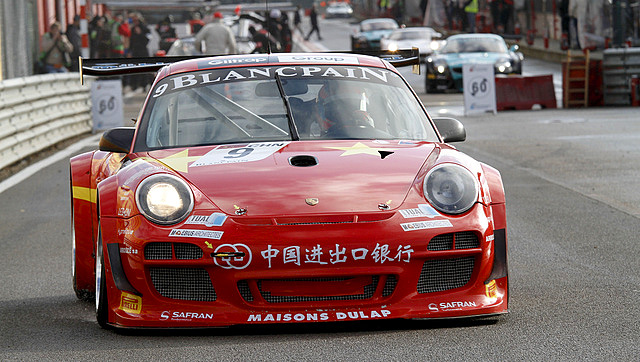 Mike Parisy and Matt Halliday in the # 9 Exim Bank Team China Porsche won the FIA GT1 championship race at Zolder, Belgium Sunday, overcoming tough weather conditions and tough competition.
"It was one of the best days of my life," Parisy told GT1world.com. "It was an incredible race. There was a lot of pressure at the end but I just had to keep it tight and not make any mistakes."
Co-driver Halliday added, 'We had to manage our tires, stop at the right time and make all the right choices, and that's what we did. We are a young team but this result is a tremendous boost."
The race started with a damp track and rain hit in the opening laps, forcing many teams to pit to change tires. Contact was common on the slick course; the most telling incident was probably Stephane Ortelli in the #32 WRT Audi spinning teammate Oliver Jarvis in the #33 car on lap 27. Jarvis fell from sixth to tenth, ending any hope of a podium. Jarvis and Ortelli won both the Nogarro races and did poorly and both Zolder races.
Yelmer Buurman in the No. 18 Vita4One BMW, winner of Saturday's qualifying race made a huge charge in the final laps but couldn't catch Parisy. This team had a rough time at Nogarro but came back strong at Zolder.
Co-driver and team boss Michael Bartels said, ""We are now heading in the right direction following the disappointment at Nogaro," he said. "We are back in business in the championship but we have a lot of homework to do for the next race.
"We have a break now between GT1 events before Navarra and we will concentrate on making less mistakes and improving the set-up of the car."
Round Three of the FIA GT1 World Championship will run at Spain's Circuito de Navarra on May 26–27.