One of the terrorists behind the Paris attacks who is on the run is using a disguise and false name, according to a new report.
Spanish broadcaster RTVE has published a picture it says is being circulated by French police, showing Salah Abdeslam before and after donning the disguise.
The left side shows Abdeslam in a normal outfit and without any accessories, while the right side shows him donning a dark wig and glasses.
Abdeslam, 26, is believed to have been directly involved in the terror attacks at the French capital, which left 130 dead and hundreds of others wounded.
His brother Brahim was one of the suicide bombers, while a younger brother, Mohamed, was arrested by Belgian police but later released without charge.
Abdeslam is on the run and officials think he slipped past police during a routine check near the Belgian border in the early hours of Nov. 14. Two friends are believed to have picked him up from Paris using a rented black VW Polo, and drove him to Brussels. They were let through by police after showing the fake ID. His current whereabouts are not clear.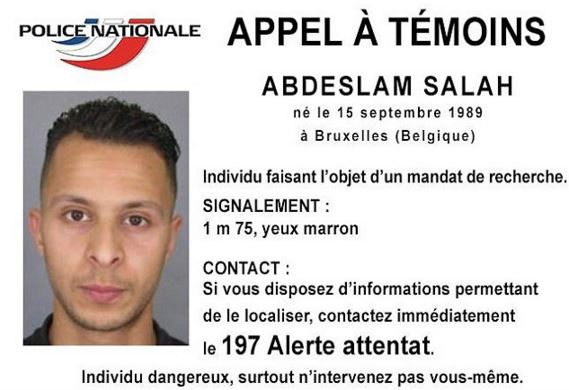 Police believe he may have been going by the name of Yassine Baghli, including the use of a false passport.
French authorities have not yet commented on the RTVE report. 
But police may not be the only people Abdeslam is on the run from–officials believe that he may also be on the run from ISIS, according to the Belgian website SudInfo.
A source who claimed to have seen Abdeslam in Molenbeek, Belgium said that Abdeslam shot people during the attacks but later backed out when he realized things had "gone too far."

"He was overwhelmed by what was happening. But he could not hand himself in as this could have consequences for his family," the source said.
The friend added that Abdeslam fears ISIS because the terror group wants to kill him since he didn't finish his job and blow himself up.
French police believe that Abdeslam did indeed panic.
"Nothing [in Abdeslam's movements] answers the description of a pre-planned escape," a French police source told The Independent. "It is possible he panicked or chickened out of killing himself. It is possible that he was disgusted by what he had been involved in or that his explosive suicide belt failed to detonate."