Paris Forum Supporting 5 Million Resignations from the CCP
October 27, 2005 12:00 am Last Updated: August 21, 2015 5:35 pm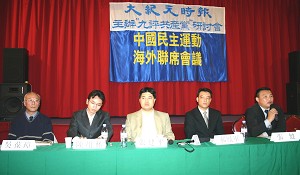 A special forum hosted by the Epoch Times was held in Paris on Sunday supporting the 5 million people quitting the Chinese Communist Party.
Special guests included former secretary general at the Sydney Chinese consulate, Mr. Chen Yonglin, and former Chinese policeman of the 6-10 office, Mr. Hao Fengjun.
Chinese Communist Party Defectors Chen Yonglin and Hao Fengjun told participants at the forum the reason and experience of their defections.
When participants asked Chen about the current France-China relations, Chen said the French government clearly understands the true evil nature of the CCP, but due to economic interests chose to be cooperative with the CCP.
Chen says: "I hope that the French government can see the crisis in China right now. The CCP is sitting on a volcano burning with the resentment of the Chinese people. This volcano will erupt any time. Western countries had better be prepared. "
Former Chinese policeman Hao Fengjun added that the recent Falun Dafa Association statement has had a huge impact on awaking those CCP officials who continue to persecute Falun Dafa practitioners.
Hao said: "I hope there will be more people in Mainland China who can step forward. Whether they can step forward depends on their conscience. If their conscience believes they should no longer continue persecuting Falun Gong, and they want to step forward, we will help them."
Chen and Hao's tour in Europe has caught much attention from high-ranking CCP authorities.
Chen says the CCP is watching their activities closely. He claims that his last forum was attended by at least three former diplomat colleagues.