Parents to Sign New Security Agreement for Children to Attend School
October 2, 2005 12:00 am Last Updated: August 21, 2015 6:55 pm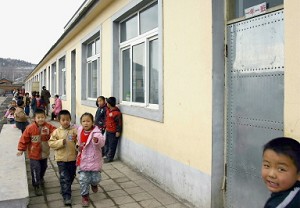 Soon after the new semester started at Qilihe Elementary School in Lanzhou City, the school introduced the "Elementary School Student Security Agreement" for parents to sign. The school claims that doing so will define the responsibilities of parents and will strengthen students' awareness to be careful and safe. The parents, however, feel like they are being asked to sign a life and death agreement regarding their children. According to a report by The Western Business Daily, the parent of a student in Grade Two at Qilihe Elementary school examined the document. Among the eleven items the statement of "the school does not bear responsibilities" appears 6 times. Another three items also state that the school has no responsibilities over certain incidents. This parent said that no one wants their children to have accidents, but signing this kind of agreement makes her feel very uncomfortable. The school's request for parents to sign this agreement is not acceptable.
The "Security Agreement" includes: When the following conditions are met, it will be determined that the school is not at fault.
1. The damage from an accident is not related to the school facilities or there is no defect with the school facilities; 2. The school or teacher will fulfill educational and administrative responsibilities, but accidents and incidents of damage may still occur.
The school will notify the student's guardian if a student does not arrive at school or leaves school without authorization during regular class hours. If the student causes damage in society or runs into any accidents, the school bears no responsibility.
Students riding bicycles to school should strictly follow traffic regulations. The responsibility for a traffic accident lies in whoever caused the accident. The school does not bear any responsibilities for accidents caused by students riding bicycles on campus against the rules.
A parent said that many concepts are confusing in the agreement. The agreement states that if a student leaves school without permission and runs into an accident, the school will not be responsible. Young kids in Grade Two cannot completely control their behaviors. Will they understand the concept of leaving school without authorization? How can parents feel safe about sending their children to school?
This "Security Agreement" has caused disputes among parents. Many parents don't quite understand the school's action. A parent thought the school's starting point was good, but the way to carry it out needs further deliberation. However, some parents felt there was nothing wrong with the school doing this.
Facing inquiries by parents, the principal of the school said that the purpose of signing the agreement is to strengthen students' self-protection awareness and define responsibilities of the parents.
This "life and death" agreement also has sparked online discussions on the corruption of the Chinese education system. An online friend stated that every school is like this. In spite of charging high and unreasonably fees, the schools just want to shift responsibilities by any means.