A group of more than 100 parents, teachers and students criticized local school trustees at a recent Temecula Valley Unified School District board meeting in Temecula, Calif., over policies that allegedly forced dozens of unmasked students to study outside in the cold.
Stephanie Dawson, a parent, blasted the board for sending unmasked children at Temecula Middle School to do their schoolwork outside in the rain on Feb. 22, with daytime temperatures dipping down into the low 50s.
Dawson, who photographed the students, told The Epoch Times one of them secretly called her mom to let her know she was forced to do her schoolwork outdoors. The students were told they couldn't sit together, although some did huddle together in the rain, she said.
Meanwhile, photographs and video show maskless students left out in the cold while socially distanced from each other.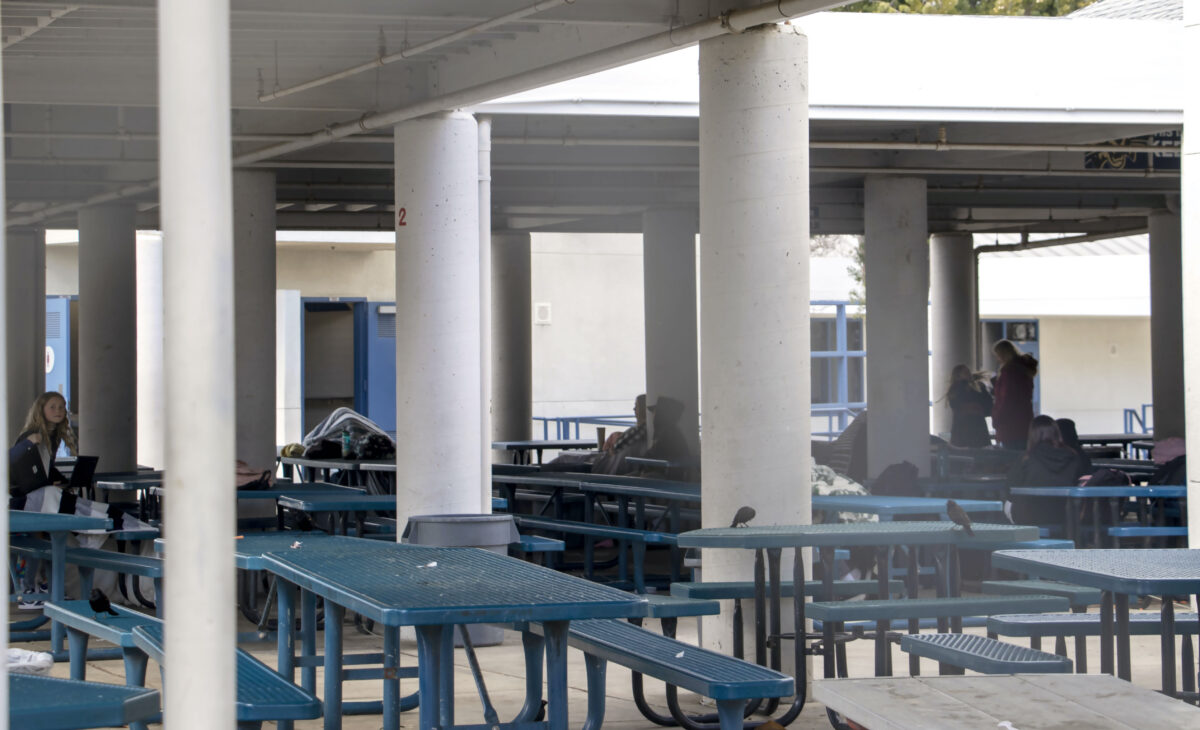 "Since when is torturing our children a publicly accepted policy? Is this for the sake of public health, or is this punishment for their unwillingness to comply?" Dawson asked the board.
A group of parents led by Dawson served the school board with a notice of intent to file a claim against the district's insurance policy.
The parents demanded that the board lift its mask and vaccine mandates, along with other demands including ceasing the exposure of children to concepts such as critical race theory and "inappropriate" sexual education.
"If these are not removed, and or halted within five days, we will proceed with filing a claim against your crime and liability policy for the codes of law that you are violating and for the violation of your oath of office," Dawson said.
Dawson said the board members were clearly seen not wearing masks behind glass walls during the closed session portion of the meeting but wore them during open session. The Epoch Times also obtained photographs of the board members without the masks.
"It was nice to see you guys in here without masks today," Dawson said.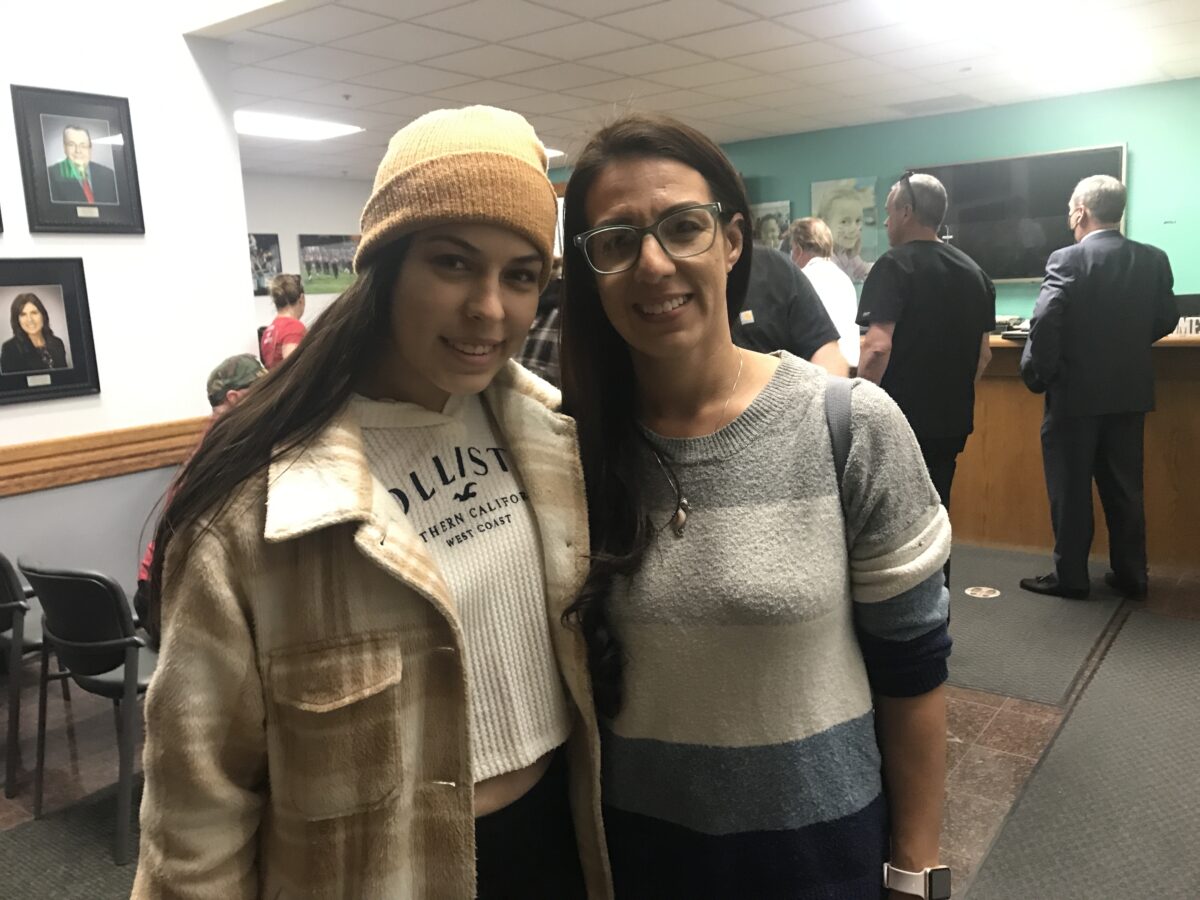 Steve Campos, a teacher, presented a petition with more than 300 signatures of district staff who oppose the mask and vaccination mandates for staff and students.
"We understand that the vaccination may or may not be implemented," Campos said, as he handed over the petition.
Campos accused the district of retaliating against those who spoke out against district policies.
"Retaliation and harassment are all too real in this district and is why very few staff ever speak out to address concerns," he said.
Campos said he has heard reports that some students at Temecula Middle School who refused to wear masks "were placed in a room where the lights were not even turned on."
"And today, a student posted a video … of them shivering outside in the cold," he said.
Tricia Werner, another parent, told the board one of her daughters is autistic and is forced to wear a mask at school despite vision problems and her glasses fogging up from wearing it.
"Children like mine are struggling to breathe and to see straight. They have anxiety related to not seeing the faces of their teachers and friends and have lost their right to a free and appropriate public education," she told the board.
With the Center for Disease Control and Prevention (CDC) admitting cloth masks have limited benefit, school policies are only adding insult to injury, she said.
"When does this end? I'll tell you when it ends: It ends when parents have had enough and when they've seen their kids suffer enough," she said.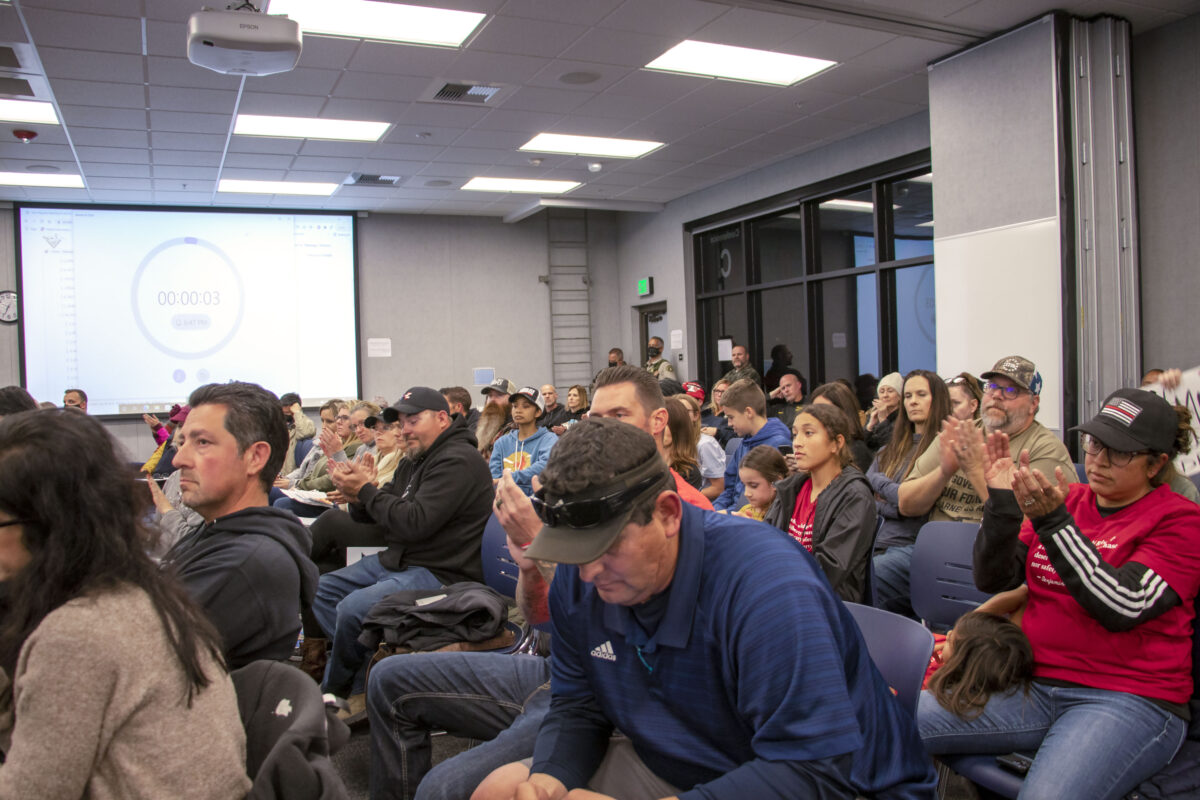 Ricardo Salcedo, a teacher who works at Temecula Middle School, criticized the board members for failing parents, students, and employees despite promises to improve the district.
He asked the board to show more empathy towards parents and students whose rights, he said, have been "trampled."
"You hear the parents, but you ignore them. That is not greatness. That is called tyranny. There's a difference," Salcedo said.
He pointed out that enrollment at Temecula Middle School where he works has dropped from more than 1,300 students to under 1,000.
"Things are obviously not getting better when many Temecula parents are choosing to spend thousands of dollars on private education instead of sending their children to Temecula schools," Salcedo said.
"You can dismiss this as statewide declining enrollment, but meanwhile private schools are thriving," he said.
Danny Gonzalez, another parent who is running for school board, said he "watched in horror" as one principal drafted an email to parents threatening to disenroll students who refuse to wear masks.
"Which one of you on this board authorized the policy of expelling students over this?" he asked.
Gonzalez accused school administrators of "bullying" kids and encouraging other students to join them.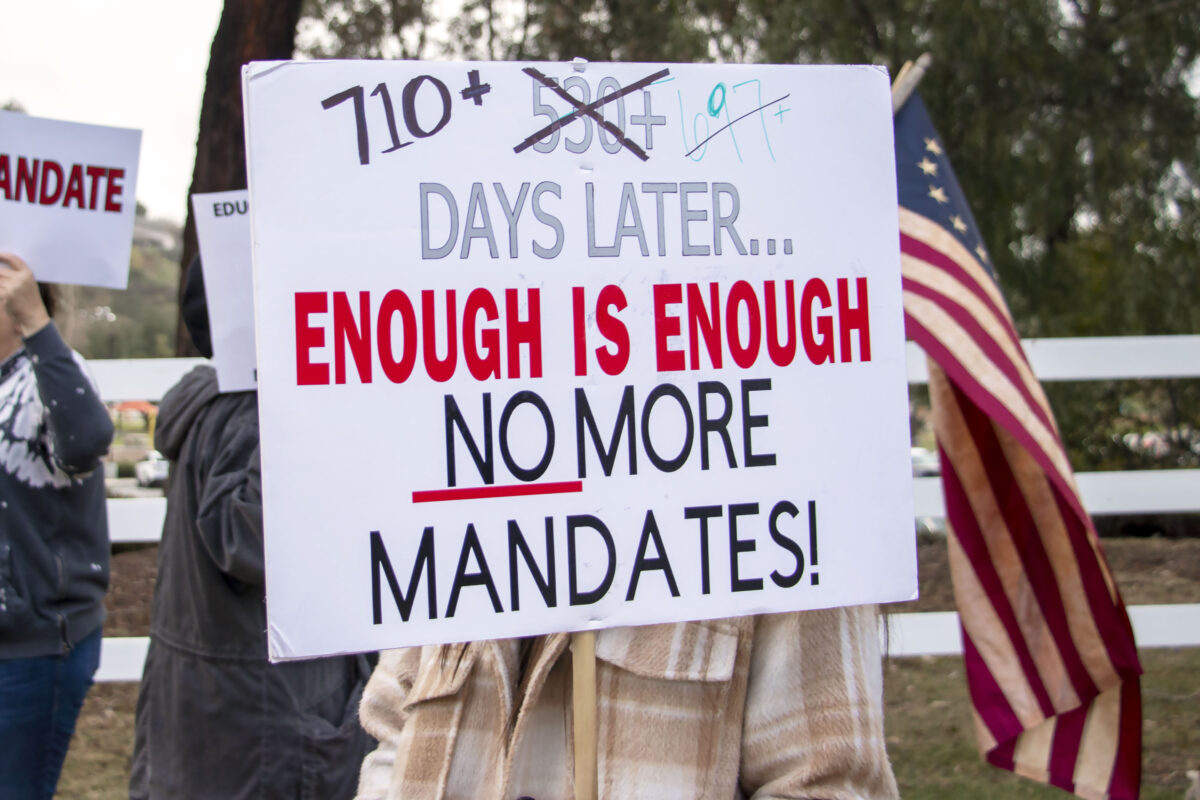 "Some of this coming directly from the admin staff themselves by yelling at students and threatening them," he said.
"We have watched as this school board and administrators parrot the talking points from their masters in Sacramento. What is the point of local control if you as a board are simply going to be puppets for the bureaucrats and wealthy politicians whose children are not affected by these decisions?" he said.
Francis Burns, a teacher at Thompson Middle School in Murrieta, Calif. which falls under the jurisdiction of neighboring Murrieta Valley Unified School District, criticized the board for not responding to the concerns of parents.
"It's amazing to me that Canadian truckers understand the gravity of this situation," he said, referring to the Freedom Convoy. "They're doing something about it. And, I'm wondering, do you understand? And, if so, why aren't you doing anything about it?"
More than 150 people showed up in the Murrieta school board meeting earlier this month to protest mask and vaccine mandates. State Sen. Melissa Melendez (R-Lake Elsinore) whose son attends school in the district spoke in support of the parents at that meeting.
Earlier in the day, on Feb. 22, parents held a "Mask-Off" protest at a park near the school despite the inclement weather.
Board members Adam Skumawitz, Barbara Brosch, Sandy Hinkson, Allison Barclay, and Steven Schwartz did not respond to inquiries on Feb. 23.
Superintendent Jodi McClay said at the end of the meeting, after most people had left, that the public comments had been "somewhat disheartening" and laden with "misinformation" and "disinformation."
McClay did not respond to an inquiry on Feb. 23 about what specific information she suspected was erroneous.