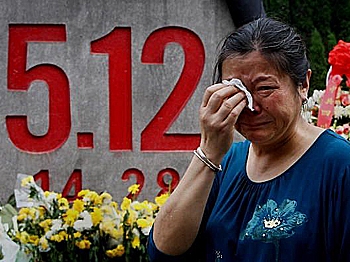 One year after the devastating May 12 Sichuan Earthquake killed nearly 70,000 people, bereaved parents say they have been routinely detained and harassed when attempting to investigate the allegations of corruption and shoddy school construction linked to the deaths of their children in the quake zone.
According to a RFA report on May 12, parents, who on May 7 tried to protest the allegedly shoddy construction of school buildings in Dujiangyan Township—one of the worst-hit quake areas—said police had detained several people, and dozens more were under house arrest or held at hotels outside the area.
A mother surnamed Wang who joined the protest to the Dujiangyan township government, said most of the parents of quake victims in the town were now under surveillance.
"Most are under house arrest," she said from a location outside the province.
"We escaped by disappearing to another province beforehand. They are looking for us everywhere."
"A lot of parents are under restrictions. We can't get through on their phones. The government is trying to persuade some of them to go traveling elsewhere in China."
According to a USA Today report on May 13, Zhou Siqiang, who lost his 15-year-old daughter at the Juyuan Middle School in Dujiangyan, said he had tried in vain for months to get an explanation from local officials for why the building collapsed when many nearby did not.
Zhou said police then began watching his movements, and stopped him and other parents from visiting the school site in April for China's traditional Tomb Sweeping Day, when Chinese people traditionally visit family graves.
In a report released last week, titled "Justice Denied: Harassment of Sichuan Earthquake Survivors and Activists ," Amnesty International documented several cases of illegal detention of parents and harassment of the activists and lawyers who have tried to help them. Among them was Wang Xiaodong, 37, a businessman turned activist, saying he had to flee the area after police began tracking him in April for investigating construction standards at schools.

"By unlawfully locking up parents of children who died, the government is creating more misery for people who have said in some cases they lost everything in the Sichuan Earthquake," said Roseann Rife, Amnesty International Asia-Pacific Deputy Program Director. "The government of China must cease harassing earthquake survivors who are seeking answers and trying to pick up the pieces of their shattered lives."
"Parents of student quake victims, who are trying to understand how and why their children died, deserve answers and compassion, not threats and abuse," said Sophie Richardson, Asia advocacy director at Human Rights Watch. "Persecuting quake victims and their relatives adds cruel insult to already grievous injury." Such harassment is occurring despite the Chinese government's specific pledge in its new National Human Rights Action Plan, published on April 13, to protect the rights of Sichuan quake victims.