Parent groups critical of the Ontario sex-ed curriculum that includes gender identity and other controversial topics staged a protest on Feb. 20 to demand that Education Minister Lisa Thompson step down from her position.
Tanya Granic Allen, president of Parents As First Educators, said Thompson has kept the curriculum of the previous Liberal government under Kathleen Wynne in place, despite PC Premier Doug Ford's campaign promise to replace it.
"Lisa Thompson has failed to repeal the Wynne sex-ed. It's a betrayal to parents, it's a betrayal to our young and precious children, and this is a betrayal to Premier Doug Ford's promise to repeal," Granic Allen said at a press conference before the protest.
The Canadian Families Alliance (CFA) staged the protest at Queen's Park to demand Thompson's resignation over the matter. Signs saying "Lisa Thompson resign" and "say NO to irresponsible sex-ed" were held by many in the crowd of over 100 people.
CFA said alarm bells rang after Thompson's first speech in the legislature last July when she said children need to learn about gender identity. Parents became even more worried when the changes promised by Ford didn't materialize.
"She was doing well, but lately she changed her stance, and now she's talking what she feels is easier for her," said Abdul Rauf Jangda, director of the Thorncliffe Parents Association Director said.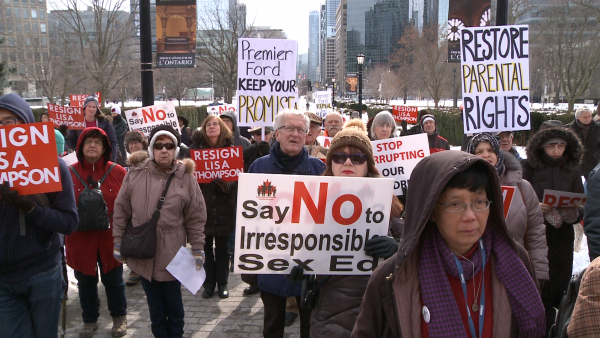 Controversial Curriculum
The CFA is an umbrella group of grassroots family and parental rights organizations which represents over 200,000 Canadian parents from various political, cultural, religious, and ethnic backgrounds.
They have been fighting the controversial 2015 version of the sex-ed curriculum since it was introduced by the former Liberal government. They argue that the material teaches children age-inappropriate content.
The Ford government removed the 2015 sex-ed curriculum for younger children and said it would be replaced with a new program. In the interim, a revised version of the 2010 curriculum is being used, which includes a 1998 document on sexual health.
However, critics of the 2015 curriculum say the controversial issues remain embedded in the revised version. They point to a January hearing that challenged the rollback of the province's sex-ed curriculum, where lawyers representing the government told a court that teachers could still use the 2015 curriculum as a teaching resource.
"I wish we wouldn't have to be here. I'd rather be in a warm toasty house, but we're here because we have to see this to the end," Granic Allen said in an interview with NTD Television at the protest. "It's the parent's voice that matters most, and parents' rights ought to be respected."
'Not Appropriate'
Campaign Life Coalition director Jack Fonseca cited some of these parents' concerns at the protest, which include teaching the theory of 'gender identity' as if it were fact, that 11-year-olds are being told to masturbate as a pleasurable way for children to learn about their bodies, and that asking 13- and 14-year-olds to create a personal plan for sexual activity.
The crowd cried out "Shame!" for every concern that was listed.
"The whole sexualization stuff, that's not appropriate for any young child to learn anything like that," said Allison Bruns, a Kitchener-area parent who drove 1.5 hours to Toronto to participate in the protest.
Bruns, who is part of a Kitchener homeschool group, was also concerned that a convicted child sex offender played a role in developing the 2015 curriculum.
"It's really important to us that the government at least pay attention to what parents are saying, and we know there are a lot of parents that have been against this curriculum written by a pedophile," Bruns said.
Ben Levin was jailed in May 2015 for creating and possessing child pornography and counselling others to commit sexual assault. He was a former deputy education minister in two provinces, a former member of Wynne's transition team, and a global expert in childhood learning.
The Ontario Government has concluded widespread public consultations regarding the sex-ed curriculum at the end of 2018. Thompson told CBC that the government would write and test a new curriculum in the spring to be introduced in time for the new school year in the fall.