A Detroit-area couple have been charged in the Christmas Day death of their 18-month-old daughter who died of a drug overdose, according to prosecutors.
Antonio Floyd, 28, and Shantanice Barksdale, 27, were charged in the December 25 death of Ava Floyd in Clinton Township, reported the Detroit Free Press.
Macomb County Prosecutor Eric Smith told the Free Press that Ava ingested up to 15 times the dose of fentanyl that authorities have seen in the past 30 overdose deaths in Macomb County.
On Monday the couple faced a judge and were both denied bond.
The Macomb County Medical Examiner's Office told police that Ava had an "extraordinary level of the narcotic Fentanyl in her system at the time of death," according to a news release cited by the Free Press.
Smith said it was the highest level of fentanyl the medical examiner's office had ever seen in a person's system, let alone a young child. It was enough to kill several adults.
Barksdale and Floyd were manufacturing drugs out of their Clinton Township home, said police.
Detroit parents are charged with murder after their 18-month-old daughter died from fentanyl poisoning https://t.co/4MZ5DA0UCt

— Daily Mail US (@DailyMail) January 15, 2019
The toddler is believed to have ingested the fentanyl by drinking it, prosecutors allege.
Smith noted the country's opioid epidemic but stressed that "to see an infant experience such a tragic death on Christmas morning as a result of ingesting a large quantity of her parents' Fentanyl is truly gut-wrenching."
Police said other children lived in the home, according to a Fox News report. "This type of criminal behavior will be met with the full weight of this Prosecutors office," Smith said.
On Christmas Day, Ava was discovered not breathing and transported to the St. John Macomb-Oakland Hospital in Warren where doctors pronounced her dead, Macomb Daily reported.
No signs of abuse or trauma were observed by hospital staff, said the report.
Ava Floyd's parents are said to have been manufacturing the opioid at their home

由 Metro US 发布于 2019年1月15日周二
On Jan. 10, police carried out search warrants on Ava's grandmother's home and the Floyd and Barksdale home. That's when they discovered evidence of the couple's manufacturing and distributing drugs, Smith said.
Other than second-degree murder, the couple was charged with manslaughter, delivery, and manufacturing of a controlled substance, second-degree child abuse, and possession of a firearm while committing a felony.
LIVE: Arraignment for Mt. Clemens parents charged in the Christmas Day murder of 18-month old baby.https://bit.ly/2FzLprI
Floyd, who is a convicted felon, was also charged with felon in possession of a weapon and felony firearm possession.
Judge John Chmura ordered them to be jailed without bond, Macomb Daily reported.
They are scheduled to appear in court on Jan. 22.
Other details about the incident have not been provided by officials.
Fentanyl is an extremely potent drug responsible for at least half of the opioid overdose deaths in the United States in 2017, according to the U.S. Centers for Disease Control and Prevention.
"Pharmaceutical fentanyl is a synthetic opioid pain reliever, approved for treating severe pain, typically advanced cancer pain. It is 50 to 100 times more potent than morphine. It is prescribed in the form of transdermal patches or lozenges and can be diverted for misuse and abuse in the United States," says the agency.
Fentanyl Overdoses
In August, President Donald Trump urged the Senate to pass a measure to stop synthetic opioid drugs such as fentanyl from being transported into the United States via the U.S. Postal Service system.
"It is outrageous that Poisonous Synthetic Heroin Fentanyl comes pouring into the U.S. Postal System from China," he wrote on Aug. 20.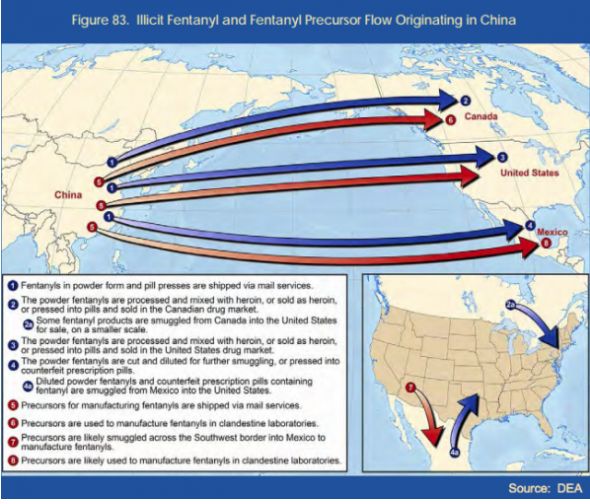 The shipment of fentanyl from China to the U.S. is "almost a form of warfare," Trump said in August.
"In China, you have some pretty big companies sending that garbage and killing our people," Trump said at the time.
More than 71,500 Americans have died of a drug overdose in 2017, according to data released the U.S. Centers for Disease Control and Prevention.
The majority—or least 68 percent—of those deaths could be attributed to opioids such as fentanyl.
"[Chinese drug makers] have been using the internet to sell fentanyl and fentanyl analogues to drug traffickers and individual customers in the United States," said Deputy Attorney General Rod Rosenstein in a statement on Oct. 17, 2017.
Watch Next:
Anastasia Lin—The Chinese Communist Party Does Not Represent The Chinese People