NEW YORK—The impending cold and wind whispered on the eve before the Macy's Thanksgiving Day Parade that it might challenge the famous American holiday tradition.
Despite the cold and wind threatening to dampen spirits, millions came out and braved the day as parade handlers and police worked to make sure that the day went smoothly.
In past years, balloon handlers had to force the balloons to fly low if it was very windy. Giant balloons have popped in the past after blowing into trees, and have even hurt people when blown out of control.
In today's parade, some balloons were grounded by the strong winds but many were able to embrace the crowds. Although they were leaning and being pulled by the wind, the police assigned to each area were able to keep everyone safe from the balloon strings.
Despite the azure sky and sun glinting from Manhattan windows and shopfronts, this year has been the coldest Thanksgiving since 1901—that was before television, before the average American household had electricity, and before both World Wars.
Standing in the sun or shade, the rosy-cheeked and plucky watched on despite some shivering. They had their defenses as the wind tumbled down the Manhattan streets, shrinking into their scarves and breathing warmth back into their mittens.
Little kids enjoyed watching the parade from shoulder-tops, and families kept each other close. Whenever a giant Goku, a not-so-tiny elf, or an enormous Olaf hovered past, cheering resounded only to be overcome by festive chattering.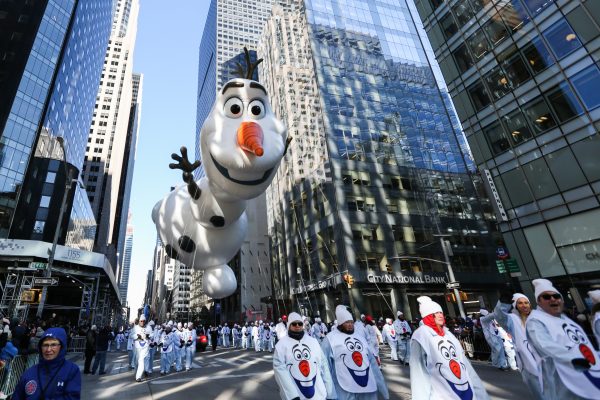 In one open coffee shop, families gathered at the windows and anywhere they could reasonably fit. Once in a while, a staff member would shout out, "Happy Thanksgiving everyone!" The wait for a cup of tea was thirty minutes but no one seemed to mind.
Some people arrived hours before the parade. With blankets draped or wrapped around waists like togas, many hot chocolates were clutched tight and sipped.
From Michigan, the Jones family was one of the many out enjoying the parade. In the past, they had run the televised parade while preparing their Thanksgiving dinner. This was the first year they saw the parade in person.
When Jones' daughter Lilly, 12, was asked what she was looking forward to, she thought for a moment and replied. "Probably a big turkey."
Her brother smiled while her parents laughed.
Tom Turkey has been part of the parade since 1971, and it just so happens that Tom–the big turkey that he is–leads the parade with a new golden coat of paint this year for his ego no less.
Danielle Garrison and her daughter Alexa have been coming to see the parade for 17 years. They live in Northport, Long Island.
Danielle, a high school business teacher, liked the Spongebob balloon the most, and was looking forward to seeing the Ohio State Marching Band, as well as the Rockettes.
"We come in every year.  We did the Christmas show last night, we go to dinner, and then we watch the parade in the morning and go home to family," said Garrison. "So it's a great day."