A Minnesota mother's panic turned to pride when her 9-year-old son went missing on a 5K race, only to later accidentally reappear at the finish line of the 10K race in the first place, ahead of all the adults.
Kade Lovell, who has been running since he was six, said that when he reached the 5K turn that should have separated the field into two races, he was told to keep going.
"So I kept going straight," he told St. Clouds Times. "I was a little confused."
But when Kade saw the sign for the 10K turnaround of the race in Sartell, Minnesota on Sept. 21, he realized what was going on—he was in the 10K run.
"I thought, 'Mom is going to yell at me,'" he said.
But despite having set off with 5K in mind he told the St Cloud Times that he kept his pace.
That pace was too much for even the adults in the field. Kade crossed the line as the winner a whole minute clear of the second-place runner, a 40-year-old man.
According to the Associated Press, there were 16 other people in the race, all over 20 years old.
Meanwhile, as she waited and waited for him cross the 5K finish line, Lovell's mother, Heather Ann Boedigheimer-Lovell, began to suppress her panic, telling herself that maybe he was just having a bad race.
"Then comes the 30-minute mark and he still did not come around the corner," she wrote onFacebook. "I am now in mama panic mode! Oh, fricken, no! Did my kid get lost? Did he get stollen? Is he hurt sitting somewhere freaking out?!"
She recruited a "ton of people" to try to find him, eventually learning that he was now running the 10K.
She assumed he was dead last. "No one was near him. He was running strong when he finally got to the corner where I was cheering for him. He gets to the finish line and we find out he is FIRST!"
His winning time was 48 minutes and 17 seconds.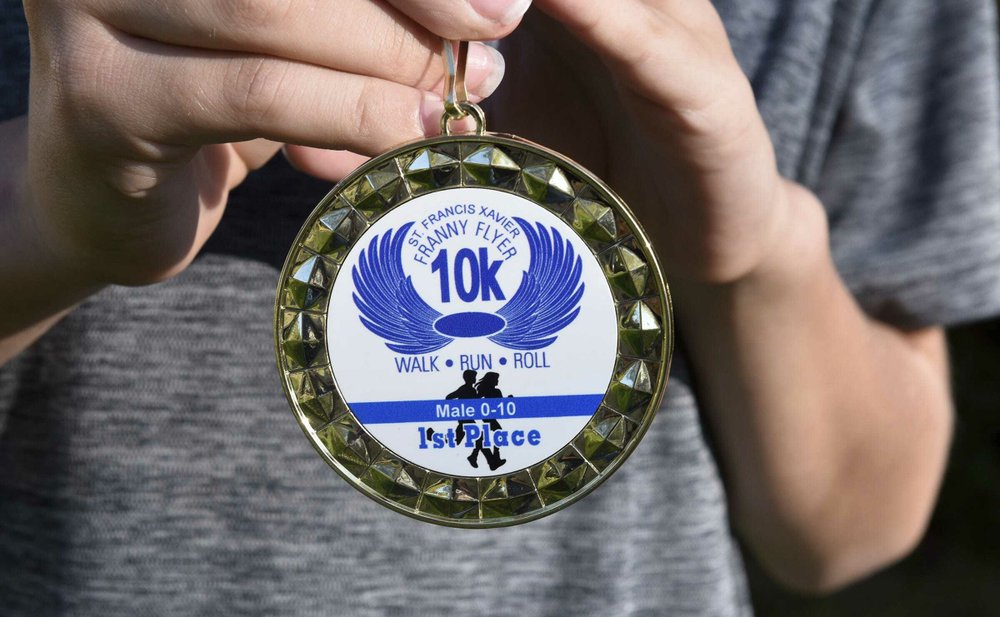 A 10K run is about 6.2 miles, meaning his pace was around 7 minutes and 46 seconds per mile.
"He is incredible and I am so proud of him!" said Boedigheimer-Lovell. "Now if he scares my mama heart like this again … I will have to ground him!"
Lovell's triumph over his more long-legged competitors is perhaps not surprising given that he has previously competed in the  Junior Olympics and trains three times a week.
His mother had signed him up for the St. Francis Franny Flyer 5K as a way to train for the Junior Olympics this year.
She told the St. Clouds Times that the strange accident of ending up in the 10K had probably helped him push his limits.
"He actually probably did better than he normally does because he was trying to finish and in panic mode," Lovell said. "I'm like, well, now you've got that under your belt."