Small-business owners are hopeful that a $2 trillion federal relief package will provide much-needed support as COVID-19 continues to weigh on the U.S. economy.
A National Federation of Independent Business (NFIB) poll released March 23 found that 76 percent of small businesses have been hurt by the pandemic. The majority of those are feeling the effects of slower sales.
The poll illustrates a stark change from two weeks ago, when NFIB conducted a similar survey.
The earlier survey showed only 16 percent of small-business owners were "very concerned" about the outbreak's potential impact on their businesses, compared to 68 percent in the recent poll.
"They're trying to save their businesses," NFIB Director of Research Holly Wade told The Epoch Times on March 24. "It's impacting most industries across the board."
Although 5 percent of businesses have instead experienced a boost, NFIB predicted those gains will likely decline once consumers begin to feel more secure about their personal supply levels.
"The biggest fear and concern of small-business owners is the uncertainty element, and not knowing how long this will last—the severity of the outbreak and the economic disruption," Wade said. "It's the unknown element of all of this that is incredibly concerning and stressful for small-business owners."
Of those businesses negatively affected, 54 percent are experiencing slower sales, 23 percent have supply-chain disruptions, and 9 percent have sick employees.
Business owners citing sick employees as a reason for negative impact likely responded thus because of heightened precautions concerning employees with cold or flu-like symptoms. It's not necessarily because their employees contracted COVID-19, according to the NFIB.
About 20 percent of small businesses aren't currently affected by the outbreak, but 77 percent of those anticipate this changing if the outbreak spreads in their immediate area over the next three months, the poll showed.
"Business owners are trying to survive. Whether it's scaling back operations considerably or temporarily closing, they're doing what they can to adjust to their current economic conditions that are rapidly changing day to day," Wade said.
Solutions
Almost all small-business owners are taking some sort of action to adjust or protect their businesses.
Just 6 percent of owners haven't taken any action in response to the outbreak, compared to 52 percent a couple of weeks ago.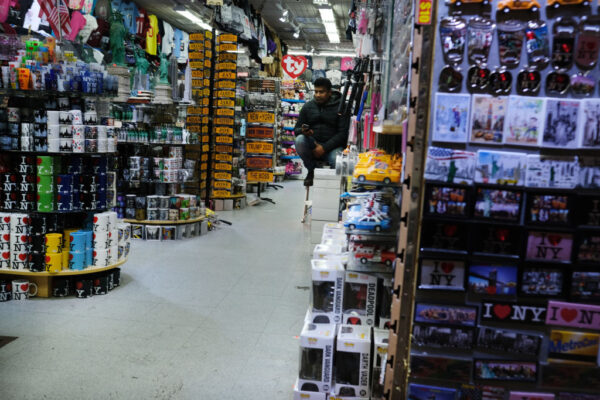 While 47 percent of small-business owners say they haven't approached banks about financing needs, 30 percent are planning to do so soon. Another 13 percent have talked with their personal bank already, 9 percent with the Small Business Association about its loan programs, and 1 percent with an online lender.
White House and U.S. Senate leaders reached a deal on the federal relief package just after midnight on March 25.
The legislation includes about $367 billion for small-business loans. It also includes a $500 billion fund for guaranteed, subsidized loans to help larger businesses.
The Small Business Administration has been overwhelmed with requests for help, Wade said.
"The program just wasn't designed for something this large in scale," she said. NFIB had pushed for federal help, which Wade hopes will now reach business owners quickly.
"They are in desperate need of a cash infusion. As quickly as they can deploy those financial supports to small firms, the better. They're looking for immediate assistance," she said.
Restaurants, which employ more than 15 million people nationwide, have been hit hard.
"In many states, they have had to scale back to take-out or delivery only," she said. And recreational or travel-related businesses, such as hotels and bed and breakfast establishments, are also reeling from the slowdown.
"[Las] Vegas, New York City, obviously Seattle, and some of these more impacted areas are just being devastated by the outbreak," Wade said. "That includes thousands of small businesses that are having to shut down."
Resilient Entrepreneurs
"It is a sad and challenging uncertain time," NFIB California Director John Kabateck told The Epoch Times. "It's hard to watch and hard to witness, but we also know small-business owners are resilient, creative, and flexible as entrepreneurs."
"I think we're going to see some great heroes on Main Street transitioning or transforming their products and services to help their own communities, be it food orders and services for those in need, emergency supplies for the elderly and disabled, and other things that will really allow them to shine as entrepreneurs," he said.
Though it's been hard for businesses, Kabateck praised the measures federal and state officials have taken to prevent the spread of the CCP virus.
The Epoch Times refers to the novel coronavirus as the CCP virus because the Chinese Communist Party's coverup and mismanagement allowed the virus to spread throughout China and create a global pandemic.
"We have government leaders of every political stripe strongly—and rightly—urging mom-and-pops and their employees to be safe, and keep their workplaces and communities safe," Kabateck said.
The NFIB Research Center randomly sampled employers with one to 360 employees from its national membership base of about 300,000 small-business owners. The poll, based on 700 useable responses, was conducted by email on March 20.