HONG KONG—On September 30, 2007, former Hong Kong chief secretary Anson Chan won a primary election inside the Pan-Democratic party making her the sole representative for the party in the December 2 by-election to the Legislative Council. Mrs. Chan will run against Regina Suk-yee Ip Lau, the former Secretary of Security for Hong Kong.
The votes were counted in Hong Kong University right after the election. Chan won the election with a sizable lead of 179 votes over her opponent Lo Wing-lok, Vice Chair of the League of Social Democrats who had 88. At the same time, results from a Hong Kong University Web survey from September 25 to 27 were announced—47 percent of voters supported Chan and 10.9 percent supported Lo.
After winning the primary, Chan called on pan-democrats to unite, "All the people who support democracy will gain power if they unite. Unity is the our hope to wining the 2012 Chief Executive Election."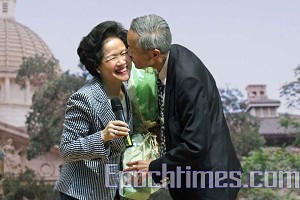 Chan, known as the "Conscience of Hong Kong" announced her independent candidacy for the vacant seat at the local legislature on September 11, 2007.
Chan stressed that she supports a request for Hong Kong's general election in 2012 and calls for redress of the Tiananmen Square Massacre, "Like I said, I think every Chinese would like to see the Massacre redressed as soon as possible."
A survey showed that more than 30 percent of Hong Kong citizens don't support the pan-democrats. Regarding this issue, Chan asserted, "I will do as much as I can to persuade citizens to vote for me with confidence."
Ma Lik, Chair of the Democratic Alliance for the Betterment of Hong Kong, the largest pro-Beijing party in Hong Kong, died on August 8 this year. His vacancy at the Legislative Council will be filled in December after the by-election, which is viewed as a contest between the democratic and pro-Beijing parties.