Living in one of the world's most oppressed nations is tough. For several decades now, Palestinian land, culture and style have all been under grave threat by Israeli oppression and occupation; But the Palestinians are tough people. Whether it's by using traditional embroidery and weaving techniques, or simply by making a statement on the catwalk, here are 5 Palestinian fashion brands that are fighting back, with needle and thread.
1. Hirbawi Brothers' Kufiyas
What once was used to protect from sunburn and sand has become a symbol of Palestinian nationalism. This eye-catching fabric of the black and white checked scarf known as a Kufiya first gained influence as a symbol of the Palestinian struggle against oppression when Yasser Arafat, the late Palestinian leader and icon of the resistance, wore it. In fact, he was hardly ever pictured without his trademark headscarf, and he also offered a Kufiya, (also spelled 'Keffiyeh') to all his distinguished visitors.
Unfortunately, today the symbol of Palestinian identity is largely cheaply made from tatty fabric and imported from China, but there is at least one factory, owned by the Hirbawi brothers from Hebron, that still makes the traditional Bedouin scarf using traditional quality fabrics and weaving methods. With growing international demand for the Kufiya, the brothers have broken away from the usual black and white pattern and have included different colours to their weaving repertoire, which has made the scarves more popular than ever–in fact, you can even see them being worn by celebrities like Cameron Diaz and Selena Gomez. It's a smart purchase: not only can the Kufiya be used as a scarf, but it can also be fashioned into a tunic, reworked as a shoulder bag or transformed into a sarong.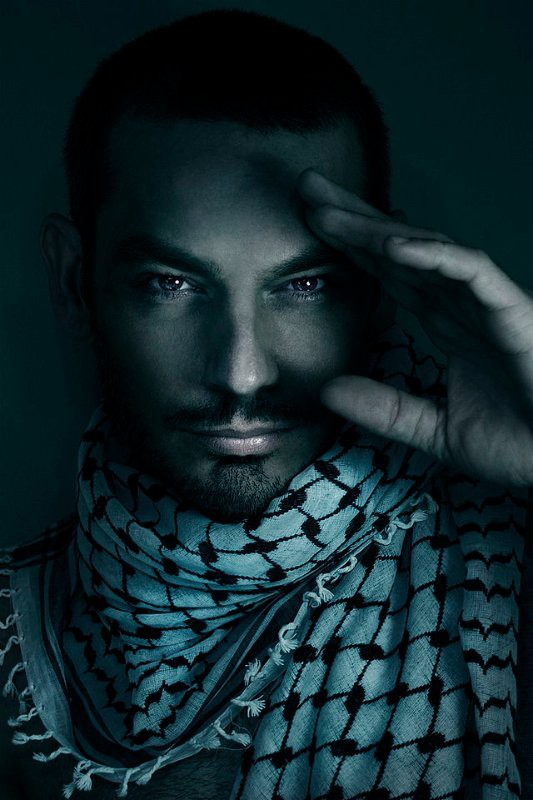 Ibra wa Khayt  is all about female empowerment. The label, whose name means "Needle and Thread" was founded by friends Weeam Hammoudeh and Tamara Reem. The duo opened a business of handmade clothing in Ramallah, to pay tribute to the art of embroidery their grandparents taught them. Today, their fashion enterprise provides a solid means of employment to Palestinian women, whose unemployment rate often hovers around 30%.
Each piece of their clothing tells a story. "These pieces are handmade, and have been revived from older pieces that represent various phases of our tumultuous history and a changing, yet resilient cultural heritage. They tell the story of Occupation, dispossession, and the Palestinian Diaspora. By that same token, they tell the stories of celebration of life and the rich history of the villages they come from," say the founders.



Palestinian-born designer uses fashion to promulgate the craftsmanship of his native land. Currently based in Rome, he blends the colours of his country of origin with the Renaissance twist of the land which adopted him, creating a bridge between cultures and countries through his evening gowns, cocktail dresses and tailored suits. Using natural fabrics including silk chiffon, crepe and georgette, Jamal has dressed celebrities such as Sharon Stone, Ornella Muti, Marta Marzotto and the aristocracy of the Arab world, including Queen Rania of Jordan. But he hasn't let celebrity override one of his key goals: to promote freedom for Palestine. He has draped the Palestinian flag on his catwalks to remind the world of their plight,  and he presented one of his collections at the United Nations to represent the Palestinian art of embroidery.



Evoking a vivacious charm whilst celebrating the ancient art of embroidery, Mochi draws inspiration from the chain stitch of the same name. Founded by Dubai based Palestinian Ayah Tabari, the unique lifestyle label sees the use of ancient textiles and craftsmanship in modern on trend looks.
This season, Ayah wanted to reconnect with her Palestinian heritage and traditions that she feels so passionately about. For her Palestine collection (which is already a hit with celebs, including Gigi Hadid, Rita Ora and Poppy Delevigne), she carefully selected geometric textiles, synthetically dyed in fresh vibrant colours including reds from insects and pomegranates, dark blue from indigo plants, yellow from saffron flower, and purple from crushed murex. All fabrics were carefully handcrafted by local artisans symbolizing hope, prosperity and protection.
"Through this collection I wanted to showcase the talent and craftsmanship behind this beautiful embroidery that still exists even under the current circumstances", says Ayah. "The nice thing about creating this collection was that I connected with many old family and friends to help successfully execute the production; they pointed me in the right direction."
The fusion between East and West not only becomes an emblem of globalisation through multiculturalism, but also encourages hope and economic survival from the women of one of the world's most oppressed communities. And best of all? It's easy to find: just head to Asos.com!




Inspired by refugee women doing embroidery in Lebanon, Zeina Abou Chaaban founded Palestyle in 2009 to help give these displaced women regular work. For her efforts, Chaaban won the Emirates Woman Humanitarian Award 2013 and Best Woman Entrepreneurs Prize 2014.  Today, Palestyle employs around 100 refugee women with embroidery jobs and has benefited more than 4000 refugees with social projects like a water tank exchange program and the construction of olive tree plantations. Palestyle's cutting edge designs have won fans such as Eva Longoria and the fact that the brand donates a percentage of sales from all bags to social development projects on the ground in refugee camps makes it a firm favourite for ethical fashion fans, too.



This article was originally published on ELuxeMagazine.com. Read the original here.