The pilots of a Pakistan jetliner that crashed in May, killing all on board, were preoccupied with the CCP virus pandemic and were discussing the illness when they tried to land the plane with its wheels still up, according to an initial report about the incident.
A Pakistan International Airlines plane crashed into a residential area near the Jinnah International Airport in Karachi on May 22, killing 98 people. It came days after Pakistan lifted CCP (Chinese Communist Party) virus-related restrictions and resumed flights.
Pakistan's aviation minister said that human error was to blame in the accident, presenting the report in the country's Parliament on June 24.
"According to the initial investigative report, the pilot and the [air traffic] controller both did not adopt the proper procedure," said Ghulam Sarwar Khan, according to Al Jazeera TV, a Qatari government-backed broadcaster.
Khan said that "the pilot and co-pilot were not focused" and had been discussing the CCP virus, a novel coronavirus that emerged in China last year, when air traffic control first alerted them about their altitude.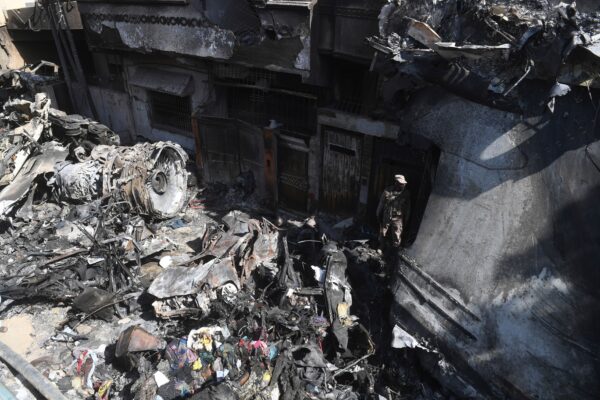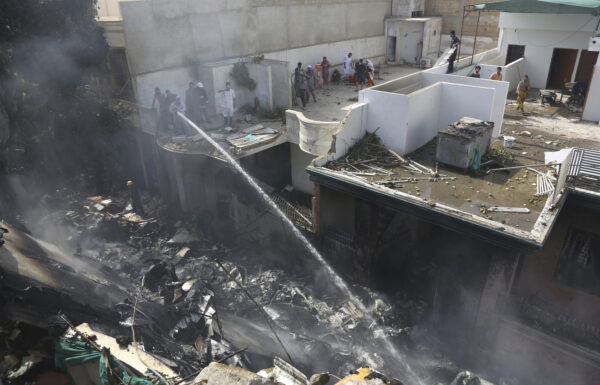 "[The pilot] listened in haste and replied that he would manage it. And then returned to talking about corona," added Khan. "There was an overconfidence, unfortunately, and that focus and concentration was not there."
Investigators had found that the plane was more than double the correct altitude when it approached the runway, according to the report, as cited by The Guardian.
"The [virus] was on their minds. Their families were affected and they were having a discussion about it," Khan said.
But the minister also faulted air traffic controllers during the failed landing attempt.
"The controller is also negligent that when he saw the aircraft touch down on its engines and saw fire coming out of the engines, he should have informed [the pilot]," he said. "But the control tower did not inform the pilot."
Qasim Qadim, a spokesman for the Pakistan Airline Pilots Association, disputed the investigation's findings.
"The greatest pilots with the best records have made mistakes. Humans make mistakes," he said, according to the newspaper.
Khan said that when the pilots tried to land the plane without its wheels deployed, the friction with the runway caused sparks and flames, ultimately damaging the plane's body and engines. The pilots then took off again and tried to circle back to the airport for another landing, but the engines were too damaged, causing the aircraft to crash into homes in the area, according to The Wall Street Journal.