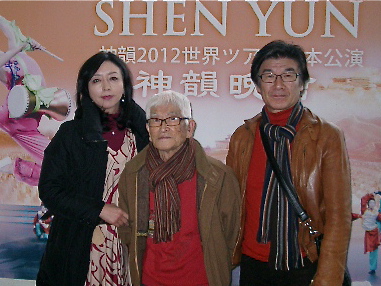 NAGOYA, Japan—Upon the completion of performances in Tokyo, Shen Yun Performing Arts New York Company continued its tour of shows in Nagoya, the fourth largest city of Japan, on the afternoon of Feb. 17 at the Yagoya Congress Center. Accompanied by friends, Mr. Kazunobu Iwamura, Deputy Representative of Japan International Arts Academy, and his father, Mr. Kataro Iwamura, both painting artists, came to watch the show.
Introduced by a friend to attend the Shen Yun performance for the first time, Mr. Iwamura said with a smile, "The show was fabulous! Next time we should sit in one of the front rows. We should buy the best tickets."
Describing the program which most impressed him, he said: "The persecuted people stood up against evil. While the good and the evil were contesting, fairies descended from heaven to rescue compassionate people. That is the piece that touched me the most."
Mr. Iwamura was referring to a dance that depicted a current situation in China in which people who practice Falun Gong, a practice of truthfulness, compassion and tolerance, are persecuted for their beliefs.
Shen Yun is known both for its colorful costumes, all handmade, and its equally vibrant backdrops.
As a painter, Mr. Iwamura said, "The costumes are splendidly designed. The colors are so beautiful. I have never seen beautiful colors like this. I learned a lot about colors from this show."
In some of the dances, the digital backdrops seem to interact with the stage performers, figures flying through the air and landing to perform on stage.
"In addition, the collocation of the dynamic backdrop with the stage performance was in a total harmony so that they melded together."
Shen Yun is also known for its live orchestra that contains both Western instruments and Chinese ones.
"The live orchestra also provided ingenious and opportune music accompaniment. To achieve this, they must have practiced hundreds or thousands of times."
Mr. Iwamura particularly enjoyed the dance Qing Imperial Guards. The fans were wielded so powerfully that incomparable strength and vigor were demonstrated.
His father, Mr. Kataro Iwamura, is a Western painting artist. Even though he is 88 years old, Kataro is still an active painter. After watching the show, he said excitedly, "Excellent! The colors are brilliant! I am truly moved!"
Reporting by Zhang Nini and Leo Chen
Shen Yun Performing Arts, based in New York, tours the world on a mission to revive traditional Chinese culture. After its performances in Japan, Shen Yun Performing Arts New York Company will continue to top venues in Korea and Taiwan, followed by Australia and New Zealand.
For more information visit ShenYunPerformingArts.org
Read the Chinese article