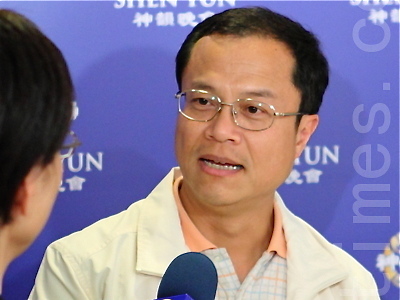 TAICHUNG, Taiwan—Shen Yun Performing Arts New York Company arrived in Taichung on March 28 to begin its 2012 tour in Taiwan's third largest city. Painter Wen Tsung-yi said that he had read about Shen Yun many times and was drawn to its brilliant color design. He finally made it to the performance on Wednesday. "The dances are genuinely dazzling," said Mr. Wen. 
New York-based Shen Yun is the world's premier classical Chinese dance and music company. Formed in 2006, the company consists of the world's top overseas Chinese performing artists, who seek to revive traditional Chinese culture and art forms. 
Mr. Wen said that in his paintings he has always been trying to find a way to express the feeling of celestial maidens flying among the clouds. He was very pleased to realize that he found the answer in Shen Yun. 
Shen Yun's dances often feature heavenly scenes of celestial fairies, Buddhas, Bodhisattvas, Daos, and other deities in their respective regalia, says the company's website. 
The performance by soprano Chia-Ning Hsu who sang "What is the Meaning of Life?" made Mr. Wen reflect. "To be honest, perhaps it's coincidental, but I think I have found meaning for my recent painting in Shen Yun's performance. When we are at the end of our lives, we all try to figure out what the meaning of life is or what we have done with our lives." 
How the Monkey King Came to Be from Journey to the West, one of the Four Great Classical Novels of Chinese literature, was a refreshing piece said Mr. Wen. "The overall visual effect was very well done. The dynamic backdrop seamlessly blends with the artists on stage. It's unprecedented." 
"Shen Yun is able to tell the story in Journey to the West so vividly! The performance is easy to understand. It's a kind of spiritual level I guess; I was very impressed with the scene when Buddha appeared," said Mr. Wen. 
Mr. Wen loved the dazzling colors of Shen Yun and appreciated the ancient legends told through story-based dance. "In every piece the landscape background was brilliant, and so are the dances. One can tell that the movements of the dances are specially designed to tell the rich stories."
"The Chinese culture, or I should say folk culture, needs to be passed down as a kind of education so that we can learn so many wonderful things." 
Mr. Wen expected that he would come back and see the performance again, "because it's fantastic!" 
Reporting by Huang Yu-Yan and Lin Hsin-Yi.
Shen Yun Performing Arts, based in New York, tours the world on a mission to revive traditional Chinese culture. Shen Yun Performing Arts New York Company will perform in seven cities in Taiwan until April 8 and then continue to top venues in Australia and New Zealand.
For more information visit ShenYunPerformingArts.org
Read original Chinese article