The COVID-19 vaccine being developed by Oxford University and AstraZeneca triggers a "robust" immune response in people in their 60s and over 70, according to researchers.
Published in the Lancet on Wednesday, interim results from the Phase II trial of the Oxford/AstraZeneca vaccine show that it triggered similar levels 0f antibodies and T-cell responses across all ages.
Creating a vaccine that's effective in older adults is typically more difficult, but is important in tackling the CCP virus.
"Older adults are a priority group for COVID-19 vaccination because they are at increased risk of severe disease—but we know that they tend to have poorer vaccine responses," Dr Maheshi Ramasamy, an investigator at the Oxford Vaccine Group and consultant physician, said in a statement.
"We were pleased to see that our vaccine was not only well tolerated in older adults; it also stimulated similar immune responses to those seen in younger volunteers. The next step will be to see if this translates into protection from the disease itself."
The UK government has currently ordered 100 million doses of the Oxford vaccine, manufactured by AstraZeneca, compared to 40 million doses of the rival Pfizer-BioNTech vaccine, and just 5 million from the other candidates by Moderna.
The vaccines are all still undergoing final trials—but have been pre-ordered by governments around the world after pharmaceutical companies gambled on their success and pushed ahead with manufacture.
The Oxford-AstraZeneca COVID-19 vaccine candidate is called AZD1222 or ChAdOx1 nCoV-19. The latest study of the vaccine candidate is a peer-reviewed publication of the Phase II safety and immunogenicity (immune reaction) results.
The study was broadly welcomed by scientists.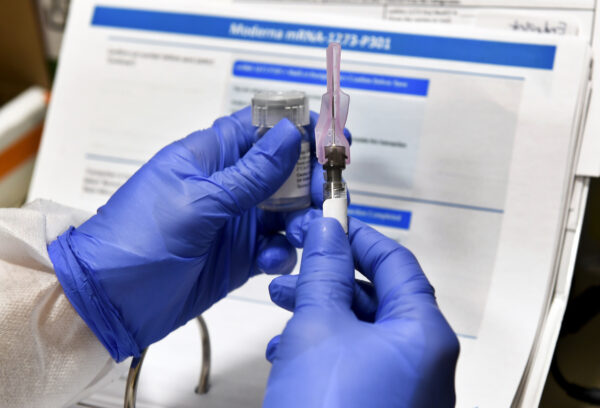 "This suggests, but does not prove, that the protection against the illness will be similar in the elderly and the young," Dr Gillies O'Bryan-Tear, chair of the policy and communications group at the Faculty of Pharmaceutical Medicine, said in a statement. "There is support that older patients are protected by the spike protein vaccines from the further results announced by Pfizer from their large phase 3 trial, which showed similar efficacy–over 90 percent–in the elderly as in the young."
"While this is an ongoing study, the initial results are encouraging," said professor Deborah Dunn-Walters, chair of the British Society for Immunology COVID-19 and Immunology taskforce. "The vaccine appears to be well tolerated in all age groups, with older individuals reporting fewer side effects."
The lack of "serious adverse events" was also picked up by Michael Head, a senior research fellow in global health at the University of Southampton. "The observed side effects were minor, such as low-level pain around the injection site or a headache," he said. "Thus, the data shows us that this candidate has a good safety record in this phase II trial."
A statement from AstraZeneca said that side effects were similar to those from other adenoviral vector vaccines, and included, "temporary injection site pain and tenderness and fatigue, headache, feverishness and myalgia." Reactions were fewer with a second dose, and with age.
According to the pharmaceutical company, clinical trials are ongoing globally, with up to 60,000 participants "across a broad age range and diverse racial, ethnic and geographic groups." The company said that they expect initial late-stage trial results before the end of the year.