Six Chinese citizens recently publicly claimed that a major Chinese automaker used toxic materials in car parts that have led some owners to develop leukemia.
Relatives of the six alleged victims on March 9 published an online article on WeChat, a popular social-media platform, claiming that the six bought Audi cars manufactured by FAW-Volkswagen. Within a short period of time, they developed leukemia; two of the six people have died.
They believe the use of toxic materials in Chinese-made Audi cars was the cause of leukemia.
The article included the car models and hospital records of the alleged victims, in addition to excerpts from medical journals, media reports, and related lawsuit complaints.
FAW-Volkswagen, headquartered in Changchun City, Jilin Province, in northeastern China, is a joint venture between the Chinese state-owned automaker FAW and the famed German carmaker. It manufactures Audi and Volkswagen passenger cars for sale in China.
In 2013, China's state broadcaster CCTV aired a segment that highlighted a complaint among drivers of luxury cars, including Chinese-made Audi cars: a strange odor emanating from inside the cars. It was ultimately traced to asphalt—used to make dampers that absorb shock and noise.
A CCTV reporter collected damper samples from several Audi owners and sent them to a laboratory to analyze the material. They were confirmed to be made of asphalt.
Asphalt dampers are placed close to the car's sheet metal, and when heated, it can release gases. Many scientific articles in the field of environmental and occupational health have pointed out that asphalt gases contain polycyclic aromatic hydrocarbons (PAHs)—which are known carcinogens, according to the U.S. Centers for Disease Control and Prevention.
Chinese media uncovered a March 2017 public announcement by FAW-Volkswagen that said cars it manufactured between September 2013 and March 2016 emitted gases when the dampers became hot.
On March 11, Chinese media Beijing News contacted an Audi customer complaint officer, who said he hadn't received any complaints of illnesses resulting from strange odors. He also said that the Audi Q5, A4L, and A3 models manufactured after April 2016 no longer have a strange odor.
The complaint officer said that if a customer detects a strange odor in an Audi car, they can go to an Audi dealer to have it checked. Beijing News inquired at an Audi site, where a staffer told the media outlet that if a customer owns an Audi car manufactured between September 2013 and March 2016, they can get a free inspection and can have the damper changed free of charge.
By press time, FAW-Volkswagen hasn't responded to a request for comment.
More Alleged Victims Identified
Radio Free Asia (RFA) reached one of the alleged victims described in the viral WeChat post, a woman who only identified herself as Ms. Lin. She told RFA on March 10 that after the article was published, it was viewed more than 400,000 times in one day. Many people contacted her to tell her that they too developed leukemia after purchasing an Audi car made by FAW-Volkswagen.
Lin said she bought an Audi A4 in May 2015, and was diagnosed with acute myeloid leukemia M2 in January 2018. "It was found that formaldehyde and benzene in my Audi car have seriously exceeded acceptable levels," Lin said.
"More and more victims have contacted me. All are leukemia patients. The imported Audi's don't have problems. All these victims have a domestic-made Audi," she added.
According to Lin, as of March 11, more than 2,000 owners of Chinese-made Audi cars have contacted her, saying they would join her to form a collective to seek justice. More than 20 Audi owners told Lin that they either have been diagnosed with leukemia or have symptoms of leukemia, according to a follow-up RFA report on March 11.
Many Chinese Automakers Use Asphalt
In March 2013, Chinese media 21st Century also reported on the phenomenon of strange odors emanating from asphalt dampers in Chinese-made luxury cars. According to an auto repair professional interviewed by the media outlet, many domestic car models use asphalt dampers, a common practice for a large number of Chinese automakers.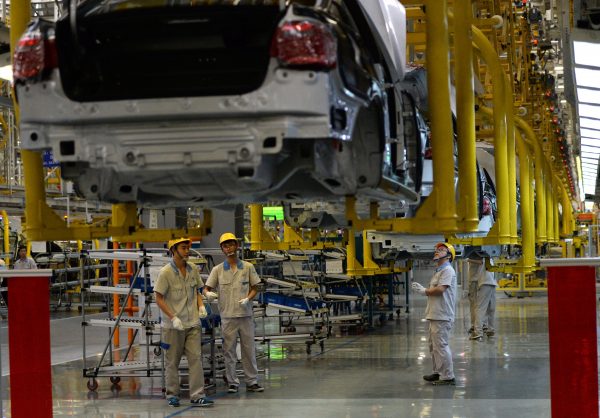 In addition, a salesperson for a damping material supplier told 21st Century that his company has a production capacity of 20,000 tons of asphalt dampers per year, making it one of the largest manufacturers of such materials.
Other anonymous experts in the automotive industry told 21st Century that in developed countries, car dampers are usually made from polymer resins or rubber. Neither of these materials emits toxic gases.
Lacking National Standards
The 21st Century report also pointed out there are two main reasons why Chinese-made luxury cars use asphalt instead of resin. First, there is no national standard regarding auto parts and accessories, and second, the use of asphalt can help reduce production costs.
Zhou Guangya, a senior engineer at domestic carmaker China National Heavy Duty Truck Group, said that in the case of an ordinary sedan, asphalt dampers would cost about 50 to 70 yuan each (about $7.40 to $10.45). Dampers made from non-toxic materials cost about 150 yuan to 200 yuan (about $22.40 to $29.80) more.
Mr. Qin, an auto industry employee, explained to RFA that when a state-owned auto company establishes a joint venture with a foreign company, usually only core components, such as engines, are imported from foreign countries. It's very common for Chinese carmakers to use inferior materials in less important auto parts and vehicle decorations, as there is no mandatory national standard.
Victims Struggle for Justice
Fang Shuai is one of the two people mentioned in the WeChat post who died from leukemia. His wife told RFA that Fang bought an Audi Q5 in December 2014 and was diagnosed with leukemia in 2016. He had bone marrow transplant surgery, but ultimately died at the age of 40.
The domestic-made Audi Q5 was rolled out in 2010 and became very popular on the Chinese market.
Fang's wife has filed a lawsuit in Beijing against FAW-Volkswagen. She tried to seek help from Chinese media, but was turned away, she said.
Fang's wife believes the difficulty she's had in filing suit is because FAW-Volkswagen is a state-owned enterprise (FAW owns majority shares).