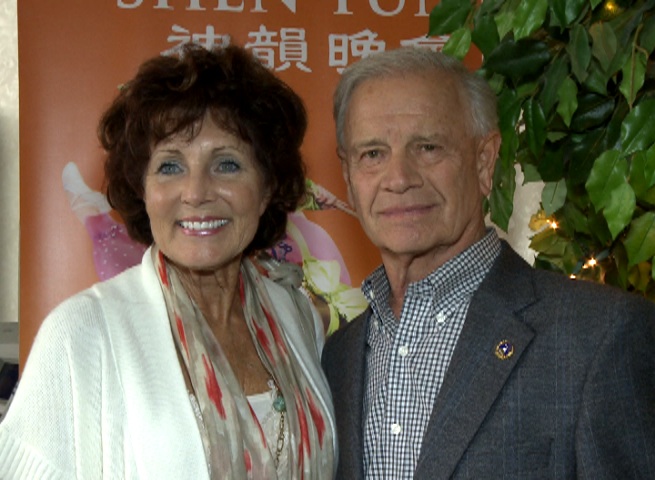 TOLEDO, Ohio—"Absolutely awesome," said Ernst Hillenbrand, owner of the Freemont Ballet School, about the Shen Yun Performing Arts performance he and his wife Carolyn saw on Sunday, March 18, at the Stranahan Theater.
"This is one of the nicest things I have ever seen of that type, just outstanding. … I have a ballet school so I have a lot of understanding of what goes on backstage and with the sets and the scenery; it's just absolutely fabulous. And the perfection of it all, I'm very impressed," he said.
Based in New York, Shen Yun Performing Arts was established in 2006 with the mission of reviving 5,000 years of divinely inspired Chinese culture.
Mr. Hillenbrand has owned his school for 48 years and teaches strictly classical ballet, and still performs in the Nutcracker Ballet annually.
He commented on how outstanding the dancing was, from the authentic Chinese choreography, to the perfect coordination of the dancers. "The quality of the dancing was outstanding. The male dancers—the way they moved, the way they leapt and the way they did the [flips]—was just wonderful."
Mrs. Hillenbrand noted the emotional facets of the performance. "It evoked every human emotion that's possible: joy, happiness, sadness, even fear, but it was outstandingly beautiful," she said.
She said that it would be hard to pick one dance program she favored since "it was all so unique, its so many different elements, its hard to pick, but it just leaves you with images of beauty and struggle and yet it ends up beautiful."
Both Mr. and Mrs. Hillenbrand were delighted with the visual elements of the show.
"The costuming and the photography—I mean the backdrop—we had just talked about the backdrop how clever [it was], how they do that, it's so outstanding," Mr. Hillenbrand said.
He is referring to the digitally projected backdrops that contain animated figures that float up and down from the heavens and then appear onstage in the form of the live dancers.
"The backdrops were absolutely awesome. I have not seen anything quite like that. I'm used to dealing with actual backdrops that come and go but not the cinematography like it was done in [this performance], with people flying off into the scenery. It was just done so well—so special."
Both also enjoyed the live orchestra that performs original music, combining both Western and Chinese instruments. In addition to the orchestra, world-class vocalists add another dimension to the performance.
Mrs. Hillenbrand enjoyed seeing the lyrics projected on the backdrop. "They were so emotional and so inspiring. In spite of what we go through as humans, there's hope, there's always hope. So I loved having the words to be able to understand what they were singing; that was just wonderful."
"It was very meaningful, it had a lot of depth to it. They were not just words!" Mr. Hillenbrand added.
Elaborating, Mrs. Hillenbrand said because "maybe if we're crushed, somehow, that we need … if any country or people are down or suppressed that … this is just so enlightening—to know that these words, this hope, beauty—is there and sometimes it is a struggle to be able to see it, but it is in our hearts. We have to keep that in the foremost of our thoughts."
"I agree, I agree completely. Yes, absolutely," Mr. Hillenbrand said.
"And hopefully, this just goes on and on around the world and more and more people get to see it," Mrs. Hillenbrand said.
"We would encourage everyone to see this history and its so rich, so rich," she said.
In touching again on the message of the performance, Mr. Hillenbrand said: "To spread the word of the freedom and the love and of belief in your god. That is also important and this was a big part of that."
The message "applied to everyone; it applied to the goodness, no matter what you believe in, it applied to the goodness that's within us." Mrs. Hillenbrand said.
Reporting by NTD Television and Sharon Kilarski.
New York-based Shen Yun Performing Arts has three touring companies that perform simultaneously around the world. Shen Yun Performing Arts Touring Company will next perform at The Kennedy Center Opera House, Washington, D.C., from March 21 to April 1.
For more information, please visit ShenYunPerformingArts.org.
The Epoch Times is a proud sponsor of Shen Yun Performing Arts