An overnight fire in a residential building in southern Taiwan has killed 46 people and injured 41, the authorities said on Oct. 14.
The fire broke out at the 40-year-old, mixed-use building in Kaohsiung's Yancheng district at 3 a.m. Thursday, and was extinguished four hours later.
The exact cause of the fire is unclear. Local police said at the press conference that they are reviewing surveillance footage and haven't ruled out any human factors.
Pictures published by Taiwan's official media Central News Agency (CNA) showed flame and smoke billowed from the lower floors of the 13-story building as firefighters tried to douse the flame from the street and aerial platforms.
A fire department statement described the fire as "extremely fierce" and said several floors had been destroyed.
Most of the building's residents are senior citizens, and piles of debris blocked firefighters' access to many areas, complicating rescue efforts, Fire Chief Li Ching-hsiu told CNA.
The fire likely started from the ground floor, Li said. The building's first six floors were previously designated for commercial use but are now unoccupied.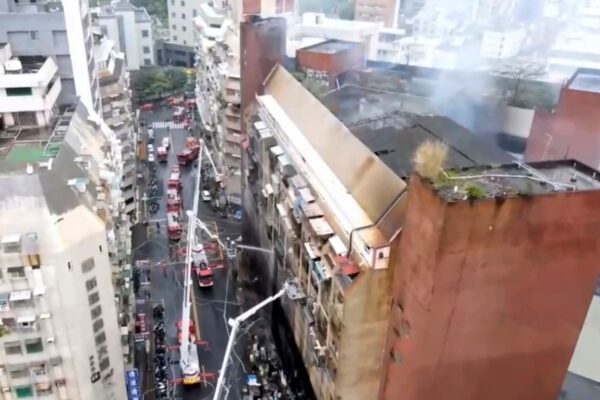 The number of fatalities rose steadily during the day on Thursday as rescue workers searched the building. By late afternoon, the Kaohsiung fire department said at least 32 people were sent straight to the morgue. Another 14 people among the 55 who were taken to hospital showed no sign of life later. In Taiwan, official confirmation of death is made at the hospital.
The death toll is only second to a 1995 fire that killed 64 at a nightclub in Taichung, Taiwan's third-largest city.
The authorities said hundreds of survivors had been sent to hotels.
Taiwan's President Tsai Ing-wen, in a Facebook post, expressed her "deepest condolences" to those affected by the blaze.
Associate Press contributed to the report.