A New Jersey mother is accused of rolling over her own 13-month-old son while overdosing on drugs, according to reports.
Antoinette King, 33, was charged with second degree endangering the welfare of a child, Fox8 reported.
Absolutely horrific. First responders were able to revive the mother with Narcan, but it was too late for the toddler.

由 Fox 8 News 发布于 2019年1月22日周二
The Burlington County prosecutor said King was found passed out on top of her son, Jeremiah. The incident happened in their Lumberton home.
Emergency responders were able to revive King with Narcan, but the boy remained unresponsive after they performed CPR.
Jeremiah was later taken to the hospital, where he was pronounced dead.
The child's grandmother, according to neighbors, found the boy and his mother unresponsive before calling the authorities, Fox8 reported.
"I just actually babysat him on Friday for about an hour or so forth, and the next day he's gone," babysitter Chandra Williams, who is her next-door neighbor, told CBS Philadelphia.
Williams said she recorded a video of the boy shortly after he learned how to walk.
"The grandmother is just purely out of it," Willaims said of the incident. "I know she is. I know she has to be."
HEARTBREAKING: 13-month-old Jeremiah had just learned to walk but was killed Sunday when his mother overdosed, rolled onto him and killed him, police say.

由 CBS Philly 发布于 2019年1月20日周日
Funeral arrangements are pending for the boy.
"He was a premature baby," neighbor Lynn Ingram told the CBS affiliate. "So he went through all the prematurity and now he's not here anymore."
"I just don't know what else to say, it's a terrible, terrible, terrible tragedy," Williams said.
King was booked into the Atlantic County Jail. It's unclear if she has a lawyer.
Other Cases
In August 2018, a father was overdosing in his car while his 1-year-old boy was in the back seat, said Rhode Island police. It took four doses of Narcan to revive the father, identified as Michael Krajczynski, according to police.
He allegedly told police that while he drove with his son, he took two pills he "thought were Oxycontins."
North Smithfield police said the man told them that he'd taken two pills he thought were OxyContin for shoulder pain, but 10 minutes into the ride he started to feel strange and pulled over.

由 WJAR NBC10 发布于 2018年8月8日周三
Krajczynski later termed it a "bad decision," according to the Miami Herald.
Fentanyl?
It's not clear if King overdosed on Fentanyl, but it's been blamed for a rash of fatal drug overdoses across the United States.
More than 71,500 Americans died of a drug overdose in 2017, according to data released the U.S. Centers for Disease Control and Prevention. The majority—or least 68 percent—of those deaths could be attributed to opioids such as fentanyl.
The shipment of fentanyl from China to the U.S. is "almost a form of warfare," President Donald Trump said in August. "In China, you have some pretty big companies sending that garbage and killing our people," Trump said at the time.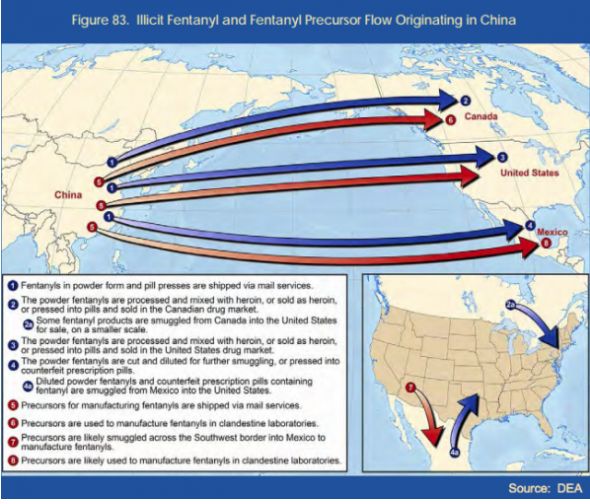 Sleep Deaths
The American Academy of Pediatrics stated that there has been a 184 percent increase in kids being accidentally suffocated in their beds from 1999 to 2015, as noted by Reuters last February.
In 2015, about 92 in every 100,000 babies up to age 12 months died of sleep-related causes like sudden infant death syndrome (SIDS) or accidental suffocation and strangulation in bed or other unknown causes, researchers report in Pediatrics. That's down from about 155 deaths for every 100,000 babies in 1990.
"We still have 3,500 babies dying from sleep-related deaths every year in the U.S., and our rates are higher than most other industrialized countries. We lose one baby every two to three hours every day of the year," said Dr. Michael Goodstein of WellSpan Health in Pennsylvania who wasn't involved in the study.