Justice was served for some victims when Ghislaine Maxwell was found guilty last week in a federal court, but the "overall justice" was not served since none of the clients of the sexual abuse were targeted and put behind bars, an anti-sex trafficking expert said.
"Ghislaine Maxwell needs to be behind bars, absolutely. So justice there, but overall justice for combating the crime of sexual exploitation, absolutely no justice," Jaco Booyens told NTD in an interview broadcast last week.
Booyens is the founder of SHAREtogether, a non-profit organization combating child sex trafficking. He is also the producer and director of the feature film on the subject, 8 DAYS.
"This is a supply and demand crime like any other crime," Booyens continued. "The law failed to identify that those who buy sex from children. Those who are the demand side of the industry need to be apprehended and need to be made an example of—again, that did not happen. We see a book sealed, we see names sealed, we see none of the buyers go into the witness stand. None of the buyers see jail time."
Booyens was referring to the "little black book," a 97-page contact book sealed under an agreement between Maxwell's attorney and prosecutors.
A spokesman from the U.S. Attorney's Office of Southern District of New York, the prosecutors in the Maxwell case, declined to comment.
Last week when Maxwell was convicted, U.S. Attorney Damian Williams vowed to hold all those involved sex abusers or traffickers accountable.
"This Office will always stand with victims, will always follow the facts wherever they lead, and will always fight to ensure that no one, no matter how powerful and well connected, is above the law," Williams said in a statement.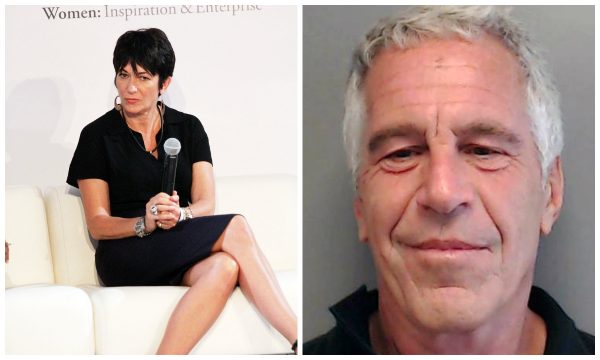 Booyens pointed out that sex trafficking is widespread in the nation and people shouldn't get distracted by this verdict.
"So they've isolated this case now, as if there's one bad actor, one bad person in the United States trafficking children, and we've got her," Booyens added. "Meanwhile, this is a crime that's happening in every single neighborhood in America and until we holistically say, look, the purchase of sex with children is absolutely taboo, and if you do that you go away for life. We will not stop this crime."
Booyens is the brother of a sex trafficking survivor. He has been helping to rescue and rehabilitate victims of sex trafficking for over 20 years.
"We have such a big battle with accurate messaging on what is sex trafficking, and where is it happening and who's doing it. So what this case just did is it, it was a negative blow to the holistic fight, because that again, it says it's the elites. And it's the elites that's forcing children to do it with no focus on the buyer."
The buyers are some general American people willing to purchase sex from teenagers, and that's "the true nature of the evil," Booyens added.
Maxwell faces up to 65 years in prison for the five charges she was convicted of. Her sentence is expected to be soon delivered.
Last week when Maxwell was found guilty, her lawyer Bobbi Sternheim said the defense would appeal.
Grace Coulter contributed to this report.