Over Ten Thousand Petitioners Rush into Beijing Ahead of National Day
September 30, 2011 2:26 am Last Updated: October 1, 2015 3:30 pm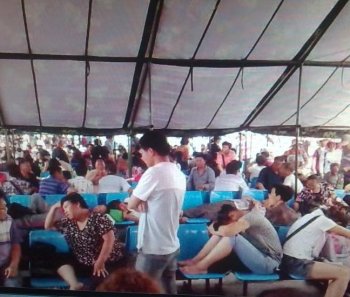 More than ten thousand petitioners from all over China have come to Beijing ahead of Oct. 1, China's Communist National Day, to seek justice at the State Bureau of Letters and Calls, mostly over illegal land expropriation and home demolition. Police have set up roadblocks to intercept the petitioners, and huge convoys of vans are ready to move them to special detention centers away from the city.
According to Mr. Wen, a longtime petitioner from Changsha, Hunan Province, local authorities started arresting petitioners in the Changsha area, and he decided to adjust his plans and left for Beijing already on Sept. 15. He said there are large crowds in the area of Beijing's State Bureau of Letters and Calls, and police cars and "interception" vans are everywhere. Wen said his house was forcibly demolished in 2006 and he has made many petitioning trips, all in vain.
Another petitioner, also from Changsha, a woman by the last name Li, said more than 10,000 petitioners congregated in the Beijing Office of Letters and Calls area on Sept. 27. She also confirmed seeing many "interceptors" from areas around the country.
"Many petitioners were picked up and taken back to their local areas to be locked up," Li said. "At present, 40 petitioners from Changsha are still missing. If they were caught at this time, they will be locked up or prosecuted," she said.
Li lamented that not only do the grievances of petitioners remain unresolved, but they themselves are locked up, in total disregard of the protection of people's property, freedom, or safety.
Beijing resident Mrs. Wu said there are many ID checkpoints on the streets, and anyone suspected of being a petitioner is sent to Jiujingzhuang, an area in Beijing where police have set up facilities to detain people.
Besides preventing petitioners from exercising their right to appeal, authorities also don't want them spoiling the regime's National Day celebrations.
Incidentally, catching petitioners has turned into a profitable side economy for Beijing authorities, Wu said. Local officials are required to send "tributes" to Beijing whenever any petitioner from their area is caught in Beijing. Some officials in Beijing apparently make a fortune during times as these, Wu said.
Read the original Chinese article.