Over 9,000 University Students Demand Electricity to Watch World Cup
June 21, 2006 12:00 am Last Updated: June 21, 2006 12:00 am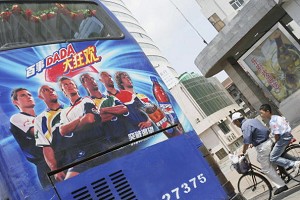 Even though it coincides with end of semester exams, the World Cup is still dominating the thoughts of students in many universities in China. In Sichuan University, Chengdu City, over 9,000 students participated in a protest against the university's policy of turning off electricity after midnight.
According to a report by Hong Kong's Oriental Sun, after the World Cup began, many soccer fans at Sichuan University began banging on basins and bowls every night, to request electricity overnight. On the early morning of June 12, students from over ten apartment buildings started to throw beer bottles, wood barrels and even basins. They even burnt mopeds and computers. According to one student's estimate, over 9,000 people took part in the protest. More than one building manager was injured.
One student said that during the night, students were smashing things inside an apartment complex, and some even shouting slogans. The university sent over a dozen security officers to the scene but they dared not to get close to the area.
On June 16, the Sichuan University started supplying electricity overnight and opened up the food hall for students to watch the World Cup.