The FBI's background check system recorded 687,788 background checks during the Black Friday week, signaling strong sales for firearms.
The National Shooting Sports Foundation (NSSF), a firearm industry trade association, revealed the data from the FBI's National Instant Criminal Background Check System (NICS). The system conducts background checks on people who want to buy a firearm or explosive, as required by law.
"This figure of over 687,000 background checks is truly remarkable," NSSF President and CEO Joe Bartozzi said in a statement released on Monday. "This year has already been shaping up to be the second strongest year for firearm sales on record, second only to 2020's record-breaking number of 21 million background checks for a firearm sale."
Based on annual data, firearm sales usually rise during the final month of the year coinciding with hunting seasons and holiday sales, Bartozzi said.
On Black Friday alone, the FBI's system recorded 187,585 background checks, ranking it among the top 10 highest days for background checks ever recorded and a 0.5 percent increase from the 2020 Black Friday.
The number of background checks doesn't represent the actual number of sold firearms. The numbers are unadjusted and include all background checks related to firearms.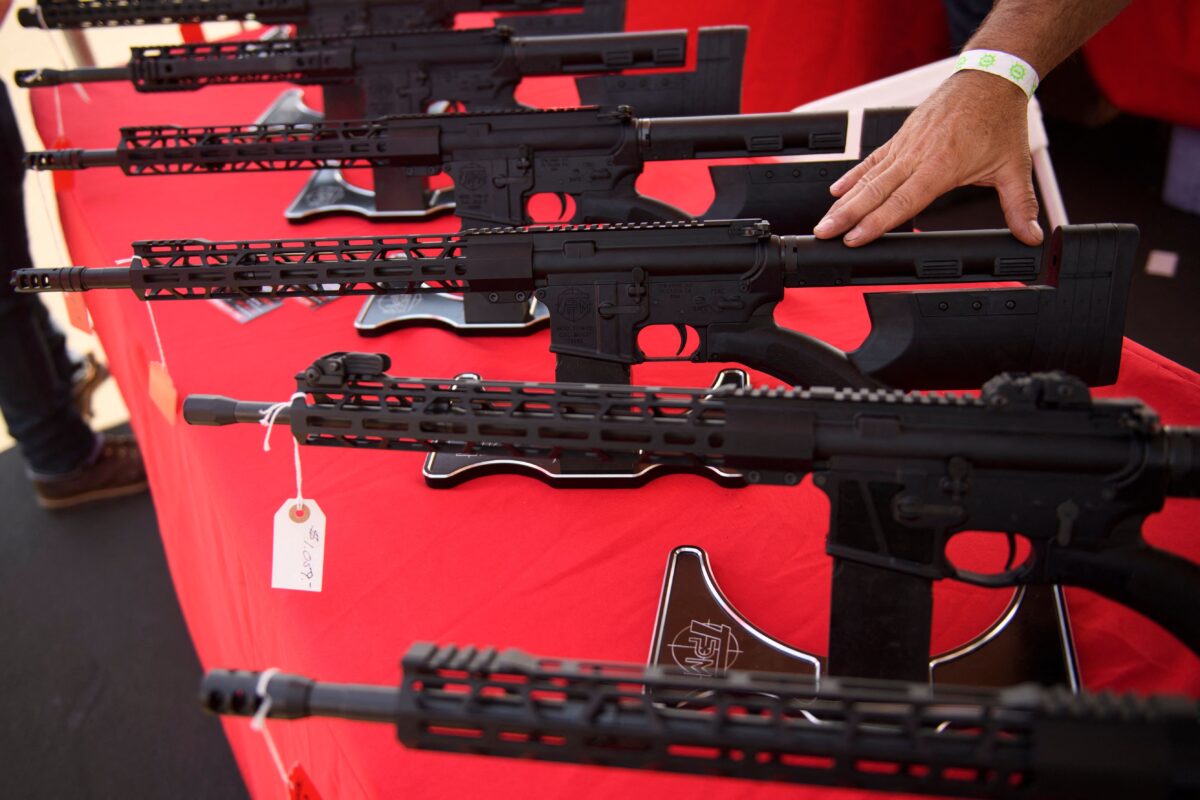 Another gun analyses group also came to the same conclusion that gun sales in 2021 would be second only to 2020, which saw a record of nearly 23 million gun sales.
"The U.S. firearms market continues to astound," Small Arms Analytics & Forecasting (SAAF) Chief Economist Jurgen Brauer said in a statement early this month. "If the pattern of recent months were to hold for the upcoming Thanksgiving and Christmas seasons (November and December), one would expect firearms unit sales to reach a year-end total of nearly 20 million firearms, far above the previous (non-pandemic) high of 16.7 million reached in 2016."
SAAF is a research consultancy focused on global small arms sales. The consultancy's sales estimates are based on data from the FBI's background check system but the numbers were adjusted.
Last year's record 22.8 million gun sales were largely attributed to the lockdowns due to the pandemic and the riots across the nation.
Gun control, along with other issues such as COVID-19 mandates, abortion, and election integrity, has become more partisan lately.
Republicans and conservatives largely believe restriction on gun ownership is an infringement of Second Amendment rights, thus is unconstitutional. Democrats, on the other hand, believe the government should take more measures to lower shootings, such as expanding background checks.
In June, the Biden administration announced a comprehensive strategy to combat shootings and other violent crimes, including "stem the flow of firearms."
President Joe Biden has repeatedly said that it is an epidemic.
However, less than one in five—19 percent—Americans supported a complete ban on handguns in the United States, according to a Gallup poll conducted between Oct. 1 and 19.
That's the lowest level of support since Gallup began polling this issue in 1980.
The poll also found that a slight majority of Americans—52 percent—support stricter gun control laws, the lowest point since 2014.