Over 60 Million Affected By Worsening Snowstorms in China
January 28, 2008 12:00 am Last Updated: January 28, 2008 12:00 am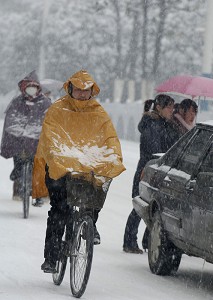 CHINA—Beginning January 12, the greater part of mainland China has endured the greatest drop in temperature in 50 years. Heavy snow storms have caused rail and road transportation to grind to a halt. At least 18 people have died in the extreme weather.
Since mid January, continuous rain, snow and sub-zero temperatures have hit most provinces north of the Yangtze River, including Liaoning, Shaanxi, Shanxi, Shandong, Henan, Hubei, Jiangsu and Anhui.
On January 27, the Central Meteorological Observatory issued a red alarm—the highest level for a snow storm for five provinces in central and eastern China.
In China's Wuhan City, tens of thousands of people are suffering from a lack of water and electricity, because water meters and pipes froze or burst due to unexpected sub-zero temperatures. High-voltage transmission lines snapped under the weight of the heavy snow.
Sixty Million Affected
China's Ministry of Civil Affairs released a disaster conditions report that the nationwide storm has affected nearly 60 million people in fourteen provinces. There are deaths and direct economic losses exceed US$2 billion, making it the worst natural disaster since 1949.
Ten million people the southern provinces, such as Guizhou and Guangxi, were also affected by the most severe storm in 50 years.
Interrupted Power and Communications
Heavy snows caused serious traffic jams on many highways and railways, putting more pressure on already strained transportation systems during the Chinese New Year family holiday. At one time, the Guangzhou railway station had as many as 150,000 stranded passengers.
The storm shut down mobile communications in several provinces. As of January 25, as many as 13,500 base stations were without power affecting more than 21 million users. Landline communication was also affected to a lesser degree.
Incomplete surveys indicate that besides equipment damage, further delays in shipments of coal have caused electricity generation capacity to drop seven percent nationwide. Seventeen provinces have implemented power rationing.
The Central Meteorological Observatory predicted that the devastating storm will continue to bring rain, snow, and low temperatures to southern China for another 10 days.