More than 40,000 homebuyers have threatened to cease paying their bank mortgages for pre-sold yet unfinished apartments unless developers resume construction.
The distressed homebuyers have informed mortgagees of their decisions to boycott payments for stalled development projects via letters, some of which have been circulated online.
The homebuyers said they have taken such measures after months of waiting and frustration. They said they have tried many times to communicate with developers, banks, and housing and construction authorities, but problems remain unanswered.
Data shows mortgage boycotts have occurred in 106 residential developments, according to a study by a Shanghai-based research center at CRIC, a big data application service provider covering China's property sector.
Capital-starved property developers, including giants like Evergrande, Sinic Holdings, and Shimao, are among those who have uncompleted projects.

The crisis, which first broke out in the city of Jingdezhen, eastern China's Jiangxi Province, on June 30, has spread to at least 20 cities, including the capitals of Henan, Hebei, Shanxi, and Hubei.
In China, up to 1.5 trillion yuan ($220 billion) of mortgage loans are linked to unfinished Chinese residential projects, ANZ has estimated in a report.
In China, unlike in the United States and many other countries, buyers are usually required to pay a monthly mortgage even prior to the completion of their projects as long as they reach a deal with banks.
Homebuyers in Despair
A Wuhan resident Li Mingyu (alias) told The Epoch Times on July 13 that she had to pay more than 6,000 yuan ($888) each month as part of her mortgage. She said her down payment was 500,000 yuan ($74,050), which she had borrowed from her family and relatives.
However, the building of her apartment, which was scheduled to end in December 2021, remains unfinished.
Li said the resumption deadline that she and other fellow buyers gave the developer is Nov. 1. "If it really refuses to reopen then, there's no way I would keep paying money," Li said.
Buyers say they are fully aware of possible legal consequences they face, including the likelihood of being added to the so-called 'List of Dishonest Persons', which may undercut their credit points and cause restrictions on their travel and purchasing activity.
"When our survival is at risk, when we feel desperate, credit [impact] would be a paper tiger, a fetter that can be thrown into a dust bin anytime," a group of buyers from Zhengzhou, the capital city of Henan Province, declared in a July 12 statement.
"This is our voice, a desperate call for attention from thousands of us," they said.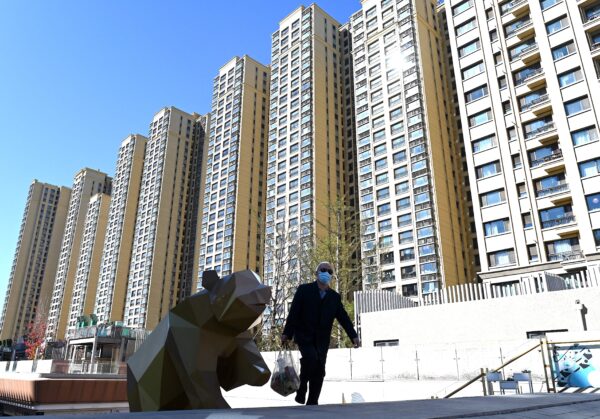 Banks Criticized for Inadequate Oversight
While blaming developers for delayed work, angry buyers are also upset with lenders, claiming that they have not strictly performed their duties to properly monitor developers' escrow accounts.
In a statement dated July 7, buyers in Wuhan, the capital city of Hubei Province, slammed lenders for inadequate supervision of the developer's use of funds.
"As lenders, they granted [the developer] mortgage loans before the main structure of the project is closed," the statement wrote. "As lenders, they transferred mortgage funds into non-escrow accounts disregarding relevant regulations."
China's Unstable Property Sector
The sweeping crisis suggests financial cracks have emerged in multiple elements in the country's housing market, Toronto-based China expert Wen Zhao commented on YouTube.
"It seems increasingly difficult to rein in China's whole property sector from crashing," he warned. "Uncontrollable chain reactions are underway."
He said the crisis would severely batter would-be buyers' interest in pre-sold apartments; meanwhile, developers would inevitably face greater pressure in getting back their investment.
"Seemingly, this issue couldn't be solved unless [first] an all-out financial crisis erupts and unleashes structural pressure [in the sector]," he added.
Reuters, Lin Cenxin, Gu Xiaohua, and Hong Ning contributed to this report.