Since late August, more than 300 million people in at least 74 cities in China have been placed under full or partial lockdown. A Chinese think tank criticized the move, describing it as having high social and economic costs to the country.
The widespread shutdown comes as the Chinese Communist Party (CCP) prepares for its 20th national congress, a major meeting set to take place on Oct. 16 in Beijing. The twice-a-decade conclave is expected to unveil the Party's new top leadership, during which Chinese leader Xi Jinping is seeking a record-breaking third five-year term in office.
China's National Health Commission on Sept. 8 announced that enhanced prevention and control measures would be implemented to ensure no large-scale pandemic occurs "around the Mid-Autumn Festival (Sept. 10) and National Day (Oct. 1) holidays."
The health authority said the COVID-19 curbs would begin on Sept. 10 and end on Oct. 31.
The measures include advocating for the public to celebrate the holidays locally and avoid big gatherings. Passengers who travel by air, high-speed rail, trains, inter-provincial long-distance buses, and ships must show proof of a negative nucleic acid test within 48 hours.
In addition, inter-provincial travelers would be inspected for COVID after arriving at their destinations. Key places such as hotels and tourist attractions would require health codes and negative nucleic acid test results.
Chinese media Caixin reported on Sept. 3 that during the peak tourist season this summer, Hainan, Tibet, Xinjiang, Qinghai, Yunnan, and other tourist destinations have successively implemented "static management," resulting in a large number of tourists left stranded.
Static management forces residents to stay indoors and suspends public transportation.
For example, Sanya, a city in Hainan Province, has implemented static management since Aug. 6 and has yet to be lifted (at the time of this reporting).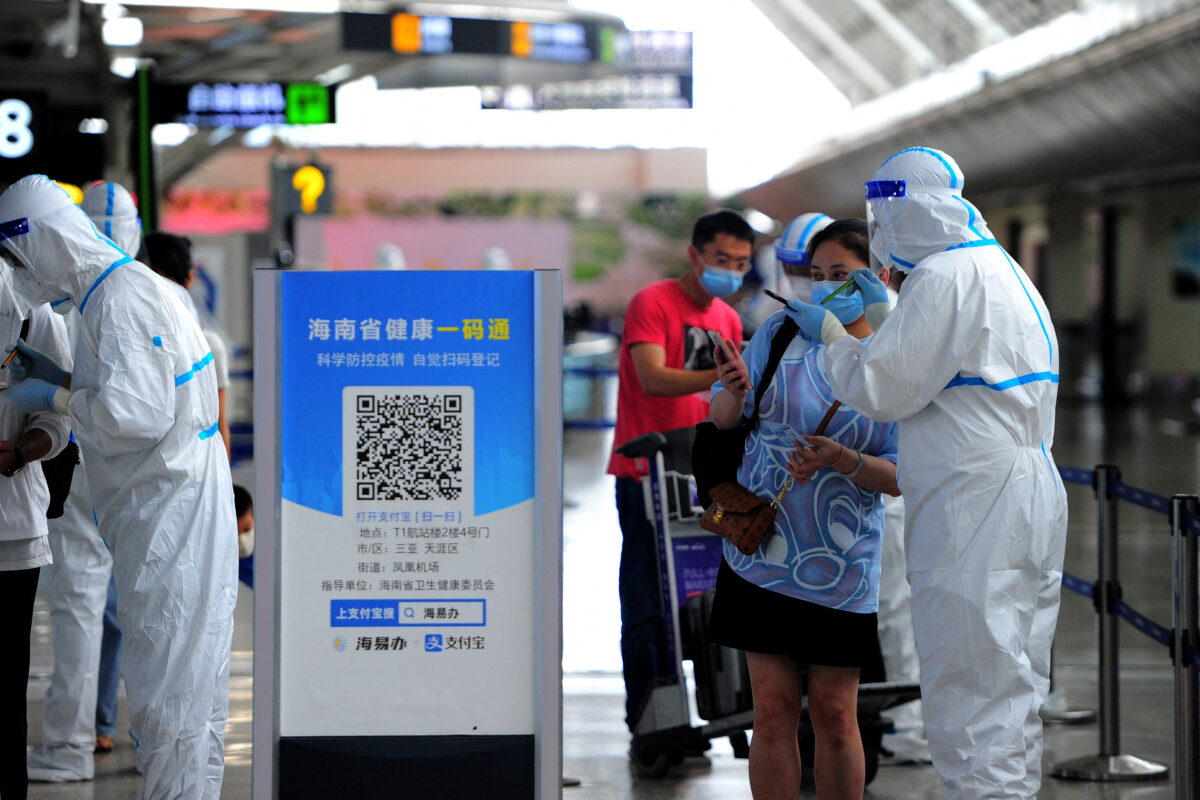 Between the end of August and the beginning of September, many Chinese provinces such as Hebei, Sichuan, Liaoning, and Guangdong have upgraded their control measures to static management.
Presently, at least 33 cities, including seven provincial capitals and one municipality directly under the central government, are still under full or partial lockdown, affecting more than 65 million residents.
Since Aug. 20, at least 74 cities with over 313 million residents have been under partial or complete lockdown, according to a CNN report. The lockdowns cover entire cities and districts, including 15 provincial capitals and Tianjin, a provincial-level municipality.
Huang Yanzhong, a senior fellow for global health at the Council on Foreign Relations, a New York-based think tank, told CNN that the CCP "wants to make sure nothing untoward, such as a major outbreak, could potentially threaten social stability, shadow the leadership transition process … and Xi's personal leadership credibility."
Huang said he expects more cities to be placed under lockdown "in the coming month and a half" and local officials to double down on the "zero-COVID" approach to "demonstrate their loyalty to Xi."
Think Tank Calls on Beijing to 'Adjust' Pandemic Policies
On Aug. 28, Beijing-based think tank Anbound Consulting criticized the CCP's "zero-COVID" policy, arguing that its prevention and control measures have incurred high social and economic costs to the country.
The piece was titled "It's Time for China to Adjust Its Pandemic Prevention and Control Policies." The think tank had rarely criticized or gone against the CCP's public policies.
However, the piece was removed from social media such as WeChat and Weibo the day after it was published. But sites like China Digital Times, a U.S.-based website covering China, had retained the publication.
The report said the risks of COVID-19 had been significantly reduced and that "preventing an economic slowdown should be the number one task."
"The country needs to adjust its pandemic prevention and control policies, focus on economic recovery, and gradually integrate with the world under the complex geopolitical and economic situation," the report said.
It added that the risks from the real estate market, local debt, financial institutions, and other vital fields continue to deteriorate and develop into systemic risks for the country.