Thawing snow and heavy rain has resulted in the flooding of 2,549 Quebec residences and forced 1,688 people from their homes, according to the latest numbers from Urgence Quebec, the government's emergency situation information hub.
Canadian military personnel are working across the province, filling sandbags and aiding in evacuation efforts, as officials warn that warmer temperatures and melting snow could bring more rising floodwaters this week.
"There will doubtless be more flooding to come," Quebec Public Security Minister Genevieve Guilbault told reporters in Yamachiche, about 100 kilometres northeast of Montreal. "The weather, the temperature, the melting snow—and with a water level that is already high—what we can do is prepare the best we can."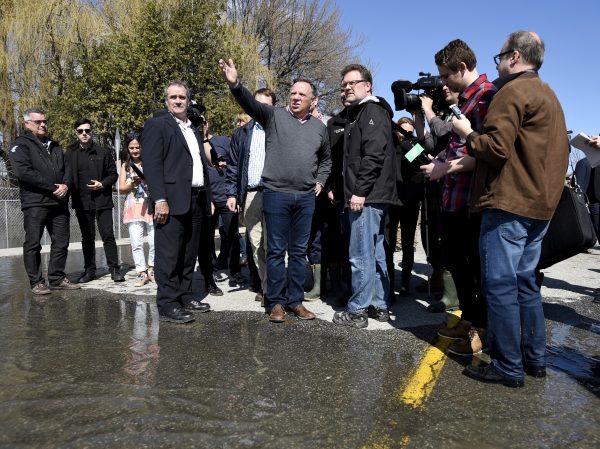 The Quebec government has issued a flood status map where people can check what areas of the province have been affected, and the Urgence Quebec website suggests people have an emergency kit prepared in case of flooding.
Cities including Montreal and Gatineau are warning residents to prepare themselves for further flooding.
Montreal issued a tweet warning of significant rainfall over the next 48 hours that will increase water flows and levels, and said citizens in flood zones should prepare themselves. If people need more information, including with regard to sandbags, the city said citizens should dial 311.
Les précipitations importantes prévues au cours des prochaines 48 heures augmenteront le débit et niveau des cours d'eau.

Citoyens en zone inondable, préparez et sécurisez votre maison. Besoin de sacs de sable? Composez le 3-1-1. pic.twitter.com/qqPuAiB2xK

— Ville de Montréal (@MTL_Ville) April 22, 2019
Montreal, like many other cities in the province, provides a guide for what to do before, during, and after flooding (pdf).
The City of Gatineau, just across the provincial border from Ottawa, tweeted on April 22 that river levels in the area continue to rise, and that anyone evacuating their residence must register with the city by calling 311. So far, 98 people—81 adults and 17 children—have registered with the disaster relief centre.
Ce 22 avril, le niveau des rivières est toujours en hausse. 98 personnes sont inscrites au centre d'aide aux sinistrés. Les sinistrés qui évacuent leur résidence doivent s'enregistrer auprès de la Ville en téléphonant au 311. #Gatineau #MSGU #CruePrintanière pic.twitter.com/6KODAgYanc

— Ville de Gatineau (@ville_gatineau) April 22, 2019
Brig.-Gen. Jennie Carignan said there are now 800 military members on the job throughout Quebec. She said the soldiers are well-trained for the work and are "very proud to be able to provide our support."
The soldiers have been helping to fill sandbags and provide aid across the province.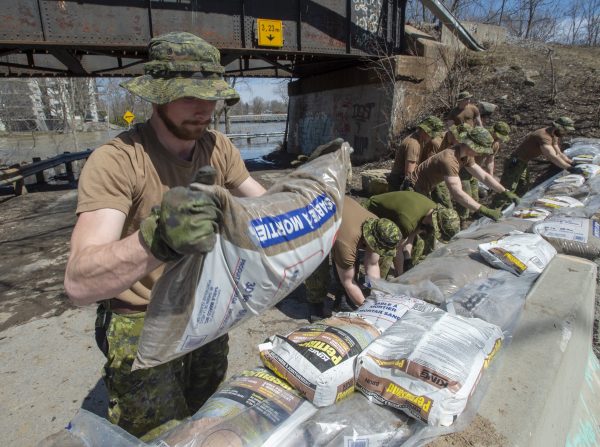 In Rigaud, about 70 kilometres west of Montreal, fire chief Daniel Boyer said a light armoured vehicle was called in to help with the evacuation of a couple who required medical attention. He said the vehicle was able to transport paramedics to the couple's home and get them to safety.
"That is a large part of the reason of why the Army is with us," Boyer said. "The request was made for light armoured vehicles because, at the moment, emergency vehicles can no longer pass in certain places."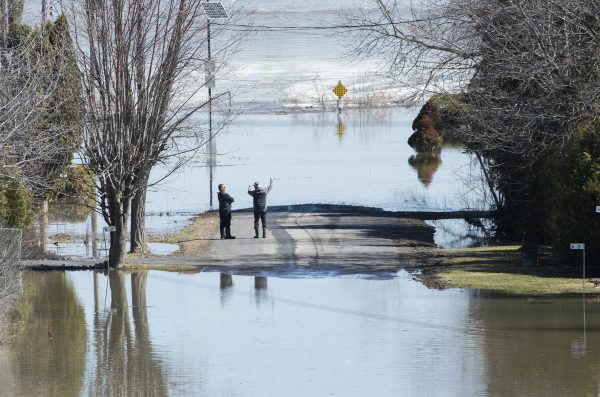 Quebec Premier Francois Legault noted that many homeowners were still repairing damage caused by 2017's record flooding. During that event, over 5,000 residences were flooded and over 4,000 people were forced out of their homes. Both Montreal and Quebec City declared a state of emergency at the time.
Meanwhile, New Brunswick officials said Monday they are encouraged by the latest flood forecast, which has water levels stabilizing in the Fredericton area and on the upper reaches of the Saint John River.
Emergency Measures Organization director Greg MacCallum said that while the water remains above the flood stage of eight metres, levels are expected to "abate somewhat" over the next couple of days, barring any additional rain.
Still, MacCallum warned that people shouldn't let down their guard, as water levels continue to rise in areas south of Fredericton. Ten cities in the province still have flood levels while another five have reached warning levels. The province has a river watch to monitor water levels, and residents can call 511 for road closures and conditions.
The province also provides locations for sand and sandbags that are available for residents that require them.
With files from the Canadian Press